Brad Marchand Insults Intelligence of Brendan Shanahan After Suspension
January 10, 2012
Christian Petersen/Getty Images
Brad Marchand really needs to shut up for his own good.
While it wasn't on national TV, I'm sure everyone has seen the "highlight" of Bruins forward Brad Marchand clipping Canucks defenceman Sami Salo. 
Salo was injured on the play and is out with a concussion. Marchand got a major plus game misconduct, and on Monday was suspended for five games by NHL head of discipline Brendan Shanahan.
After the game, but before his hearing, Marchand and the Bruins tried to claim his low blow was a defensive move, because he was scared of Sami Salo taking him out.
Aside from the hypocrisy of a Bruin saying he is scared to go into a corner against a Canuck, the video evidence clearly doesn't support anything Marchand is saying.
Shanahan clearly wasn't buying anything Marchand and the Bruins were trying to sell, throwing the book at him with a five game suspension. The video explaining the suspension breaks down every part of Marchand's claims and refutes them.
Shanahan also calls it a predatory hit in retaliation for a legal hit between Salo and Marchand earlier on the same shift.
Boston manager Peter Chiarelli released a statement saying he disagreed with the NHL's ruling, but that is pretty much standard. You always back your players publicly.
So at this point, you'd think Marchand, who is a skilled player, would serve his five games and keep his mouth shut, right?
Nope.
On his ESPN Boston blog, Marchand rips into the NHL with this gem.
"They (NHL officials and Shanahan) can call it a clipping, but they obviously don't know the rules of hockey."
No one ever accused Marchand of being a rocket scientist, but maybe someone (his agent?) might want to tell him that calling out the entire officiating department might be a bad idea.
But lets give Marchand the benefit of the doubt. 
Clearly over his 140 career games and last spring's Stanley Cup, Marchand has learned more about the rules than the officials who were on the ice and made the initial call.
Veteran referees Dan O'Rourke and Don Van Massenhoven have merely officiated 434 and 1,117 NHL regular season games respectively.
But I guess Marchand knows the rulebook better than they do, since he has a Stanley Cup ring.
But what about Shanahan and the suspension hearing?
Is Marchand really trying to say that his single Stanley Cup ring is better than the three rings that Shanahan has?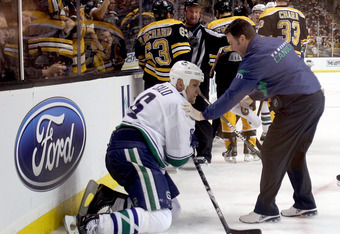 Elsa/Getty Images
That his 140 regular season games of experience trump Shanahan's 1,524 career regular season games? 
Shanahan by the way is also one of the elite Triple Gold Club members, but I guess international experience doesn't count in Marchand's eyes.
Although Marchand clearly has Shanahan beat when it comes to suspensions, seven games (and counting) versus zero games for Shanahan in his career.
Aside from the laughable nature of Marchand's comments, maybe his agent should tell him to stop digging a hole.
First, calling out the referees publicly is never a good idea.
Even if you feel you have a valid complaint, you can't win. Calls will suddenly go against you, and maybe Ron McLean will decide to do a character assassination on Hockey Night in Canada for daring to criticize a referee. 
Second, Marchand has been called into a hearing with the discipline office three times in his short career, resulting in a two-game suspension for a blind-side elbow to the head, a maximum fine for slew footing and now this five-game suspension for clipping.
Deemed a repeat offender by Shanahan, does anyone think he can just magically clean up his act and not have to go into another supplementary disciple hearing?
There are fourth-line goons who haven't been suspended for five percent of their careers like Marchand has now.
Third, he is going to get fined for these comments. The NHL doesn't take kindly to criticism from players or management.
Just recently, John Tortorella of the Rangers was fined for questioning the quality of officiating in the Winter Classic.
The NHL's response was swift, with a stiff $30,000 fine and public rebuttal.
"There is no acceptable explanation or excuse for commentary challenging the integrity of the league, its officials or its broadcast partners," the N.H.L. senior vice president Colin Campbell said in a statement. "People can disagree with calls by officials on the ice, but even in instances of the utmost frustration, there is no justification for speaking as inappropriately and irresponsibly as Mr. Tortorella did."
Tortorella's comments were tame compared to calling the entire officiating department and Shanahan idiots who don't know the rules.
But then again, the Bruins are used to getting away with stuff that would get Tortorella in trouble.
Maybe Marchand should be sucking up to Shanahan, or at least taking his punishment like a man, rather than whining about it and insulting the referees who will be calling his games, and the man who will be most likely suspending him again in the future.
But then again, for anyone who might play the Bruins, this is a good thing. 
Marchand is a good player when he isn't being an idiot, and the more he is off the ice and being a distraction, the better. 
And for fans who hate his antics, it certainly is entertaining.
But if I was one of his teammates, I'd be muzzling him right now for his own good.