Paul Scholes: Sir Alex Ferguson's Best Option for Manchester United's Midfield
January 14, 2012

Alex Livesey/Getty Images
Since the spectacular return of Paul Scholes stories have sprung to life suggesting his re-emergence highlights more pressing problems at the heart of United's midfield, that the move is a fickle, short-term solution for a long-term problem. Once again we are unfailingly reminded of just how short sighted the football world has become.
Only a fortnight ago and after consecutive 5-0 victories against Wigan and Fulham, pundits far and wide were praising United's squad depth. Such is the nature of football that in the two weeks since, back-to-back defeats have somehow illuminated the holes in their midfield to the point where fans are regularly calling for a big January signing.
And with the return of Paul Scholes there is still considerable debate surrounding the club's decision. Many want a bigger signing, someone of the caliber of Luka Modric or Wesley Sneijder. Thus it is worth reminding, both of the quality that has continued to exist in Ferguson's squad and the true worth of Paul Scholes himself.
Within the next few weeks Tom Cleverley is expected to return to training with the team. Sir Alex Ferguson has made no secret of his admiration for the 22 year old. He sees him as the future of both Manchester United and England's midfield, as a player destined for the very top. Must we be reminded that this was the architect behind United's famous comeback win in this year's Community Shield? Before his injury he had established himself as one of the first to be written on Ferguson's team sheets and his return will prove the equivalent of a massive January signing.
Lest we forget Anderson who has also recently returned from injury. Once dubbed the future of Brazil, he is still young enough to fully blossom into his potential. Signs of this were already evident in September, when he and Cleverley complimented each other and bossed midfields so effectively. Add to that the evergreen Ryan Giggs, a recently reinvigorated Michael Carrick and a versatile Phil Jones and United's midfield strength looks ominous. It is only a matter of time before this area of their squad is fully revamped.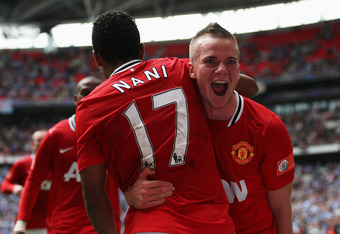 Ian Walton/Getty Images
And what about that man Paul Scholes? Yes, he was responsible for giving away the pass that led to Manchester City's second goal. Yes, the error occurred within the first few minutes of his introduction after having spent over six months on the sidelines. And yes, in focusing on his error people have overlooked some rather remarkable statistics. According to the Busby Babe, in a game that saw Scholes play for only 30 minutes he managed to complete more passes than all but two other players, none of which were on City's side, and in doing so saw a pass success rate of 97%. Scholes might have lost his old pace but he still remains a highly effective midfielder.
So why would Sir Alex Ferguson go out and throw 30 million on a player of Wesley Sneijder's caliber? Such a signing could potentially jeopardize the growth of his existing young talent. Instead he has brought back a familiar legend, one with proven value.
According to International Business Times, Ray Wilkinson argued it was the equivalent of signing a player worth 25 million. Scholes is probably worth even more if one considers his experience, guidance and remarkable calming presence both on and especially off the pitch. And unlike a January signing, Paul Scholes will seamlessly slot into the team. He will no doubt be called upon sparingly but his presence alone will ease the burden on the injury afflicted squad.
There is little doubt that with time we shall see the return of the midfield that dominated so early in the season. Only this time around, they will have an Old Trafford legend as their mentor.
United's midfield problems have been gravely exaggerated and Scholesy will simply provide the icing to the cake.