MLB Hall of Fame 2012: How Will the Hall of Fame Vote on the Steroid Era Stars?
January 10, 2012
Justin Sullivan/Getty Images
The 2012 Major League Baseball Hall of Fame vote was one of the tamest in years, with only one player getting voted in, and no truly big names being introduced for vote. That will certainly change in the 2013 vote.
The poster children of the MLB PED problems will be hitting the Hall of Fame vote, and this will be the first true test of how the Hall of Fame will be reacting to the modern steroid era. Barry Bonds, Sammy Sosa and Roger Clemens will all hit the ballot for the first time in 2013. 
By themselves, the numbers they put up would easily get them into the Hall of Fame on the first ballot, no questions asked.
Bonds with 762 home runs, seven MVP awards, and career 1.051 OPS. Sosa with 609 home runs, and an MVP. Clemens with 354 wins, 4,672 strikeouts, and seven Cy Young awards. These three men have wildly surpassed the typical magic numbers for hall of fame induction (500 HRs, 300 wins, 3,000 Ks).
However, all three have significant relationships with the scourge of modern sports, performance enhancing drugs (PEDs). To say that there are rumors floating around these three would be a massive understatement. Anyone who doesn't believe these three took PEDs is only fooling themselves at this point.
Bonds, the poster child for what PEDs can do, went from a lean all-around player to a lumbering power hitting machine at age 35. Bonds was the Grinch of baseball. His head grew three hat sizes that year. But unlike the Grinch of fiction, Bonds went from hero to pariah.
Even as his body grew in unnatural ways and his power numbers magically rose as he aged, he steadfastly denied any PED usage stating that his body changes were due to increased workouts, diet and using approved supplements.
Under oath in front of a grand jury in 2003, Bonds supposedly admitted to using substances that turned out to be steroids, but claimed that he did not know that they were. In 2007, Bonds was indicted for lying under oath for that statement, and in 2011 was found guilty of obstruction of justice.
Clemens was heavily reported on in the infamous Mitchell Report of 2007, being accused of taking anabolic steroids by his former trainer Brian McNamee.
Jose Canseco mentions in his tell-all book, Juiced: Wild Times, Rampant 'Roids, Smash Hits and How Baseball Got Big, that Clemens had an extensive knowledge of steroids, and that Canseco believed Clemens had used steroids.
Like Bonds, Clemens steadfastly denies any involvement with PEDs, claiming that his uncommon longevity and incredible late-career numbers were due to hard work. Also like Bonds, Clemens was indicted by a federal grand jury of lying under oath.
Sosa has been under the microscope less than Bonds and Clemens since his retirement, but the stench of steroids has not left him. In 2009, it was reported that Sosa had tested positive for PEDs during a 2003 test. Like the others before him, while under oath Sosa denied using PEDs.
The Hall of Fame so far has not been kind to players found or rumored to have used PEDs during their careers. The two main examples for these are Mark McGwire and Rafael Palmeiro. Without the steroid controversy around these two, they likely would have been elected to the Hall in the last couple years. McGwire with 583 home runs, and Palmeiro with both 3,000 hits and 500 HRs.
However, though they do have the "magic numbers", there is enough criticism around them that it could be argued that just their careers alone were not worthy of Cooperstown.
McGwire's only true skill was hitting home runs. He was not a good overall hitter and he was not a great defender. Palmeiro was never considered a dominant player, and was just good for an extended period of time.
The argument could be made that even without steroid allegations, these two would not have been Hall of Fame worthy. Neither has gained over 30 percent of the vote since they have become eligible.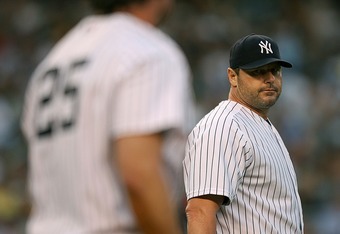 Mike Ehrmann/Getty Images
Next year, there will be no getting around the fact that Bonds', Sosa's and Clemens' numbers should put them in Cooperstown. The only thing standing in their way is steroids.
Bonds and Clemens will be extra interesting, as it could be argued that without the steroid-tainted years, they were good enough for the Hall of Fame. Bonds was a 40-HR/40-SB player early in his career, and Clemens was one of the most dominant pitchers in history the first half of his.
Will the writers use this to justify voting in tainted players? If you judge these three players to not be worthy of Cooperstown, then how do you justify any players from this era as being worthy? How can you prove which players did and which players did not take steroids during the 1990s? How do you prove that players with clean names like Frank Thomas and Jim Thome truly did not ever take any PEDs?
I don't foresee any of these three players getting voted into the 2013 Hall of Fame class, but there will be a lively discussion about it. And certainly there will be no shortage of opinions.
This vote will reverberate throughout the history of the game. It will prove to be the defining vote on how the steroid era will be remembered in baseball.