Matt Moore and the Top 20 Prospects in the A.L. East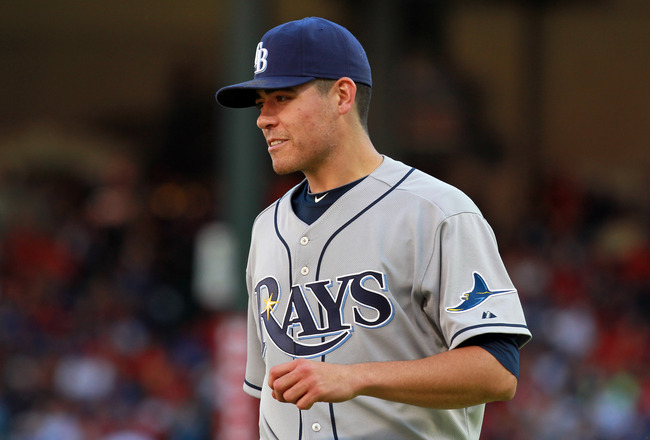 Ronald Martinez/Getty Images
There's a simple reason that the top division in baseball's junior circuit is known as the "American League Beast." Actually, there's three: Boston, New York and Tampa.
Those three teams have ended the season atop the division for the past 14 years, making it virtually impossible for Toronto or Baltimore to muster any kind of competitive effort.
The competitive spirit extends further than just the big-leagues, however. It trickles all the way down to the minor leagues, to each team's efforts to build their brand internationally, and in the draft.
It's no wonder that the top spending teams in the free-agency market, international market and the amateur draft usually hail from the East. Gotta get a leg up wherever you can, right?
It should come as no shock, then, when I make the case that the East houses the greatest collection of prospect talent in baseball.
Not only does it possess the best pitching prospect in the minors (Matt Moore), but the case could be made that it also has within it's confines the top prospect at three different positions: catcher (Travis d'Arnaud), shortstop (Manny Machado), and third base (Will Middlebrooks).
Make it four if you want to count Dylan Bundy as baseball's top right-handed pitcher, which some do.
That doesn't even take into account the recently departed Jesus Montero, who left for rainier pastures in Seattle.
Without further ado, let's dive into some rankings, the top 20 prospects in baseball's best division, the American League East.
Breakdown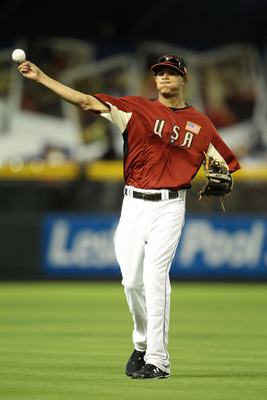 Christian Petersen/Getty Images
By team
New York: six
Toronto: five
Tampa: four
Boston: three
Baltimore: two
By position
C: four
LHP: four
OF: four
RHP: three
SS: three
3B: two
Honorable Mentions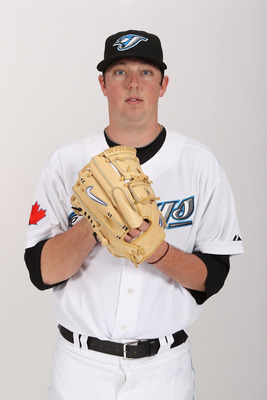 Nick Laham/Getty Images
Right-handers Matt Barnes and Anthony Ranaudo (Boston) both have a shot to work their ways into the top-20 by the end of the season, but both have flaws.
Barnes saw command of his curveball slip a bit and his two other secondary pitches (slider and changeup) looked less like the pitches that he dominated with at the U.S. National Team trials in North Carolina during the summer of 2010.
Ranaudo has great potential, size and a blazing fastball, but lacked command of the pitch at times during 2011. As a result, he walked 46 batters, plunked 13 and issued seven wild pitches in 127 innings.
Baltimore infielder Jonathan Schoop just missed out as well, but remaining consistent and finding a long-term position in 2012 will likely find him rising toward the top of the list.
Toronto has a plethora of seasoned pitchers just itching for a crack at a big-league opportunity and a spot on this list, but ultimately, the American League East is just too deep to include Deck McGuire, Asher Wojciechowski and Drew Hutchinson.
20) Austin Romine, C, New York Yankees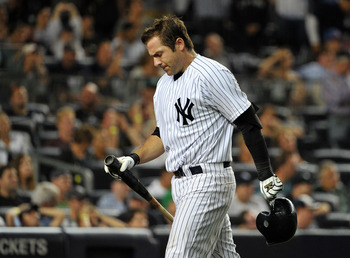 Christopher Pasatieri/Getty Images
With the subtraction of Jesus Montero from New York, Austin Romine now ranks as the top all-around catcher in the farm system.
Offensive questions aside, Romine's defense will one day get him a long-term look in the Majors, and with Montero gone, that opportunity could last a bit longer than once expected.
In addition to posting great pop-times, Romine has also thrown out a solid 24 percent of attempted base-stealers during his five-year career. During his brief cameo in New York last September, he threw out 33 percent.
But back to his offensive potential, or lack thereof, depending on who you ask.
Romine's offensive potential peaked back in 2009, when he hit .276 with 28 doubles, 13 homers and 72 RBI. Since then, his offensive numbers have gotten consistently worse.
This past season, he rapped only 13 doubles and slugged just six home runs. Those kind of numbers aren't going to cut it in the Majors, especially in the Big Apple.
19) Justin Nicolino, LHP, Toronto Blue Jays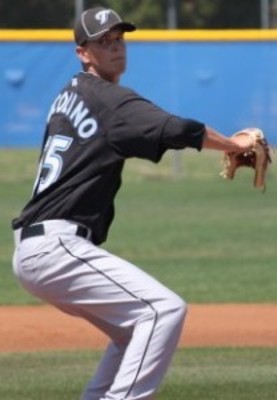 The Blue Jays under Alex Anthopoulos have made a killing with several lesser-name, early-round draft picks the past few years. Most of them have been pitchers, and those decisions have allowed the Jays to quietly build one of the best, and deepest, farm systems in baseball.
Lefty Justin Nicolino (second) is one of those early-round guys who blew the cover off of his anonymity with a strong debut season.
Splitting time between the Northwest and Midwest Leagues, Nicolino picked up six wins in his 15 outings and posted a ridiculous 1.33 ERA. Making him look even more advanced than his competition is his 73-to-13 K:BB ratio in 61 innings.
Clearly, the left-hander was not pushed enough, and the Jays will do right by him in 2012, allowing him to start the year in full-season ball, likely back at Low-A Lansing, where he posted a 3.12 mark in three starts near the end of the 2011 season.
For those looking for a scouting report on the 20-year-old, here the Reader's Digest version:
solid low-to-mid 90s fastball
above-average changeup
potential above-average curveball
impressive command
incredible poise
Nicolino stands out in a crowded system not only because he's one of just a few high-ceiling lefties, but also because he has "ace" potential.
18) Dante Bichette Jr., 3B/OF, New York Yankees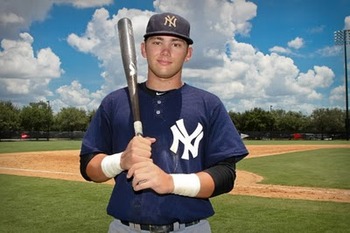 Few prospects have the opportunity to put together the kind of debut campaign that Bichette did in 2011. After signing early, the 18-year-old landed in the Gulf Coast League, where he proceeded to hit .342/.446/.505 with 47 RBI, 17 doubles and 30 walks in a mere 52 games.
That line was good enough to earn him GCL Most Valuable Player honors, as well as a high ranking on the circuit's prospect rankings and the Yankees list.
It should come as no surprise that Bichette was such a capable run-producer. After all, he is the son of former big-league RBI machine Dante Bichette Sr.
Bichette finished his stellar season in the New York-Penn League, where he found the going a bit tougher (.143), although the sample size (two games, seven ABs) was hardly big enough to justify taking any of the shine off of his pro debut.
He found himself playing mostly third base in his time with the GCL Yankees, and despite rumors that he might be headed to the outfield long-term, the organization should give him a shot to prove himself as the long-term replacement to A-Rod.
17) Xander Bogaerts, SS, Boston Red Sox
Bogaerts already had the look of an advanced prospect when the Red Sox signed him out of Aruba back in 2009, and he showed he had the hitting ability of one during his pro debut (.314, 42 RBI, 30-to-37 BB:K), resulting in an aggressive promotion to Low-A ball in 2011.
Instead of succumbing to the added pressure, Bogaerts thrived, slugging 16 homers in roughly the same number of games that he hit just three the previous season.
That's pretty impressive improvement in just one season, so it's easy to imagine that he'll get even better with more experience.
At 6'3'' and 175 pounds, he's almost already outgrown shortstop, but he's an incredible athlete who could easily handle either third base or a corner outfield spot.
His position likely won't matter assuming he reaches his potential, which Baseball America opines could be, "a .280 hitter with 30 home runs in the majors."
Without a doubt, Bogaerts has a significant edge over the Red Sox shortstop at the top of the depth-chart, Jose Iglesias. By the time he reaches the big-leagues, however, he'll likely be manning another position, and the Sox will have to make room.
16) Mason Williams, OF, New York Yankees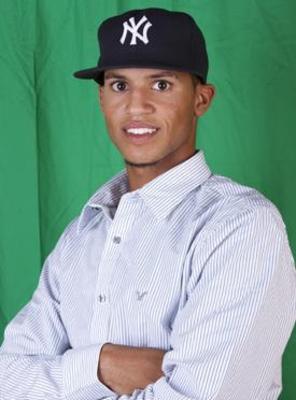 Williams was the breakout star of the Yankees farm system in 2011. The 19-year-old set fire to the New York-Penn League, hitting .349 with 11 doubles, six triples, 31 RBI and 42 runs. He showed great speed, stealing 28 bases and better-than-expected plate discipline for a player fresh out of high school.
In 2012, the Yankees will unleash Williams on full-season ball, likely at Low-A Charleston. He'll be bringing with him five potential tools. At the plate, he shows potential for high averages and solid power numbers.
He should steal even more bases as he continues to refine his running game, and in the outfield he's a stud, easily the team's best defensive outfielder.
The Yankees don't necessarily need Williams, just like they don't need the majority of the players they grow, develop and promote, but he's a welcomed addition to a farm system that has been hit hard by trades (Jesus Montero), promotions (Ivan Nova and Hector Noesi) and self-destructions (Slade Heathcott).
15) Taylor Guerrieri, RHP, Tampa Bay Rays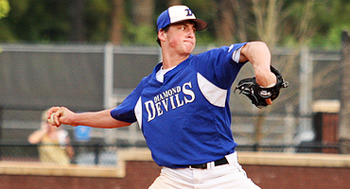 For a short while leading up to the 2011 MLB Draft, Guerrieri earned rave reviews and garnered some dark-horse support as a potential candidate to go inside the top five picks, possibly as the top overall selection.
A few reports surfaced about his immaturity that cancelled out his helium, and combined with concerns about his bonus demands, he slipped all the way to the bottom of the first round, where the Rays happily scooped him up at pick No. 24.
Sending him to an organization known for expertly developing starting pitchers only raises his expectations, as well as his ceiling.
Luckily, Guerrieri has all the tools to make the jump from "concerns about immaturity" to "frontline starter." As it was prior to the draft, it's all about his fastball, which sits in the mid-to-high 90s.
The pitch has great movement on it, and as a result he didn't need much more than just the one pitch to dominate South Carolina high-school hitters.
His curveball is also a potential above-average offering, and the one-two combination should allow him to breeze pretty easily through the lower levels of the minors. As he gets closer to the Majors, however, he'll need to further develop his changeup and sharpen his command.
His ceiling though, is nearly as high as fellow Ray Matt Moore, a true big-league ace.
14) Dellin Betances, RHP, New York Yankees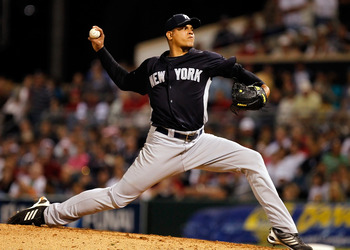 J. Meric/Getty Images
For the longest time in New York, fans had high hopes for the Killer B's, also known as Andrew Brackman, Manny Banuelos and Dellin Betances.
Time and minor-league attrition weeded out Brackman, and Banuelos appears on his way to earning a spot in New York's rotation, possibly as soon as late 2012. But what about Betances?
After dazzling hitters in a sterling campaign in 2010, the big right-hander (6'8'', 260) regressed a bit last year. He went from a control-freak (108-to-22 K:BB in '10) to a control-challenged pitcher, walking 70 batters in 126.1 innings.
Despite the high walk total, Betances still held his own in the Eastern League, posting a 3.42 ERA.
He even earned a late-season call-up to Triple-A, and then the icing on the cake...a big-league promotion to end the year.
Despite the uneven results, Betances still ranks among the top pitching prospects in baseball for many reasons, first among them is his fastball.
His best pitch sits in the mid 90s and often scrapes 97-98 mph. He also throws a curveball and a changeup, both of which have vast potential.
And don't forget that intimidating thing he has going on.
13) Jake Marisnick, OF, Toronto Blue Jays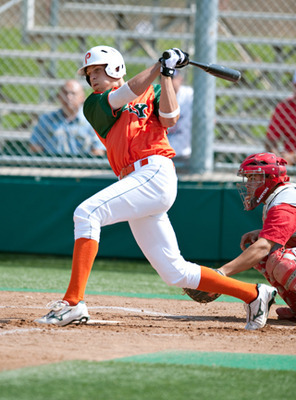 Marisnick's name might be the biggest question mark on this list, but not to Toronto fans, who have been rooting for him to get some love for a couple of seasons now.
Shrugging off a terrible debut season, Marisnick reignited interest with an incredible bounce-back campaign. Now, he's one of the top all-around outfielders in the minors.
Because of the system, Marisnick often gets compared to fellow Jay Anthony Gose, and while the two players have similar styles (speed and power), there's an argument to be made that the former is actually the safer bet to have a long big-league career.
At the plate, Marisnick made great strides in 2011. Getting a full-season's worth of at-bats enabled him to fight off a couple of slumps and finish the year with an impressive .320 average in the Midwest League.
He showed great power, slugging 14 homers and continued to be a threat on the basepaths, swiping 37 bases in 45 attempts.
In the field, he profiles as an above-average defender in center. While he's not big on assists (13 in career), he's also not really keen on making errors (eight).
12) Mikie Mahtook, OF, Tampa Bay Rays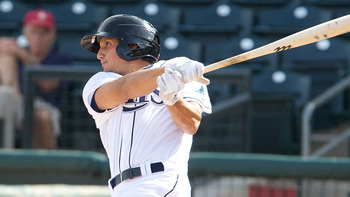 Most scouts and experts don't have Mahtook ranked this high, especially among his counterparts in the A.L. East, but you tell me, what's not to like about a guy with five tools who has experience at the highest level of college play, and who has consistently proven himself to be a capable producer against the best of the best in baseball's toughest conference?
I get why Mahtook is often looked down upon. For starters, he doesn't appear to have much more untapped potential. He is likely to be in the Majors who he was at LSU.
Keep in mind, however, that during his final season in Baton Rouge, he led the SEC with a .383 average and 29 steals. He ranked near the top of the board with five triples, 14 homers, 56 RBI and 61 runs.
Furthermore, against the best competition, he was at his best, never more so than during the Tigers run to the 2009 CWS title.
That year he was named the SEC Tournament MVP, as a freshman, and knocked in the game-winning run in the first game of the CWS final.
Mahtook also gets a lot of flak for his unappealing stance, but hey, a guy who can hold down a .344 career average against the likes of Sonny Gray, Hudson Randall, Brian Johnson, Grayson Garvin, Drew Pomeranz and Mike Minor gets my vote of confidence.
Mahtook took (pun intended) matters into his own hands and sparkled during his pro debut in the Arizona Fall League, during which he hit .338 with 14 RBI and five steals in 18 games.
In addition, he's also a superb defender with a rocket arm. At 6'1" and 200 pounds, he'll likely grow out of center field, but he could be a fixture in Tampa Bay for years to come.
11) Daniel Norris, LHP, Toronto Blue Jays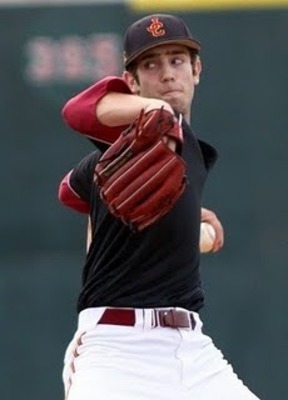 Norris opened some eyes during his final two high-school seasons at Science Hill in Tennessee and consistently ranked as the top left-hander from the high-school crop.
He solidified his status with a strong showing on the 2010 summer showcase circuit and cemented his top prospect status when the Blue Jays shelled out $2 million to sway him from a commitment to Clemson.
Now a professional, Norris will set his sights upon reaching Toronto, which now has one of the deepest minor league pitching staffs in baseball. Norris distinguishes himself not only because he is a lefty, but also because he's such a seasoned pitcher.
He has a very easy delivery that produces a mid-90s fastball, capable of reaching 96-97 mph. He throws three other pitches, each of which has potential. His curveball likely has the most potential, and even if he fails to develop his slider or changeup, there's no doubt he could be a top-flight reliever.
He'll start (pun intended) his pro career as a starter with Toronto, possibly in Low-A ball, a testament to his poise and maturity.
10) Blake Swihart, C, Boston Red Sox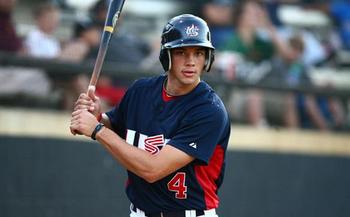 Swihart was the top catcher available in the 2011 draft class, and it took a pretty penny ($2.5 million) to sway him away from a commitment to the University of Texas.
The Sox had plenty of reasons to go all-in on Swihart, none of which took a dent when he went 0-for-6 in his pro debut with the Sox rookie ball squad.
For starters, Swihart is a switch-hitter who has the chance to be an above-average hitter for average AND power. In addition to his skills at the plate, Swihart has plenty of potential behind it.
He's an incredible athlete who should be able to stick at catcher long-term, and his cannon-arm allowed him to post some pretty impressive pop-times during the 2010 summer showcases.
When he wasn't wowing scouts at events, he was wreaking havoc with the bat for the 18-and-under National team, for whom he hit .448.
Swihart will be treated with kid gloves for the time being, but he could earn a spot on the Low-A roster to open the 2012 season. Expect him to move slowly while he adjusts to catching full-time.
9) Will Middlebrooks, 3B, Boston Red Sox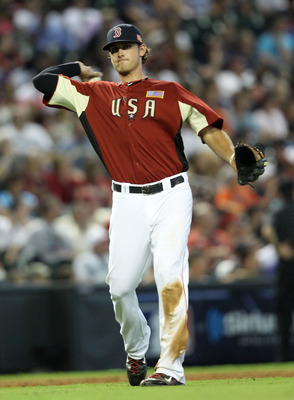 Christian Petersen/Getty Images
Middlebrooks made plenty of noise, slugging 12 home runs while maintaining a .276 average in 2010, but it wasn't until 2011 that he really caught the attention the Sox front office and scouts across baseball. Now he's considered one of the top third-base prospects in baseball.
Don't get me wrong, a season with a .285 average, 23 homers and 94 RBI is by no means anything to pooh-pooh, but Middlebrooks has been putting up these kinds of numbers for a couple seasons now, so don't count me among the surprised. In fact, it was here that I posited his name as a likely breakout star for 2011.
Regardless, Middlebrooks did make strides in many areas in 2011. For starters, he improved his average by nine points, despite posting a worse BB:K ratio and a lower on-base percentage. He showed decent speed (10 steals) that hadn't surfaced since his debut season back in 2008.
On defense, he committed just 16 errors. In fact, in three full seasons, Middlebrooks has never posted more than 19 errors, quite a feat for a player who was drafted out of high school.
With Adrian Gonzalez entrenched at first base, Kevin Youkilis at third, and David Ortiz likely to occupy the DH spot, the Sox will have a hard time finding a spot for Middlebrooks, meaning he'll likely spend the majority of the season at Triple-A Pawtucket.
8) Hak-Ju Lee, SS, Tampa Bay Rays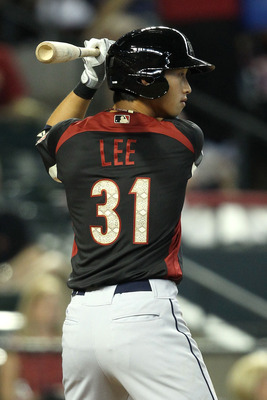 Christian Petersen/Getty Images
Lost in the Matt Garza-for-Chris Archer trade was shortstop Hak-Ju Lee, who the Cubs signed out of South Korea back in 2008 for nearly $750,000, and who has surpassed the Rays own "shortstop-of-the-future" on the Tampa Bay depth chart.
Lee checks in at No. 2 on Baseball America's top-ten prospect rankings for Tampa, and for good reason. There is very little that he doesn't do well, aside from hitting for power (just eight home runs in 311 games).
He hits for a high average (.296 career), racks up extra-base hits of the non-homer kind (53 doubles, 21 triples), and knows his way around the basepaths (30 steals per season).
In the field, he is graceful, quick and sharp. He can make all the throws and at a lithe 6'2'' and 170 pounds doesn't stand to put on too much bulk, meaning he's a long-term shortstop, a rarity these days.
Lee's only obstacle is his competition, namely that shortstop mentioned above, former No. 1 overall pick Tim Beckham, who had a career resurgence in 2011 and who is hot on Lee's trail.
7) Anthony Gose, OF, Toronto Blue Jays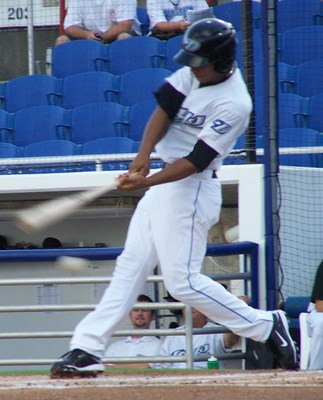 Gose had tantalized scouts and front office officials in Philly and Toronto alike with his sensational talent, but it wasn't until 2011 that he finally began to see the fruits of his off-season work, specifically his power stroke.
The former second-round (2008) pick practically doubled his career home run total, slugging 16 in just 137 games for Double-A New Hampshire. That might not sound like a lot for most players, but for Gose, a player who has made his mark on the basepaths, it was quite an awakening.
Sixteen home runs makes for a good season, but when you combine that with the fact that he stole a career-high 70 bases and drew a career-best 62 walks, you begin to see just how valuable Gose could be for the Jays.
An underestimated part of Gose's improvements was his improved decision-making. After getting caught stealing 52 times during the past two seasons, he cut that number to 15 in 2011.
On defense, Gose not only has incredible range, but he also has a knack for racking up assists at an exorbitant rate. He's compiled 43 assists the past three seasons, including 14 last year.
In a system that includes Jake Marisnick and Dwight Smith Jr., as well as Travis Snider and Colby Ramsus at the big-league level, Gose might find aquiring a spot in the Jays outfield harder than expected, but his ceiling is arguably as high as any prospect in the American League East.
6) Gary Sanchez, C, New York Yankees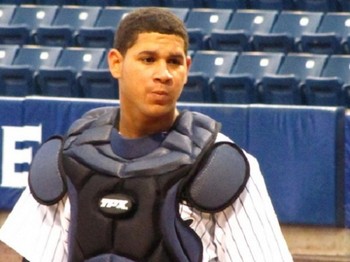 Sanchez is often mentioned third when discussing the Yankees in-house catching prospects, but no longer. With Jesus Montero on his way to Seattle, and Austin Romine's offensive potential quite the taboo subject, the top honor now falls to Gary Sanchez.
Sanchez was part of the stellar 2009 international crop that also included Miguel Sano (Minnesota) and Cheslor Cuthbert (Kansas City).
Since signing for $3 million, Sanchez has shown a few things. For starters, he has incredible raw power. He slugged 17 home runs and drove in 52 runs in just 82 games for Low-A Charleston.
Second, despite the fact that he has a career 50-to-137 BB:K ratio, he has repeatedly earned rave reviews for his plate discipline, with Baseball America opining that "Sanchez has a purer swing and more patience than Jesus Montero."
Defensively, Sanchez is a mixed bag. He offers a rifle arm, but very little in the way of control. His pop times aren't exactly sensational, and he led all backstops in the Sally League in passed balls. He did, however, throw out 31 percent of attempted base-stealers.
Sanchez will likely return to Low-A again in 2012 as a 19-year-old.
5) Manny Machado, SS, Baltimore Orioles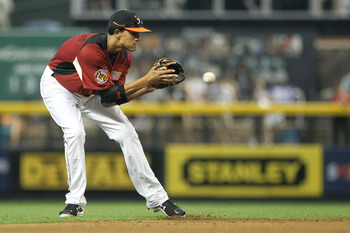 Jeff Gross/Getty Images
The Orioles occupy two of the top three spots in the American League East prospect rankings, a mild consolation for an organization that hasn't posted a winning record since 1997.
The O's happily scooped up franchise shortstop Manny Machado with the third overall pick in the 2010 draft, and were pleased to see how he responded in his first season of pro ball.
He didn't exactly set the world on fire (a la Bryce Harper), but he did earn a speedy promotion from Low- to High-A, played solid defense and won championship series MVP honors while guiding Frederick to the Carolina League crown.
At best, Machado is a five-tool stud, whose worst tool is his speed. At 6-foot-3 and 185 pounds, he's still got plenty of room to grow (and he will) and there's the chance that he'll be down to four-tools within a year or two.
His rapidly-growing body might eventually be better suited for third base, but for the time being, the O's are content to leave him at shortstop, especially since they have the luxury of the best statistical defensive shortstop in the American League (J.J. Hardy) blocking his path.
Machado should hit for a decent average, and as he continues to grow, he should grow into more power than he showed in 2011 (11 HR).
Machado is the kind of franchise cornerstone that the O's haven't had in the infield since the days of Cal Ripken Jr.
4) Travis d'Arnaud, C, Toronto Blue Jays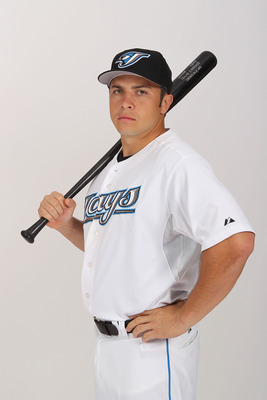 Nick Laham/Getty Images
D'Arnaud, arguably the top catching prospect in the minor leagues, is one of the most overlooked, underrated players in baseball.
Just 22-years-old, d'Arnaud is on the cusp of arriving in the Majors after a terrific 2011 campaign that saw him come into his own as a power hitter (21 homers), while still maintaining a high average (.311).
On defense, he remained his usual dependable self, throwing out 27 percent of runners attempting to steal. That number is close to being one of the best in the minors, but also take into account that on average fewer runners attempted to steal off of d'Arnaud than in the past.
D'Arnaud comes from a baseball family (his brother Chase plays for Pittsburgh), and you can see it in the way he goes about preparing, as well as how he plays on the field. He's a very hard worker who has shown an ability to handle top-notch pitching.
By 2014, d'Arnaud should be the anchor, and a middle-of-the-lineup bat, in Toronto's lineup, likely forcing current backstop J.P. Arencibia to another position, or possibly to another team altogether.
3) Manny Banuelos, LHP, New York Yankees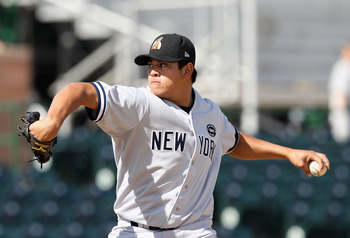 Christian Petersen/Getty Images
Manny Banuelos is arguably the top left-handed pitching prospect in baseball, yet somehow he ranks only third on this list. Such is life in the prospect-loaded American League East.
Banuelos is also probably the most talented player in all of the minor leagues considering his age and level of experience. Just 20 years old, he has already shown the ability to dominate Double-A hitters (3.59 ERA, 94 K in 95.1 IP).
He's even squeezed in seven starts at Triple-A, one of which resulted in a complete-game shutout for the diminutive Mexican native.
What stands out the most about him, besides his tiny stature (5-foot-11, 160 pounds), is his poise. He was fearless last spring training, when he was arguably the team's best pitcher. He almost earned a spot on the active roster before losing out to Ivan Nova.
In any other organization, Banuelos would likely be fighting for a spot in the rotation come spring training. Unfortunately, he and his mid-90s fastball (along with his above-average changeup) reside in the New York Yankees system, which means he's headed back to Triple-A.
2) Dylan Bundy, RHP, Baltimore Orioles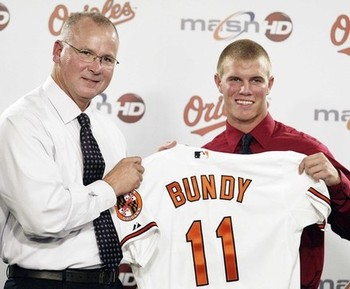 After Matt Moore, Bundy is arguably the game's top pitching prospect, quite an impressive feat considering he has yet to throw a pitch professionally.
That's how good Bundy is, and has the potential to be. The thing that stands out the most about Bundy, according to experts, is not his mid-to-high 90s velocity (he set a goal to reach 100 mph before his senior season), his ability to reach triple-digits (he achieves what he sets his mind to), his two above-average secondary pitches (curveball and cutter) or his outstanding work ethic.
Rather, what excites scouts is Bundy's unfailing ability to repeat his delivery and landing spot on the mound after each pitch. This allows him to pitch with eerily impressive control, yet another trait that should expedite his trip to the Majors.
The O's inked Bundy to a big-league deal, but even if they hadn't, he still would be likely itching for a call-up sometime in 2013 or 2014.
1) Matt Moore, LHP, Tampa Bay Rays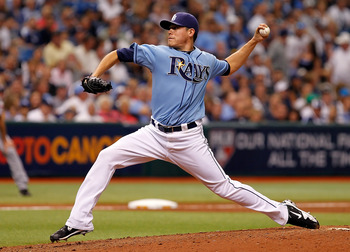 J. Meric/Getty Images
Here's the skinny on Moore, the top pitching prospect in all of the minors and one of the most exhilarating minor leaguers to come along in quite some time.
In 2011 alone, Moore threw a nine-inning no-hitter, racked up more than 200 strikeouts (for the second year in a row), reached the Majors and pitched seven shutout innings in his first playoff start (only his second big-league start).
For an encore in 2012, he's likely headed back to Triple-A while he waits for a spot in the Rays big-league rotation to open up, whether that be due to injury or a trade.
As good as David Price is, Matt Moore is going to anchor the Rays staff for the next decade.
With his lethal combination of mid-to-high 90s velocity, two potential above-average pitches (curveball and changeup) and transcendent command, he's likely to be an annual All-Star and a guy who challenges for Cy Young awards on a consistent basis.
Keep Reading