Why Vote Totals for McGwire, Palmeiro Don't Bode Well for Bonds, Sosa, Clemens
January 10, 2012
Jed Jacobsohn/Getty Images
It was a great day for Barry Larkin, the newest member of the Baseball Hall of Fame. It wasn't so great for Rafael Palmeiro or Mark McGwire, though. It's also beginning to feel like approximately one year from now when the voting is tallied for next year's ballot former stars such as Roger Clemens, Barry Bonds and Sammy Sosa are going to be in the same spot they are today. Not in the Baseball Hall of Fame.
While fans, players both active and retired as well as media members can debate ad nauseum how former players either guilty of performance-enhancing drug use or suspected of such use should be handled with regards to Hall of Fame admission the Baseball Writers actually get to make the decision. 
So far that decision has been a resounding "no."
No you're not going to get into the Hall of Fame if you've got a checkered past with regards to performance-enhancing drug use. 
Mark McGwire in his sixth year on the ballot received 19.5 percent of the vote. That's the lowest total he's garnered in the six years he's been on the ballot. The minimum percentage to gain entry in 75 percent. 
Rafael Palmeiro is one of only four men to have more than 3,000 hits as well as more than 500 home runs in a career. That should have gained him a near automatic admission to Cooperstown last year which was his first year of Hall of Fame eligibility. Instead he was only able to get 11 percent; this year his total inched up to 12.6 percent. Neither number presents a reason for Palemeiro to be too optimistic.
Next year's Hall of Fame ballot will feature three men who by all measure should be in on the first ballot. Their names are Barry Bonds, Roger Clemens and Sammy Sosa. Yet their checkered pasts with regards to performance-enhancing drug use is going to have a dramatic impact on the number of votes they receive.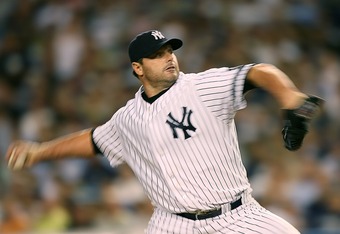 Mike Ehrmann/Getty Images
It's impossible to predict the future but consider this:
Roger Clemens and Barry Bonds not only were both accused of performance-enhancing drug use, but they also both had to spend time in federal courts explaining themselves. Clemens even made the mistake of going before Congress in an attempt to explain himself and ended up with a highly publicized perjury charge being levied against him 
Make no mistake, one could easily surmise that both players were Hall of Fame caliber players before the time when most observers have assumed they started using performance-enhancing drugs. That may be part of the problem though. 
Since Clemens steadfastly denies having ever used performance-enhancing drugs and Bonds has made only tacit admissions without ever revealing information such as when he started using, it's impossible to actually determine when the mind-boggling numbers produced by these players were produced with or without the use of performance-enhancing drugs. 
Bonds and Clemens both have some of the most impressive numbers in all of major league history. One could make an argument that, had Clemens never been accused of drug use, he could be called "the greatest starting pitcher of all time."
Barry Bonds owns both the single-season as well as career home run records for Major League Baseball.
Even with these very impressive resumes both players seem destined to be on the outside looking in when the final voting is tallied next January.
Sammy Sosa is in a slightly different boat. Sosa never admitted to any sort of drug use as McGwire did. Sosa did testify before congress that he had never used performance-enhancing drugs but then in June of 2009 news broke that Sosa had indeed tested positive back in 2003. 
That's going to be a major obstacle for Sosa. Sosa's numbers might not be quite as epic as those of Roger Clemens and Barry Bonds but they're not too far off. An MVP Award coupled with 609 career home runs should make an admission to the Hall of Fame a no-brainer. Instead it seems likely that Sosa along with Bonds and Clemens will join McGwire and Palmeiro in a club whose membership is growing in spite of the fact that no one wants to get into it.