Alabama vs. LSU: Key Players to Watch in Tonight's Epic Battle
January 9, 2012
Kevin C. Cox/Getty Images
The 2011 BCS Championship Game is mere hours away, so here is a quick primer on what players you need to be watching out for—whether you are interested in their potential to join your team via the NFL draft or just interested in seeing superstars on the field tonight.
LSU
Jordan Jefferson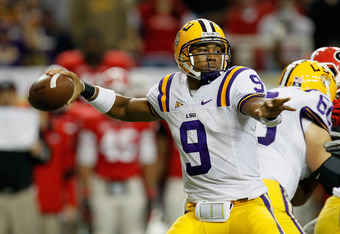 Kevin C. Cox/Getty Images
Jefferson was suspended for the first four games of the season for an alleged bar fight. He gradually earned the starting job back from Jarrett Lee as the year dragged on.
He'll be under center to start the game tonight and will most likely take the majority of snaps, barring injury.
The young man can make plays with his arm and also has the ability to run the option.
Tyrann Mathieu
You may better know him as the "Honey Badger," but there is nothing sweet about his physical game.
Mathieu is a dynamic kick returner and leads the team in tackles on defense from his cornerback position.
Morris Claiborne
This kid is a stud and will be a top pick in the draft this spring.
He has all the tools needed to succeed at the next level. He'll be a force tonight against the Crimson Tide.
Rueben Randle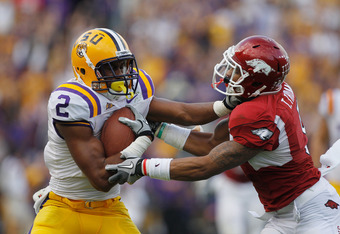 Chris Graythen/Getty Images
This wide receiver is the Tigers' big-play threat on offense.
He's got 50 receptions for 904 yards so far this season and is looking to add a couple more tonight.
The Tide stifled him in their first appearance, which should provide enough motivation for a great game.
Alabama
Trent Richardson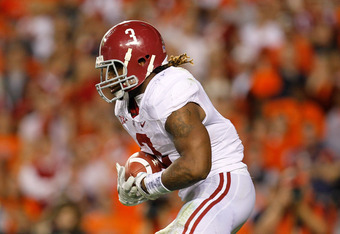 Kevin C. Cox/Getty Images
The Heisman runner-up needs to have a big game and find running lanes if he wants to become a two-time champion during his storied career at Alabama.
He's going to be the first RB off the board in the draft. He has the size, speed and vision needed from an elite back.
Dre Kirkpatrick
This lanky cornerback is often compared to Antonio Cromartie—and for good reason.
They both have incredible size and fluidity and can cover anyone with their speed.
Courtney Upshaw
If Alabama wants to get to Jordan Jefferson, it all starts with the play of Upshaw.
He's a great, physical pass rusher who will never quit on a play and has a motor that will not stop running.
Dont'a Hightower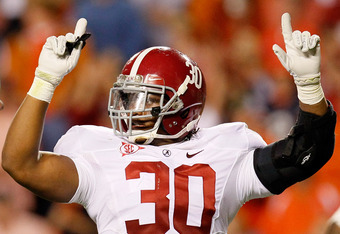 Kevin C. Cox/Getty Images
Hightower reminds people of Ray Lewis for his physical play in the middle and ruthlessness he brings to the game.
He may not have the fastest sideline to sideline speed, but if he catches someone, they're going to be in for a hurting.