Pittsburgh Steelers: The Future Starts Now for the Black and Gold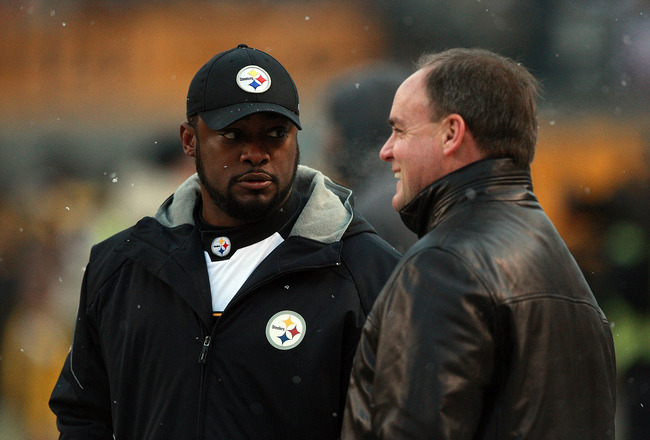 Karl Walter/Getty Images
For every NFL team, the conclusion of the season brings about the need to evaluate where your team stands.
Some teams, normally those picking at the top of the NFL Draft, have a lot more work to be done than, say, those that are picking at the end of it.
Those that are picking towards the middle, such as the Pittsburgh Steelers are in 2012, have to evaluate how they can get back to the end of the draft rather than moving up to the top of it.
And it starts at the top for the Pittsburgh Steelers and their general manager, Kevin Colbert.
Even though Colbert has been with the Steelers since what seems like forever, it was in 2011 that the Rooney family finally decided to give the keys to the franchise to Colbert and name him general manager.
Now that Colbert has the highest title in the NFL other than owner, it is time to evaluate the roster and make the decisions for the Steelers moving into next season and beyond.
Coaching Staff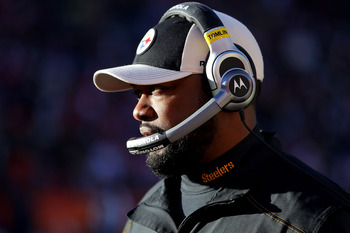 Doug Pensinger/Getty Images
There is no question that Mike Tomlin should, and will, return to coach the Steelers next year, and most likely, years after that.
He has the passion and desire that seems to be the key qualities for Steelers head coaches.
Yes, during the 2011 season, Tomlin made some mistakes, but he also took chances, which is exactly what successful NFL coaches do.
Bruce Arians
In reading between the lines, it appears that the Steelers may have finally had enough of Bruce Arians. In an article off profootballtalk.com from Sunday, Ben Roethlisberger stated:
"We've got a lot of great young players. As long as they don't get crazy and change the offense — that can really set you back — the sky is the limit for this team."
Translation: Please don't fire my buddy Bruce.
If the Steelers front office is as sick of the stalling offense as the fans are, the Arians needs to go. Cut and dry, plain and simple. The Steelers have WAY too much talent on the offensive side of the ball to put up numbers like they do.
In the first quarter against the Broncos, the Steelers had to kick two field goals instead of scoring touch downs because they were too predictable.
If I can see it, and you can see it, then OBVIOUSLY, the defensive coordinators the Steelers face can see it as well.
Dick LeBeau
As much as I may take heat for this, I believe it may be time for Dick LeBeau to call it a career. Yes, he has changed the game of football with his creativity, but that seems to be LONG gone.
Too many times in the past have the Steelers taken a lead into the fouth quarter and blown it because of the prevent defense.
Too many times have the Steelers played teams with average or below average quarterbacks, and the Steelers, instead of attacking, play not to lose, allowing the team to stay in the game.
I know the players love him, but in doing what is best for the team, it may be time for the Steelers to move on to Keith Butler, who has stayed with the Steelers as the defensive coordinator in waiting instead of moving on to Miami.
Quarterback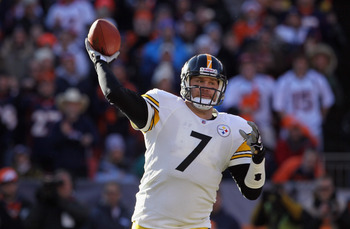 Jeff Gross/Getty Images
Ben Roethlisberger
Big Ben is not only elite, but there is no better player for the Steelers to be leading them. He is tough, he makes plays and he finds a way to win.
Other than his love for Bruce Arians, I saw very few faults with Ben this year. Yes, he holds the ball too long. Yes, he makes some bad decisions. That is the price you pay when you have a gunslinger as your QB.
Charlie Batch
I have loved Batch for years as the back-up to Big Ben.The reality is, at 37 years old, it is time to call it a career.
I would LOVE to see Batch return to the Steelers as an offensive assistant and maybe a QB coach. But his days in pads need to be over to make room for someone to groom for the future.
Dennis Dixon
The Steelers managed to keep Dennis Dixon last season because there were no teams that took an interest in him. Hard for them to, as he gets almost no playing time.
The Steelers obviously don't have much of one either because even when Ben was originally injured against the Browns, Dixon was not even in uniform for the game.
If the Steelers are not going to elevate Dixon to No. 2 on the depth chart, then it is time to let him walk away.
Byron Leftwich
When Leftwich broke his arm in the 2011 preseason, it saved the job of Charlie Batch. Though his release is slow, he still finds a way to get it done, AND we don't have to worry about him under throwing Mike Wallace.
Running Back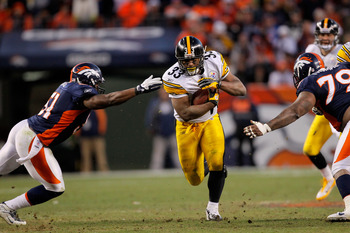 Justin Edmonds/Getty Images
Rashard Mendenhall
With the torn ACL he suffered against the Cleveland Browns in Week 17, the odds of Mendenhall being ready to go for the start of the 2012 season are slim. When you are a running back and you injure your knee like Mendenhall did, you need at least a full year before being at full speed.
The Steelers probably will not have Mendenhall for most of the 2012 season, so they are going to need to move on without him.
Isaac Redman
I have been a HUGE fan of Redman, but please don't let what happened in Denver to allow you to think he is ready to be she Steelers featured back.
Yes, he carried the ball 17 times for 121 yards. BUT, the Broncos were playing to stop Ben Roethlisberger, so there were more running lanes than he would normally have.
Mewelde Moore
Because he was unable to return from injury, and because of his age (30) and depth on the Steelers of young guys, odds are, Moore has played his last game for the Steelers.
John Clay
Even though he has not had many chances, the few that he did have he made the most of. As a rookie, he has done a decent job at the end of the season and will likely get another chance next year.
Jonathan Dwyer
Similar in size to Clay, I think the Steelers are going to have to choose between Clay and Dwyer this off season. Already having a short yardage stud in Redman, there really isn't much room for three of them on the roster.
Baron Batch
After having a great camp in 2011, Batch suffered a torn ACL, and his rookie season ended before it started. He will probably have a chance to come in and compete next year, but his recovery from his injury will be the key factor as to him making the Steelers roster.
Wide Receiver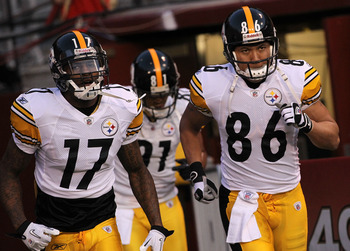 Karl Walter/Getty Images
Hines Ward
Ward will go down as one of my all time favorite Steelers. He played the game the way no other did and should be a first ballot Hall of Famer.
He did get his 1,000th reception, and the Steelers seemed bent on getting it, which means he has probably played his last game for the Black and Gold.
(UPDATE: It is now being reported on profootballtalk.com that Hines Ward will in fact retire.)
Mike Wallace
Wallace has the potential to be one of the best receivers in the league. The problem I am having with him, and I may take a lot of heat for this, is that he seems to quit on too many plays.
Too often when he is being double covered or after the play has broken down, it seems like Wallace is almost moping around.
Because of his talent, the Steelers will offer him a high first-round tender as a restricted free agent, but they should not give him a big contract until he proves he is going to give it his all and earn it.
Antonio Brown
Other than what we see on the field, Brown is becoming a leader in the locker room. For the Steelers to vote Brown as the team MVP says a lot.
Brown also had over 1,000 receiving yards and over 2,000 yards total. This makes Brown one of the biggest weapons on the Steelers.
Emmanuel Sanders
TON of potential, but he needs to find a way to stop getting hurt and stay on the field. With the combination of Wallace, Brown and Sanders, the Steelers top three could be lethal. Sanders needs to step up or 2012 could be his last year in Pittsburgh.
Jerricho Cotchery
After signing Cotchery to a one-year contract last offseason, he needs to be the Steelers' top priority this offseason.
No, he is not going to stretch the field, but he is going to make the big catches when the Steelers need it, like he did against the Broncos.
I see him as the new Hines Ward, and that is a role the Steelers need.
Tight End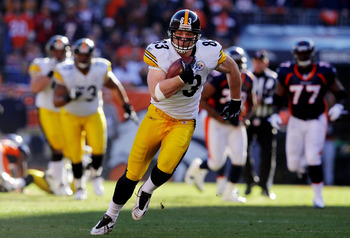 Doug Pensinger/Getty Images
Heath Miller
A lot of teams use their tight end as a pass catcher with limited blocking ability. Others use theirs as a blocker that does not catch many passes.
Miller excels in both areas, and it is a shame that he does not get the recognition as being one of the best in the game, because he is.
David Johnson
Johnson could be a great TE, but the Steelers use him more as a full back than his real position, so we really don't get to see a lot of what he can do.
The Steelers either need to get a real fullback, move Johnson there or allow him to be the back up he is.
Weslye Saunders
In the limited playing time he gets, Saunders has shown that he really has some talent. One announcer, I can't remember who, even said that Saunders could be the next Heath Miller.
Not so sure I would go THAT far, but he has earned at least another year to prove them right.
Offensive Line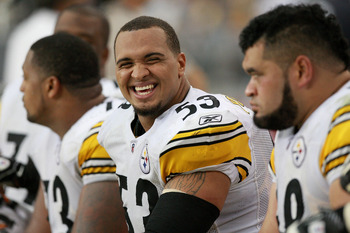 Karl Walter/Getty Images
Maurkice Pouncey
Two years in the league, two Pro Bowls and a first team All-Pro this year. The only knock on Pouncey is the he gets injured too much. If he can find a way to stay on the field, he could be the best ever.
Doug Legurski
The injury issues to Pouncey have made it a requirement to keep Legurski at least until they can find someone better, but the odds of that happening are slim. Legurski is able to play not only center, but both guards position well enough to make him a great back-up.
Max Starks
After being released and getting back in shape, Starks proved he is what the Steelers though he was when they gave him a huge contract. No, he will never be mistaken as one of the best in the league, but he does a good enough job to stay a member of the team.
(UPDATE: It is now being reported on PFT that Starks injury may be a torn ACL)
Willie Colon
Having missed most of the last two seasons and getting a big contract between them, Colon, like Pouncey, needs to find a way to stay healthy. Though he may have lost his starting job to Marcus Gilbert, he could be one of the best guards in the league.
Marcus Gilbert
Yes, he had some issues his rookie year, but remember, he was a rookie. He also showed a TON of promise and could eventually slide over to the LT spot.
Chris Kemoeatu
Other than his ability to pull on running plays, Kemoeatu has become more of a liability than he is worth. Too many penalties and too many missed assignments have probably ended his days in Pittsburgh.
Of all the rest of the offensive linemen, none of them are really quality enough that the Steelers can't afford to let them go, while if they stay as back-ups, it is no big deal.
The Steelers DO need to bring in a starting guard, whether it be in the draft or free agency.
Defensive Line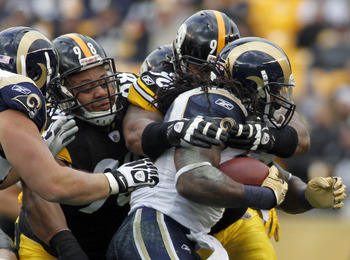 Justin K. Aller/Getty Images
Ziggy Hood/Cam Heyward
The Steelers future at the DE position. Both are solid players and have obviously learned how to play the position from two of the best in the NFL.
Aaron Smith
As much as he has meant to the Steelers, I believe Smith has played his last down in the NFL. Too many serious injuries have ended a Hall-of-Fame career.
Casey Hampton
I think the Steelers' top priority is to find the successor to Hampton this offseason. I am not saying Hampton, but that it is pretty clear that the end of the road is a LOT closer than the beginning.
Steve McLendon
McLendon did a great job filling in for Hampton and Chris Hoke, but his limit may just be as a back up. If he were to be able to put on another 30 pounds of muscle/fat, he may be able to clog the middle like Hampton does. But he needs time to get there, and the Steelers may not have it to give him.
Chris Hoke
After suffering a neck injury, his NFL career may be over. A quality back-up for the Steelers, Hoke will be missed on the team.
Brett Keisel
Keisyl still plays with a lot of fire and talent and will most likely be the starter when the 2012 season rolls around. The three-man rotation of Keisel, Hood and Heyward is going to be fun to watch.
(UPDATE: It is now being reported on PFT that Casey Hampton may have a torn ACL, and Brett Keisel suffered a serious groin injury, which may require surgery.)
Linebackers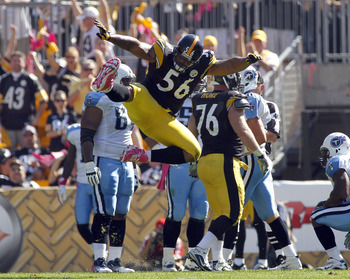 Justin K. Aller/Getty Images
LaMarr Woodley and Lawrence Timmons
Timmons and Woodley are the first the picks of the Mike Tomlin era, and he nailed it with both. With both having re-signed last offseason, the Steelers are set at two of the four positions.
James Harrison
As much as I love Harrison, it is hard to not think his career is near its end. Even though he did not become a regular starter until 2007, he is still 34, and his body will eventually start showing age. Add to that the NFL is determined to make Harrison the poster boy for NFL rules, he may get tired of it and walk away like he said he was going to do in 2010.
James Farrior
Enough is enough. Farrior has become too much of a liability in pass coverage to any longer warrant a roster spot. Yes, he is good at the run defense, but just like the Steelers had to let go of Joey Porter, it is time to do so with Farrior as well.
Stevenson Sylvester
Plays with a lot of the same passion as Joey Porter did. Young, fast and the potential to become the next great Steeler LB. I think if the Steelers cut James Farrior, Sylvester will shine.
Larry Foote
Great back-up, if he is willing to play for league minimum. Not really worth much more than that.
Jason Worilds
Did a great job when given the chance, but most of Steelers Nation doesn't think he is the next Woodley or Harrison. The reality is, if Worilds were playing on almost any other team, he would be a starter already.
Chris Carter
Though he showed on special teams he could play, he needs to show more to earn time on defense. Could be a stud in the future; we just don't know yet.
Corner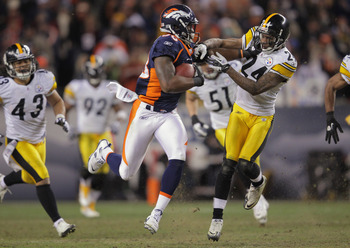 Doug Pensinger/Getty Images
Ike Taylor
Don't let the game against the Broncos be the judge of Ike Taylor's season. Taylor had to play straight up, with no safety help AT ALL, and the pass rush was not there. There is not a corner in the NFL that could have kept up with receivers as long as LeBeau was asking Taylor to.
Will Gay
The same could be said about Gay, but Gay is set to become a free agent, and after making 2011 his best season ever, he could be in line to join a team that is going to pay him a lot more than Pittsburgh will.
Keenan Lewis
Finally earned some playing time in the nickel, may be the replacement for Will Gas if he leaves. If not, then they will battle for the starting job.
Bryant McFadden
Lost his starting job, lost the nickle job, finished the season playing special teams and is set to make close to $4 million? Gone.
Cortez Allen and Curtis Brown
Two rookies that both have the potential to become starters in the near future.
Safety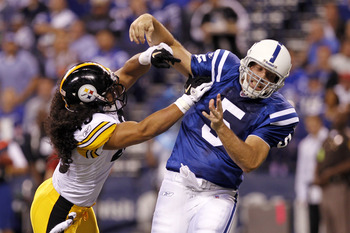 Joe Robbins/Getty Images
Without question, Polamalu is not only a first ballot Hall of Fame player, but he is also a player that has changed the game.
However, I have two complaints
If the Steelers are constantly going to play Polamalu at the line of scrimmage, change his position to LB, and let him blitz.
If you don't allow Polamalu to play in the secondary, then he is never going to be able to get interceptions.
Ryan Clark
I honestly believe if Clark had played against the Broncos, the outcome would have been different. The only knock on Clark is his age, 33, and his eventual replacement needs to be found.
Ryan Mundy
I was never crazy about Mundy as a player until the Broncos game. He seems to finally understand the defense and played better than expected. He MAY be the eventual replacement for Clark.
Damon Cromartie-Smith
Because we have not seen very much from DCS, I can't really speak for his future but to say if he is still on the roster, Tomlin must see something in him.
Players That Need to Go.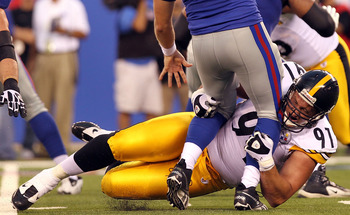 Nick Laham/Getty Images
Here are the players the Steelers need to say goodbye to this offseason.
Hines Ward
Aaron Smith
Chris Kemoeatu
James Farrior
Larry Foote
Charlie Batch
Dennis Dixon
For the older guys, it is sad that they have played their last game with the Steelers, but honestly, there is no team in the NFL that they could go to and be a difference maker on a regular basis.
For the younger guys, maybe a change of scenery will restore their careers and make them great.
But these are the Steelers that simply can't be wearing the Black and Gold next year. It is time to move on from the past, fill those positions and spend that money on the future of the Steelers.
Keep Reading

Pittsburgh Steelers: Like this team?