LSU vs. Alabama: Previewing the 2012 BCS National Championship Game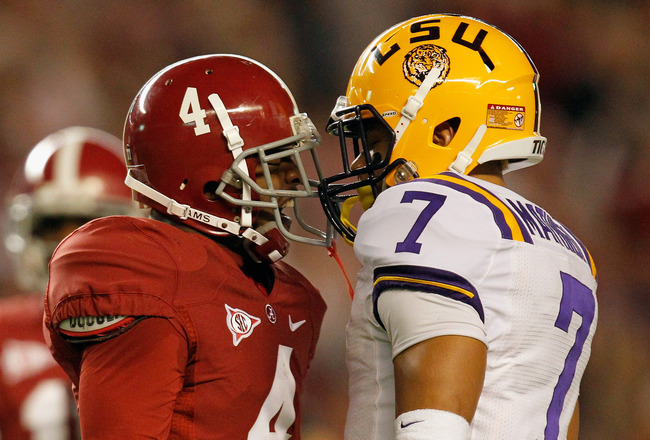 Streeter Lecka/Getty Images
It has been a tremendous college football bowl season. From record-setting offensive performances in the Alamo Bowl and Orange Bowl to overtime thrillers in the Fiesta Bowl and Outback Bowl, to unexpected instant classics in the Sun Bowl and the New Orleans Bowl, there has been no shortage of excitement.
But the time finally comes on Monday, Jan. 9 for the game everyone has been waiting for—the 2012 BCS National Championship Game. While many college football fans are displeased with the game being a rematch between two teams from the Southeastern Conference, the LSU Tigers and the Alabama Crimson Tide, they are legitimately the two best teams in the nation.
LSU won the first matchup, a road game at Alabama on Nov. 5, 9-6 in overtime.
This game will be played on Jan. 9 at 8:30 p.m. ET in New Orleans, La., at the Mercedes-Benz Superdome. The game will be televised on ESPN.
Note: Rankings used are from my national Top 25 rankings.
Alabama Crimson Tide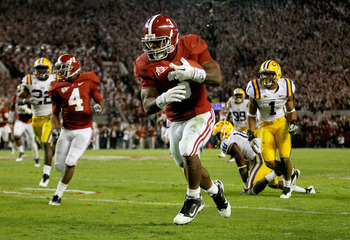 Streeter Lecka/Getty Images
Ranking in My National Top 25: No. 2

Record: 11-1 (7-1 SEC)

Biggest Win: vs. No. 6 Arkansas, 38-14, Sept. 24

Worst Loss: vs No. 1 LSU, 6-9 (OT), Nov. 5
The argument against Alabama playing for a national championship is very understandable. Usually, I would always be against a team getting a second chance at beating a team to win a national championship, let alone two teams playing from the same conference. This is especially true since Alabama lost the game at home.

That said, the Tide are the second-best team in the nation. LSU was the only undefeated team in the nation, and Alabama's loss came against it, while the other team in the argument, Oklahoma State, lost a game to Iowa State, a team that ended up below .500 with a loss in the Pinstripe Bowl.
The Crimson Tide have won two games against currently ranked teams and six games against bowl-eligible teams.
More impressive than that, however, are their defensive statistics. The Tide have not given up more than 21 points in a game this season, holding seven teams under 10 points this year. Additionally, all of the Crimson Tide's wins have been by at least 16 points.
Alabama ranks first nationally in total defense with only 191.3 yards allowed per game. Bama also ranks first nationally in both passing defense and rushing defense, as well as scoring defense with just 8.8 points allowed per game.
Offensively, the Crimson Tide are also efficient, ranking 30th nationally in total offense and 17th nationally in scoring offense.
LSU Tigers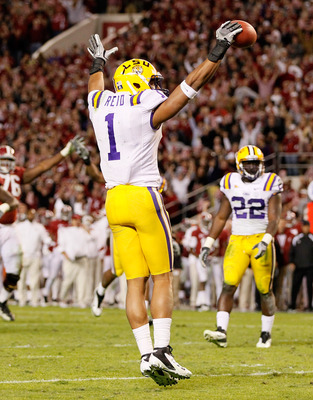 Kevin C. Cox/Getty Images
Ranking in My National Top 25: No. 1

Record: 13-0 (8-0 SEC)

Biggest Win: at No. 2 Alabama, 9-6 (OT), Nov. 5

Worst Loss: None
There may be debate over whether or not Alabama deserves to be ranked second in the nation, but there is no debate over whether LSU should be ranked first. Not only are the Tigers the only undefeated team in the nation, but they have played the toughest schedule as well.

The Tigers have won four games against teams ranked in the Top 11: No. 2 Alabama, No. 4 Oregon, No. 6 Arkansas and No. 11 Georgia. Of LSU's 13 wins, nine of them have come against bowl-eligible opponents—more than any other team in college football. The Tigers' non-conference schedule includes the winners of two BCS bowls, the Rose Bowl (Oregon) and the Orange Bowl (West Virginia).

Like Alabama, LSU has not just won, but has done so in dominant fashion. Aside from the Alabama game, all of the Tigers' wins have been by at least 13 points with 10 of them being by at least 24.

LSU ranks second nationally in total defense and scoring defense, only behind Alabama. It also ranks third in rushing defense and sixth in passing defense.

Offensively, the Tigers are not prolific, ranking only 73rd in total offense. But thanks to big plays on defense and special teams, LSU ranks 12th in scoring offense. The Tigers also have the nation's best turnover margin at plus-22.
Players to Watch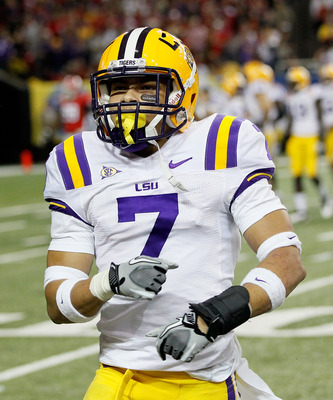 Kevin C. Cox/Getty Images
Tyrann Mathieu, CB (LSU); Sophomore
2013 NFL Draft Grade: Top 10
Typically, the most explosive playmakers on the field are quarterbacks, running backs and wide receivers, but the most dangerous playmaker in the nation this season has been LSU cornerback Tyrann Mathieu.
Known by the nickname "Honey Badger," Mathieu is a playmaking threat whenever he is around the football. Not only is he a threat to take the ball away, but when he ends up with the ball in his hands, he is a threat to take the ball back to the end zone.
Mathieu has tremendous athleticism, ball skills and instincts. He leads LSU with 70 tackles, has two interceptions and ranks fourth nationally with six forced fumbles this season. Mathieu has returned two fumbles for touchdowns this season.
Mathieu is also one of the nation's most dangerous punt returners; he ranks fourth nationally with an average of 16.2 yards per punt return and has returned two touchdown for punts.
In one way or another (and usually multiple ways), Tyrann Mathieu makes his impact upon every football game in which he plays. If the LSU Tigers are to win the BCS National Championship Game, expect Mathieu to make a big play that helps to turn the game in their favor.
Morris Claiborne, CB (LSU); Junior
NFL Draft Grade: Top 10
While Tyrann Mathieu is the best defensive playmaker in the nation, he is not even the best pure cover corner on his own team. That is why two LSU cornerbacks make the Players to Watch for this game, and the second cornerback is Jim Thorpe Award winner Morris Claiborne.
For all the hype that LSU's Patrick Peterson received as the top cornerback in the 2011 NFL draft, Claiborne may be an even better prospect for the 2012 NFL draft. Claiborne has it all: great size, great speed, fluid hips and tremendous ball skills.
Claiborne is not quite the playmaker that Mathieu is, but he is tied for sixth nationally with six interceptions and has scored two non-offensive touchdowns this season: a 99-yard punt return for a touchdown against West Virginia and a 45-yard interception return for a touchdown against Georgia.
Claiborne is expected to declare for the 2012 NFL draft, and if he does, he will be the best defensive prospect—a nearly certain top-10 draft choice. In fact, his closest competition for top defensive player would be Tyrann Mathieu, and he is not even eligible for the upcoming draft.
The Alabama offense should game-plan for the impact of Mathieu, but it must also be prepared for Claiborne's ability to take Marquis Maze, the receiver he will match up against, out of the game by consistently locking him down in coverage.
Courtney Upshaw, LB (Alabama); Senior

NFL Draft Grade: Top 15
A game between the two best defensive teams in the nation should feature some of the best defensive prospects in all of college football—and that is certainly not only the case for LSU.
Alabama has up to five potential first-round draft picks on defense if cornerback Dre Kirkpatrick, inside linebacker Dont'a Hightower and free safety Robert Lester all declare, along with senior strong safety Mark Barron. That said, the impact player of the Alabama defense—and the best prospect among them—is outside linebacker Courtney Upshaw.
There may be no other player on any defensive front seven in the nation who can wreak havoc the way Upshaw can. He is a perfect fit as a hybrid 3-4 outside linebacker, but he has the versatility to also line up as an inside linebacker or as a down lineman. Upshaw is big and strong and is a tremendous athlete who has tremendous instincts and playmaking ability.
Upshaw leads the Crimson Tide with 17 sacks and eight tackles for loss. The LSU offense must game-plan for Upshaw because of his abilities to line up in so many different positions and be an impact player from any one of them.
While Kirkpatrick and Hightower usually receive the hype on this defense, Upshaw is the player who most deserves it. He has been the star of the nation's most prolific defense; expect him to finish out his career with a big performance in the 2012 BCS National Championship Game.
Trent Richardson, RB (Alabama); Junior
NFL Draft Grade: Round 1
Considering neither of these teams found the end zone in their first matchup of the season, the defensive players are the big-impact players in this game. That said, Alabama has a true game-changer on its offense in running back Trent Richardson.
Richardson is the most talented running back in the nation. He has tremendous size and power, making him a terrific between-the-tackles runner, and he has tremendous burst and speed that shred defenses. He is the perfect back to pick up a few tough yards when they are needed, but he's also a threat to go the distance any time he gets an opening.
Richardson ranks fourth nationally in rushing yards per game with a total of 1,583 rushing yards this season. He is also sixth nationally with 20 rushing touchdowns and is a good receiver out of the backfield with 327 receiving yards on the season.
Like Claiborne, Richardson is expected to declare for the 2012 NFL draft, where he will be a high draft selection. While he was held out of the end zone in the Crimson Tide's first matchup with LSU, I expect him to score a touchdown and really make his impact felt in the 2012 BCS National Championship Game.
Comparing the Two Teams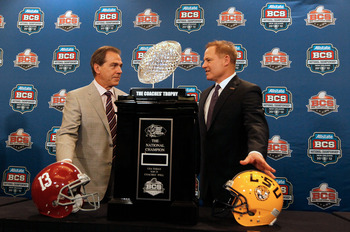 Kevin C. Cox/Getty Images
Previous Matchup: LSU road victory over Alabama, 9-6 (OT), Nov. 5

Wins vs. Currently Ranked Teams: Alabama 2, LSU 5

Wins vs. Bowl-Eligible Opponents: Alabama 6, LSU 9
Alabama's Total Defense: First nationally; 191.3 yards allowed per game

LSU's Total Defense: Second nationally; 252.1 yards allowed per game

Alabama's Scoring Defense: First nationally; 8.8 points allowed per game

LSU's Scoring Defense: Second nationally; 10.5 points allowed per game

Alabama's Offense: 17th nationally; 36.0 points per game

LSU's Offense: 12th nationally; 38.5 points per game

Alabama's Rushing Offense: 14th nationally; 219.8 yards per game

LSU's Rushing Defense: 17th nationally; 215.2 yards per game
Prediction Analysis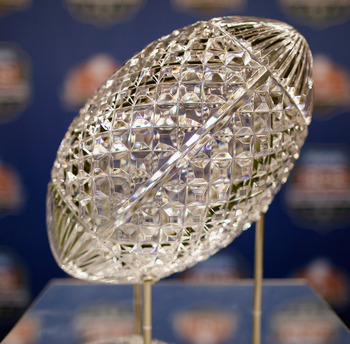 Chris Graythen/Getty Images
Many people are not enthused about the rematch between LSU and Alabama because of the complete lack of scoring in the first game. Personally, I am a huge fan of defensive football between two SEC teams full of athletic defensive playmakers, and people who also see it from this point of view should be thrilled for a rematch.
That said, while the game should again be low-scoring, I do predict that each team will find the end zone at least once. What is just about certain is that this game is going to be close through the fourth quarter, and it will create some tremendous excitement regarding an uncertain outcome. These two teams are too evenly matched for the game to be a blowout either way.
I predict that both teams will find the end zone on a rushing touchdown in this game, with Trent Richardson scoring for the Crimson Tide and Kenny Hilliard getting it in for six for the Tigers.
However, what this game is most likely to come down to is not offensive breakthroughs, but big plays on defense and special teams.
In fact, special teams are what cost the Crimson Tide the first time around. Had it not been for three missed field goals by Cade Foster, Alabama would have won that game, and this rematch could be set the other way around.
But while Alabama statistically has the best defense in the nation, LSU has the best defense when it comes to making big plays and being opportunistic. With Tyrann Mathieu and Morris Claiborne in the secondary, the LSU defense makes big plays, and I expect that one of the two will not only make a big play to change the game's momentum but will score a non-offensive touchdown in doing so.
Fans of offensive shootouts have been spoiled by the Fiesta Bowl, Rose Bowl, Alamo Bowl and a host of other games, but in this game, the defensive fans will get their turn. That said, there will be more scoring than the first game. I expect two touchdowns and two field goals from LSU, with just one of each from Alabama, which will be the difference in this game.
Final Score Prediction: LSU 20, Alabama 10
Keep Reading