New York Islanders: Where in the Rebuild Are We This Season?
January 9, 2012
Paul Bereswill/Getty Images
While this season was supposed to be the change from the monotonous usual poor play for the Islanders, none of it has come to be. From the outset, it has seemed as if the Isle's had most of the pieces needed to make a decent run, and perhaps even a birth into the playoffs.
The Islanders brought in some new veteran players, had two very capable goal tenders in Al Montoya and Evgeni Nabokov, and a Rick DiPietro that was returning 100 percent healthy this season, also a healthy Mark Streit and Kyle Okposo.
They had a bit of very potent scoring, with Moulson, Grabner, Parenteau and Tavares, on top of some up and coming prospects, with Niederreiter expected to make his first full NHL debut, some extra leadership and a few extra men on defense coming into the system, it looked like a recipe for success.
None of this came to fruition. Instead the fans were treated to most of the same as we saw last year, minus a super extended losing streak (albeit the Islanders did drop eight in a row). This year we have seen some infrequent glimmers of hope, a few good road trips, a couple of wins in a row every so often, and some excellent play here and there.
Islanders' fans have grown impatient, tired, and generally hurt by the performance of this team. A few years ago, we saw a new owner come in willing to spend money and work with this team to make them win.
Almost a decade later and a mere four playoff runs, a move perhaps looming in the future, most fans have turned off their televisions and most importantly their wallets to the games.
So the question remains: Where are we in the rebuild?
To answer the question: It seems to be mid-rebuild. It can be completed in this trade deadline and next offseason, if they are able to gain some decent players. And this is a huge "if".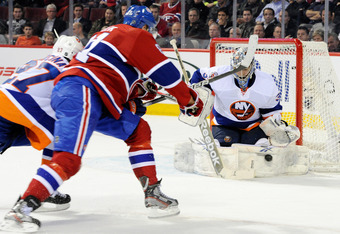 Richard Wolowicz/Getty Images
Without any happenings this offseason and trade deadline, this team will more than likely be doomed to another poor season next year as well, unless a coach by some miracle can find a way to consolidate this squad.
The majority of the main pieces in the puzzle are there, Montoya and a future franchise goal tender are in the system, the franchise scorers and workers are with the organization (Tavares, Okposo, Moulson and Grabner) currently. 
What they don't have is the secondary scoring and support they need. A team can't be a serious contender without having a scoring-supportive defense, or forwards without secondary scoring.
It's time for the Islanders to clean the house to get rid of the dead weight and older non-performing players, in their stead open the wallet (which is completely possible with the massive amount of cap space available) and attract the secondary scorers.
Yes this will require some serious overpayment to attract this attention, but it must be done.
The defense needs some sourcing from outside of the team. De Haan, Hamonic, Streit, and MacDonald possibly Wishart as well, could make up the bulk of the defense corps, but it's definitely not enough.
This offseason, they must acquire defenseman, no if, ands, or buts about it. The skill level they currently have isn't high enough to compete without adding at least one top-tier defenseman.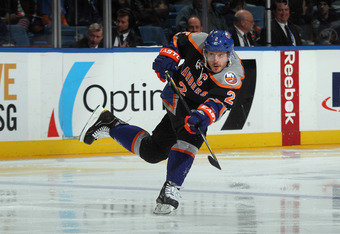 Bruce Bennett/Getty Images
Nobody expected it to take this long and to yield results so slowly. To attempt to remain positive is becoming harder and harder game by game. On a positive note, it doesn't seem to be long until there is finally a breakthrough.
If they can add the few players they need, one or two on defense, one or two up front, and obtain a high quality coach, then they will be a very potent team.
To sum this up: The Islanders have the franchise players and prospects needed to build around solid first and second line players, as well as a few good defenseman to add support around as well.
There are prospects that will likely be ready to play full-time NHL defense next season.
But the Islanders need scoring support and depth beyond the first two lines; at least one top-tier defenseman to be paired with Streit, who can actually support the team and most importantly, play defense.
In reality, all you need to do is watch a game the Isles are playing well to see what the wait is all about. They have some extremely good players and can show how strong of a squad they are, but struggle to put it together.
They do need the veteran leadership, but it must be the kind of veteran leadership that can also score and produce results, and that comes from outside this current squad.
It seems this season is beginning to be lost into another year of mediocrity. But rest assured, it is all coming together.
Your own ideas are welcomed! Comment!