Dear Bob Arum: I Hope Manny Pacquiao Leaves Top Rank to Fight Mayweather
January 9, 2012
Ethan Miller/Getty Images
Well, here we go again. It's a new year and another Floyd Mayweather vs. Manny Pacquiao circus.
This time it's pretty evident, Bob Arum holds this mega-fight hostage.  
Floyd Mayweather (42-0, 26 KO) was due to serve a 90-day jail sentence in Las Vegas on January 6, but Judge Melissa Saragosa granted on Friday morning the request of an attorney for Floyd Mayweather to surrender on June 1, 2012.
His attorney had plead to the judge to let Mayweather help the Las Vegas economy and fulfill his commitment to the MGM Grand on May 5, to have a mega-fight. 
She's obviously a boxing fan because she postponed. I say that with a little sense of humor because any other Joe Schmo—that's not happening. 
My initial thought: "It's on! It's finally happening!" I mean, what other reason or fight would she delay his sentence for? 
Unfortunately, the news lately is Bob Arum has "no interest" in having Manny Pacquiao (54-3-2, 38 KO) fight Mayweather in May.
I interviewed Kevin Iole, a boxing writer for Yahoo! Sports who lives out here in Las Vegas. He said once the news broke out about Mayweather's jail sentence being postponed he started making phone calls.
He spoke to Arum very briefly. Arum (at that time) didn't hear about the breaking Floyd Mayweather news. Then he elaborated and said: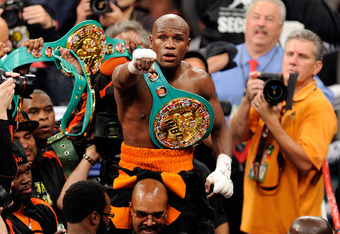 Ethan Miller/Getty Images
"Well, we're currently trying to find a different opponent for Manny."
He also spoke to Richard Schaefer, CEO of Golden Boy Promotions and according to Iole, it sounds like Floyd Mayweather will be fighting Saul "Canelo" Alvarez (39-0-1, 29 KO) on May 5, if Manny Pacquiao doesn't want to fight.
Now, don't get me wrong, Canelo is big, tough, undefeated, and would bring a great Mexican crowd to Las Vegas if they were to fight on Cinco de Mayo. But just like everyone else—I want to see Mayweather vs. Pacquiao.
This is getting ridiculous.
I can almost guarantee you, if Manny Pacquiao had knocked out Juan Manuel Marquez back in November, Bob Arum and Team Pacquiao would have no problem with making this fight happen. The problem is—Pacquiao looked bad.
He looked vulnerable. He took a lot of punches. He didn't look as quick, and he definitely didn't look as sharp as he has in prior fights. I'm pretty sure Floyd was salivating and licking his chops to make this fight happen. 
I have always been optimistic that these two would fight, I'm not so certain anymore.
One of the reasons Floyd Mayweather left Bob Arum and Top Rank in 2006 was for this very reason. He controls his fighters, their money and decisions a little too much. Smart move Floyd.
Now Manny needs to do the same.
This known to be very greedy promoter would rather have his fighter fight Juan Manuel Marquez a fourth time, why? Miguel Cotto a second time, why? Or, Lamont Peterson who should have lost to Amir Khan, why?
We've waited long enough.
I'll never question Manny Pacquiao's toughness or his will to fight. I'm sure he wants to fight Floyd but he may need to leave top rank in order for that to happen.
I sure hope he does. 
Do you think this fight will happen or would you rather see Floyd Mayweather vs. Canelo Alvarez?