Overrated and Underrated College Football Teams Going into the 2012 Season
January 9, 2012
Ezra Shaw/Getty Images
One of the first things we'll be inundated with after the bowls conclude is the annual onslaught of Way-Too-Early 2012 Top 25 predictions. It's entertaining and there's an unquestionable thirst for ranking speculation as soon as the season ends, but you should also be armed with who'll be wildly inflated and overlooked as you peer into the dark world of pre-speculation.
The Overs
Cal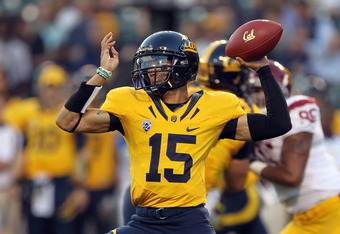 Ezra Shaw/Getty Images
While Oregon, Washington and Stanford (in that order) will command the most Pac-12 North attention, you'll see writers start to get cute with their sleeper picks, with Cal chief among the sleepers. Especially after what appears to be a loaded 2012 class, it'll be easy to be seduced by the freshmen and sophomores infusing the program with talent (especially on D), but they still play on the west coast, where 30 points per game simply gets you into a winning conversation. Without consistent QB play, though, this will be, at best, a 7-8 win team that will continue to frustrate the hell out of Bear fans at the end of games.
Notre Dame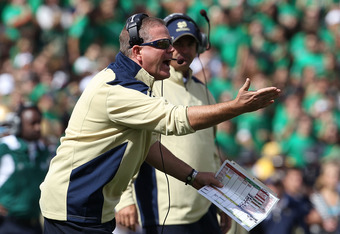 Jonathan Daniel/Getty Images
You can't simply copy-paste my Cal evaluation for the Domers, as long as Brian Kelly can't replicate the development success at QB he had at Cincinnati.  Notre Dame will always give a game away to a far lesser team (see: Florida, South) and will fail to stay with a team on their level talent-wise for 60 minutes. The good news for the Irish is that their fix at QB, no matter if it's Tommy Rees or Andrew Hendrix, is as simple as a productive spring and fall camp to give a signal caller the confidence to take advantage of an evolving playbook and the short fields their own defense is increasingly leaving them. As it stands now, though, they're very much wait and see.
Oklahoma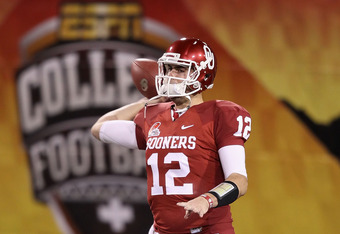 Christian Petersen/Getty Images
It's hard (or perhaps easy) to put a team that was a preseason No. 1 as recently as, well, four months ago on a list of overrated preseason teams. The optimism over Landry Jones's return, while warranted, should also be presented with the fact that the Sooners lose their best two defensive players (DE Frank Alexander, OLB Travis Lewis); two favorite targets/safety nets for Jones (WR Ryan Broyles, TE James Hanna) and the gentleman protecting his blind side (LT Donald Stephenson). This, by the way, is compounded by the fact that Oklahoma, given the available talent at RB (Dominique Whaley, Roy Finch and Brennan Clay), still haven't found a way to consistently move the ball on the ground in big games. The expected schedule appears to be more than workable (no more Mizzou or Texas A&M, Oklahoma State and Notre Dame at home, etc), but who's really ready to trust Landry Jones for 12 games? Not I.
The Unders
Illinois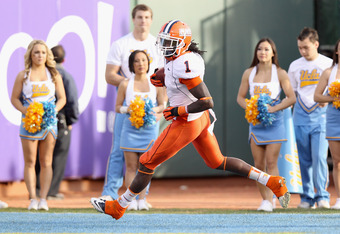 Ezra Shaw/Getty Images
You never feel good about aligning yourself with a team that finished their regular season losing six straight, but this is a team that, even when rolling, was built for spreading the field, rather than the weird multiple hybrid offenses the Illini have been running. Though he hasn't hired an offensive coordinator yet, expect new head coach Tim Beckman to open up the offense—expect a little less inaction and a little more MACtion (cheesy marketing slogan intended). Also, though both Ron Zook and defensive coordinator Vic Koenning are gone, they've recruited the defensive side of the ball very well, and Beckman's background there can only help. Nine wins isn't crazy.
Miami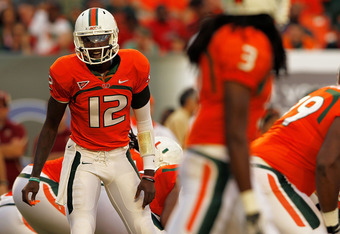 Mike Ehrmann/Getty Images
I'm a big fan of teams with new coaches weathering a rocky transition and coming on strong a year removed from tenuous circumstances. With how Al Golden was able to both keep key recruits from Randy Shannon's last class and then build upon the available talent in Coral Gables, it wouldn't surprise me to see Miami suddenly engulf opposing offenses with the stockpile they're building on the defensive side of the ball. Add in the fact that Jacory Harris and his armpunting ways are through, and we may have a not-so-sneaky 2012 ACC contender.
Cincinnati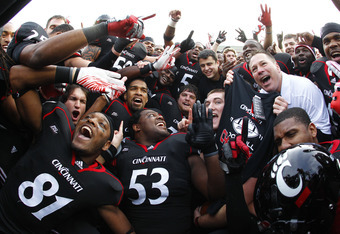 Tyler Barrick/Getty Images
This one feels like cheating, but honestly, enough skill players return on offense (Munchie!) and the number of upperclassmen on defense gives me the confidence to say that Cincy will beat up on whatever's left of the Big East, which is to say not much. Sure, Boise State's there, but with the Broncos losing what they do, the Bearcats could have a fighting chance at home. Against the rest of the conference, Butch Jones's upward trending crew could very well be the hot knife to everyone else's butter. Or something. Just watch out, that's all. 
Dan Rubenstein co-hosts The Solid Verbal college football podcast and can be followed on Twitter here.