2012 NFL Playoffs: Tebowmania Is Back and Pittsburgh Steelers Are Done
January 10, 2012
Doug Pensinger/Getty Images
Maybe in 100 years or so, there will be a book titled Famous Last Tweets.
If such a book is published, it would include my tweet just before overtime of Sunday's AFC Wild Card Game between the Pittsburgh Steelers and Denver Broncos.
In fewer than 140 characters, I basically said the new playoff overtime rules would help the Steelers because Broncos kicker Matt Prater couldn't beat them on the first possession with one of his 50-something-yard field goals.
Turns out they didn't need one.
Broncos strike quick
My jaw hung in disbelief as Demaryius Thomas scored the winning touchdown on an 80-yard pass from Tim Tebow, giving the Broncos a stunning 29-23 win over the Steelers in the first NFL playoff overtime since the new format was enacted last year.
No need to worry about the Broncos winning the coin toss before overtime, I thought.
Had Prater, who has two 59-yard field goals in his career, given Denver three points on the opening possession of OT, the Steelers would have had a chance to tie the game or win with a touchdown.
Instead, the Broncos not only scorned the new rules but made sudden death more sudden than any overtime winner before them. They scored in 11 seconds, the fastest overtime finish in NFL history.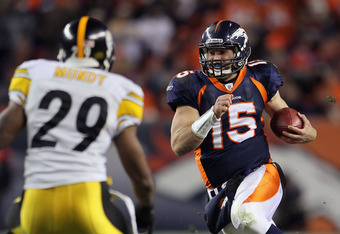 Jeff Gross/Getty Images
There's no other way to say it. The Steelers got Tebowed.
This is inexcusable.
A proud franchise with the rich history of the Steelers shouldn't succumb to the action of a verb that's only a couple of months old.
The sports world was enamored with Tebow in 2011. He was all the rage as he led the Broncos to comeback victory after comeback victory and made prayer fashionable.
Then the Broncos staggered into the playoffs with three straight losses. Tebow completed 30 of 73 passes with one touchdown and four interceptions during that stretch.
Tebowmania seemed as passe as the mood ring.
Unfortunately, the Steelers' defense on Sunday changed colors just like that funky bauble. The NFL's top defense morphed into one that's vulnerable to a mediocre quarterback.
Maybe Tebowmania isn't a fad. Maybe it's the Steelers' defense that's going out of style.
As Warren Sapp would say, the Steelers' defense looked old, slow and done.
Steelers start strong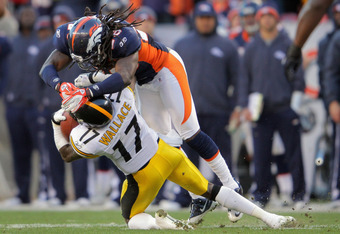 Doug Pensinger/Getty Images
Sifting through the list of this game's plays and recalling how the Steelers dominated the first quarter was as painful as looking at pictures of an ex who just dumped you.
The Steelers easily moved the ball on the Broncos' defense and didn't allow the Broncos a first down. This 12-4 wild-card team looked ready to blow out this 8-8 winner of a weak division, no matter where the game was played.
But the Steelers only had two field goals to show for an eight-play drive and a 12-play drive. It didn't help that Jerricho Cotchery and Mike Wallace dropped passes in the quarter. When does stuff like that not come back to haunt a team?
In an omen of the sudden death that would end the Steelers' season later in the evening, the game turned in sudden fashion when Tebow threw a 51-yard pass to Thomas early in the second quarter, exposing Steelers' cornerback Ike Taylor on the play.
Hey, it happens, right? Taylor was a stud all season, but he's human. He was beaten badly on that play, but it wouldn't happen again.
Except that it did.
Two plays later, the Broncos took a 7-6 lead on Tebow's 30-yard touchdown pass to Eddie Royal, who beat William Gay's coverage. Not only that, but Brett Keisel injured his groin on the play and did not return. So if the Steelers were going to win this game, it would have to be without that one batted pass that Keisel always seems to contribute at just the right time.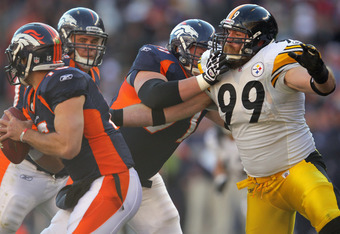 Doug Pensinger/Getty Images
Keisel joined defensive linemate Casey Hampton on the sideline. Hampton left with an anterior cruciate ligament injury.
That left the Steelers with Ziggy Hood, Steve McLendon and rookie Cameron Heyward as their only healthy defensive linemen. If there ever was a time when they needed Taylor to be his normal, shutdown self, it was now.
But he wasn't. He was victimized again on the Broncos' next possession. A 58-yard pass to Thomas moved the ball to the Steelers' 12, and Tebow scored on an eight-yard TD run to make it 14-6.
With everything that was going wrong, it was easy to forget that Ben Roethlisberger was playing on a sprained left ankle—until Robert Ayers sacked him on the Steelers' next possession.
The sack further aggravated the ankle, which would have had 20 days of rest had Roethlisberger not played an ultimately meaningless game in Cleveland.
Reduced to a pocket quarterback on the next play, Roethlisberger threw an interception to Quinton Carter, which led to a field goal and a 17-6 Broncos lead.
Tebow's 40-yard pass to tight end Daniel Fells—Gay was the one toasted this time—highlighted the Broncos' next drive and led to another field goal and a 20-6 halftime lead for the Broncos.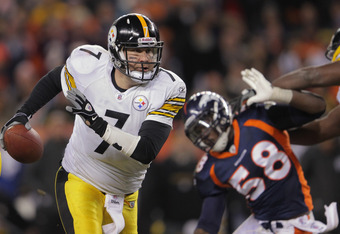 Doug Pensinger/Getty Images
But the Steelers did not go down quietly. They never do.
Steelers fight back
During what I call the Roethlisberger-Polamalu Era, which began in 2004, Steelers seasons have ended in one of three ways. They've either won the Super Bowl (2005 and 2008), missed the playoffs but finished the season on a winning note (2006 and 2009) or lost a postseason game in which they fell behind big but put up a fight (2004, 2007, 2010 and this year).
Anything short of a Lombardi Trophy is a failure in Pittsburgh. This year is no exception. But for the past eight years, the Steelers have never failed to entertain us.
And so they did in the second half Sunday. Consecutive 18-yard passes to Emmanuel Sanders and Antonio Brown moved the Steelers into Broncos territory. Then a 32-yard run by Isaac Redman got the ball to the 1. The Steelers' first touchdown of the game came on an end around to Wallace, narrowing the Broncos' lead to 20-13 late in the third quarter.
However, Taylor continued to follow perhaps the best season of his career with maybe the worst game of his career. He committed pass interference trying to cover Thomas, which put the ball on the Steelers' 46. Eventually Prater kicked a 35-yard field goal to make it a two-score game again, 23-13 with just over 13 minutes left in the game.
The Steelers came into the playoffs a banged-up team and left Denver even more banged up, but they did not miss Rashard Mendenhall. Running back was one of the few areas Sunday where the Steelers did not have a problem.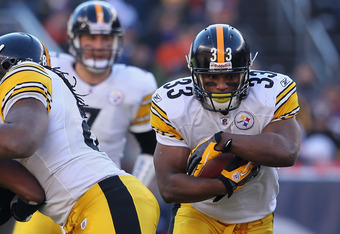 Jeff Gross/Getty Images
Redman helped the Steelers answer Prater's field goal with a 28-yard run that brought the ball into field goal range at the 23. Redman gained 121 yards in the game at a rate of more than seven yards a carry. He deserves a shot at the starting running back job when we see the Steelers again in Latrobe.
Then another problem seemed solved. Somehow, some way Roethlisberger was moving around better. He scrambled nine yards to get the Steelers' more comfortably into field goal range.
It was almost as if God took a break from answering Tebow's prayers and remembered that Troy Polamalu blesses himself before every play, like this had gone from a playoff game to a prayoff game.
Shaun Suisham's 37-yard field goal pulled the Steelers to within 23-16 with 10 minutes to play.
Then, finally, a turnover.
The Steelers did not force enough turnovers this season, and they didn't force enough Sunday, either. Not enough to win the turnover battle.
They could have used a takeaway or two earlier in the game. But at least LaMarr Woodley made himself useful. Ineffective as a pass-rusher because of a lingering hamstring injury, Woodley recovered a Willis McGahee fumble at the Steelers' 45.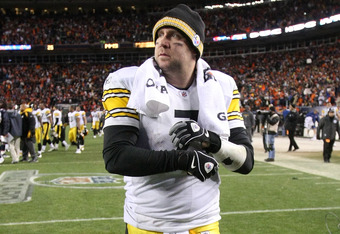 Jeff Gross/Getty Images
Cotchery redeemed himself for his drop with a 31-yard touchdown catch from Roethlisberger, tying the game 23-23 and giving Steelers fans a nice little memento from what will probably be his only season as a Steeler.
The Steelers stopped the Broncos and took over at their 24. They had two timeouts and one minute, 37 seconds to cover the 50 or so yards needed to get into Suisham's field-goal range.
Brown (17 yards) and Sanders (18 yards) once again caught back-to-back passes to get the ball to the Broncos' 45 with 29 seconds left. The Steelers still had one timeout. Another 15-20 yards, and Tebow wouldn't have set foot on the field again.
But Roethlisberger was sacked for an 11-yard loss, and the Steelers had to exhaust their last timeout.
The Steelers gained back some of those yards, getting to the Broncos' 49 with three seconds left. It would have been about a 66-yard field goal. No way was spaghetti-legged Suisham kicking the longest field goal in NFL history.
No, history would be made minutes later.
Tebow hit Thomas on a slant pattern near the 40, again making Taylor look old and slow.
Seconds later, the Steelers were done.