2012 NFL MVP: Peyton Manning, Not Drew Brees nor Aaron Rodgers Should Be MVP
January 9, 2012
Andy Lyons/Getty Images
Over the past few weeks, analysts have relentlessly debated whether Aaron Rodgers or Drew Brees are the logical choices for the NFL's MVP award. However, these analysts have missed the Most Valuable Player: Peyton Manning of the Indianapolis Colts.
That is not to say that Drew Brees and Aaron Rodgers have not been phenomenal this season.  Here are the stat lines for these three quarterbacks.
Quarterback, Team (Record): Attempts/Completions, Yards, Completion Percentage, Passing TDs, INTs, QB Rating)
Drew Brees, New Orleans Saints (13-3): 468*/657 (1st/2nd), 5476* (1st), 71.2%* (1st), 46 (1st), 14 (t-10th most), 110.6 (2nd)
Peyton Manning, Indianapolis Colts (2-14): 0/0, 0, N/A, 0, 0, 0.00
Aaron Rodgers, Green Bay Packers (15-1): 343/502 (10th/16th), 4643 (5th), 68.3% (2nd), 45 (2nd), 6 (33rd most), 122.5* (1st)
The numbers in parenthesis indicate the ranking of that stat in the NFL, and the asterisks indicate NFL records. While the asterisks next to Rodgers' and Brees' names merit commendation, there are problems with both of their candidacies.
Drew Brees' main drawback is that his NFL record 468 completions and 5,476 passing yards took 657 attempts to manage. Brees plays in an offense that is geared towards passing, and some of his numbers are a product of that system rather than a MVP season. 
With that having been said, Brees' 71.2 percent completion percentage record is highly impressive and praiseworthy. Brees is more deserving of the award than Aaron Rodgers, and it is not close. 
However, the Saints have had a high-powered offense for the past few seasons. Brees' high stats this season are improvements over previous seasons, but Brees has been on the Saints for years. He put up great numbers, but not these numbers.
The changes in the Saints offense this season came in the form of Running Back Darren Sproles and Tight End Jimmy Graham. These changes boosted Brees' stats to record-breaking levels, not Brees' play specifically.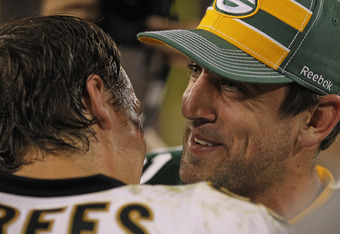 Jonathan Daniel/Getty Images
Aaron Rodgers has had a phenomenal season. He broke the single season passing record for quarterback rating, and led the Packers to 14 wins in 15 attempts (he did not play week 17 against Detroit).
However, two things demonstrate that Rodgers is not the Most Valuable Player in the NFL, or even on his team:
1. The Packers lost one game this season to the Kansas City Chiefs. In that game, Rodgers played well, garnering one TD and almost 250 passing yards. His completion percentage was lower, but that was because his receivers dropped six passes in the first half alone, which means that Rodgers was still playing at a high level. 
The Packers still lost, so Rodgers' play does not dictate the Packers' record. Note: Rodgers did not have star Wideout Greg Jennings for this contest. Also, the Packers' offense had a bit of trouble producing touchdowns. Jennings is more valuable to this franchise than analysts credit him.
2. When the Packers played the Lions in Week 17, they sat Aaron Rodgers to rest him for the playoffs. While Rodgers sat, Flynn broke the Packers single-game yardage record (480) and TD passes (six).
The Packers still had several receivers involved in the passing game, and beat a talented Lions team that was not resting its starters. Rodgers did not play. This demonstrates, once again, that Rodgers does not dictate the Packers' record.
Last year, Peyton Manning played and the Colts ended up 10-6 and won their division. They boasted the top ranked passing offense in the NFL, the fourth most points in the NFL (435) to top 20 points in all but two games. 
Peyton Manning did not play this season because of a neck injury. The Colts went winless until Week 15 against Tennessee. The Colts ranked 27th in passing offense and 28th in points scored (243). The Colts broke 20 points four times, and ended up with the worst record this year.  Peyton Manning did not play.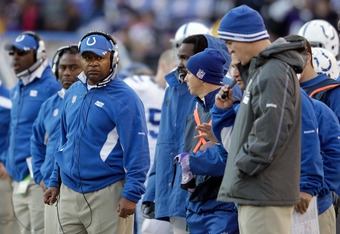 Rob Carr/Getty Images
Manning is more valuable to his team than Rodgers or Brees are. The Packers and Saints would be worse off without their QBs, but the Colts imploded this season without Manning. Manning acts as a player-coach for the Colts, and is audible at the line more than, certainly as much as, any other QB in the league. 
Why didn't the Colts fire Jim Caldwell after a 2-14 season? 
Because they understand that Manning is the heart and soul of the Colts. Also, that Caldwell's success in Indianapolis is contingent on Caldwell letting Peyton Manning manage the game on offense for the Colts.
When talking about the Colts this season, experts constantly mention how different things would be for the Colts if Manning were playing. Many analysts predicted a playoff spot for the Colts with Manning under center. 
In addition, starting with their Week 15 win against Tennessee, the Colts had an unmistakable drive to do everything in their power to win games and avoid the number one pick in next year's draft. 
The Colts players understand, better than anyone else, that Peyton Manning isn't just their MVP; he's the league's MVP. There is no young gun, no matter how talented he may be, that can mean more than Peyton means to the Colts. 
Andrew Luck may be the most lauded, talented QB prospect of the past decade, but he can't run the Indianapolis offense the way Peyton Manning can. The faith in Manning is the biggest testament to Peyton Manning's MVP candidacy.
In conclusion, this article is not meant to take away from Brees' and Rodgers' sterling seasons.  They have both done admirable jobs this season at the QB position. Whoever wins the MVP will most certainly deserve it; however, the true MVP resides in Indianapolis.