Georgia Bulldogs Football: Fans Simmer over A.D. McGarity's Defense of Richt
January 9, 2012
Al Messerschmidt/Getty Images
The kettle on the Athens, Ga. stovetop is simmering. No, it hasn't reached the boiling point yet, but it's come to a low, rumbling simmer, like peanut brittle when it's almost hot enough to pour.
It's been a couple of weeks since Georgia suffered its fourth loss of the year, against Michigan State in the Outback Bowl. As fans came off the high of a 10-win season—inclusive of an Eastern Division championship—the Bulldogs' roller coaster season that started low and climbed high spiraled, ending with a thump.  
Starting with the SEC Championship game in Atlanta all the way south to Tampa, the bitter taste of what ifs must linger for nine months. In the Outback Bowl—a place where Dawg fans envisioned redemption—Michigan State earned a stinging win, 33-30, after three overtimes.
Shortly after that loss, emails from disgruntled fans and alumni began to drop into the Dawgs' athletic director Greg McGarity's inbox like flies doused with insecticide. The loss to the Spartans, it seems, brought on a heat that had been flickering like the coals of a campfire trying to go out.
So Greg McGarity decided to respond publicly.  Not since Auburn's athletic director Jay Jacobs sent that school's season ticket holders a message defending Coach Gene Chizik and team has an A.D. from the SEC been so consoling.
According to a Chip Towers blog on the Atlanta Journal Constitution's website, McGarity defends his head coach and a four-loss season for the Bulldogs, pointing toward a better 2012 for the Dawgs.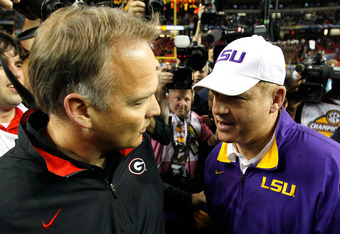 Kevin C. Cox/Getty Images
Read it yourself. McGarity says, according to the blog:
Blair Walsh kicks a 42-yard field goal and we're sitting here feeling great about ourselves, McGarity said.

But would we have solved our running game problem? No. Would that have solved them being able to go on an 85-yard drive with no timeouts? No. So, I mean, the dynamics haven't changed. It's not going to matter diddly-squat when we start lifting weights in three weeks. If anything, it'll add more incentive for next year.
So with some fans letting McGarity know they weren't happy with Georgia's performance, he addressed the issues publicly. It has been said that Coach Mark Richt will probably stay at least through 2016 (according to the AJC blog). Granted, he is 106-38 as he heads into 2012.  Now's the time—in a season where coaches are changing like leaves in autumn— that Richt needs to think about improvements at the coaching level that could result in a perfect season in 2012.
With a schedule that gives Georgia a crafty pre-season winning edge, a perfect season seems attainable. And while he'll be missing a few key players to the NFL draft, there are yet a few other standout recruits who will bring skill and talent back in to Dawgland to fill the holes.
A perfect season...imagine that!