Tim Tebow: Twitter Reacts as Tebow Leads Denver Broncos to Mile High Miracle
January 9, 2012
Jeff Gross/Getty Images
It'd been a while since Tim Tebow had pulled off a Mile High miracle, though perhaps he was just saving his magic.
At least it would appear that way after Tebow hit Demaryius Thomas in stride for an 80-yard touchdown catch that gave the Denver Broncos a 29-23 overtime win against the heavily-favored Pittsburgh Steelers.
As you might imagine, the almighty Twitter machine erupted with exclamations of all sorts regarding the play of the NFL's most outwardly pious passer.
Below is a select sampling of said reactions, for your reading pleasure. Enjoy.
First up, some observations about Tebow's terrific performance...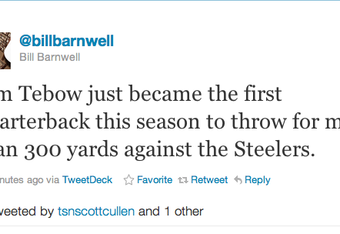 ...including a curious connection between Tebow's numbers and his faith. Coincidence?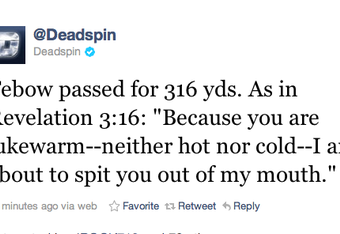 Looks like Tebow and the Broncos will be up against one particularly familiar face when they take on Tom Brady and the New England Patriots next weekend.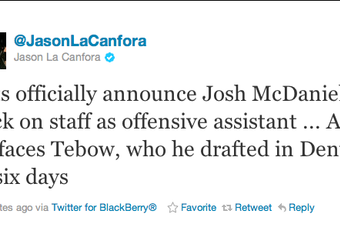 Tebow's game-winner was so exciting, it stirred Lady Gaga from her make-out session with New York City mayor Michael Bloomberg in her secret Bizarro World-style bunker deep beneath the Hudson River...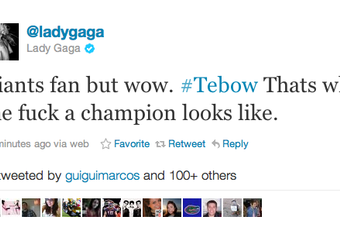 Has everyone reset their clocks yet?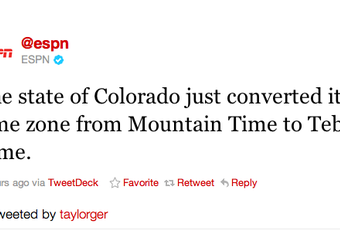 I wonder if Happy Gilmore agrees...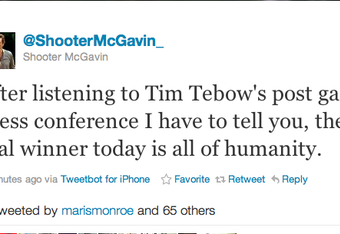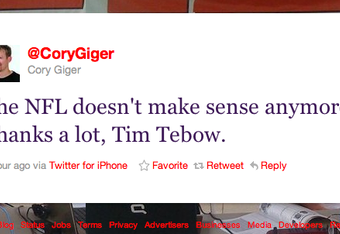 Of course, there's no escaping comments about Tebow's virginity...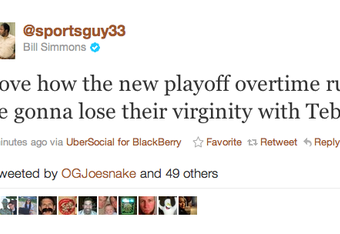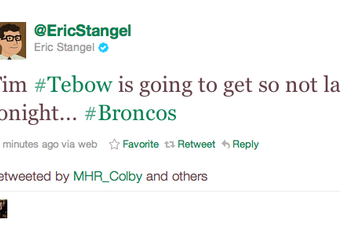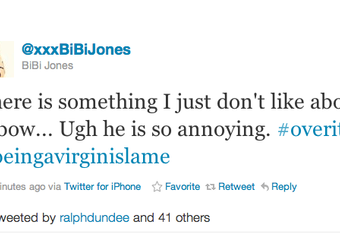 Ladies and gentlemen, I present to you Ben Roethlisberger, a.k.a. the anti-Tebow: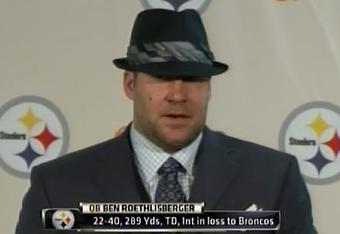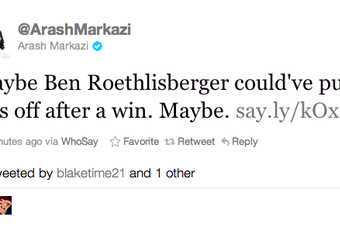 Is there something you want to tell us about your past, Brian Scalabrine?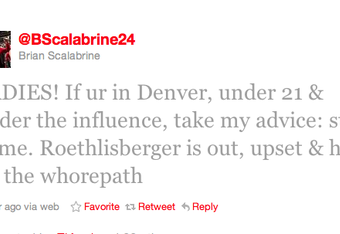 Shameless self-promotion? You tell me...