MLB Trade Rumors: Cleveland Indians Should Stay Away from Mark Trumbo
January 9, 2012
Thearon W. Henderson/Getty Images
Despite a glaring need for an upgrade at first base, if the Cleveland Indians know what's good for them, they'll stay away from the Los Angeles Angels of Anaheim's Mark Trumbo.
On the surface, it would seem as if Trumbo would be a perfect answer for the Indians at first base. I mean, who wouldn't want the AL Rookie of the Year runner-up who hit 29 home runs and drove in 87 runs? He even stole nine bases just for kicks. He would seem to be the sort of young talent a team like the Tribe would crave.
Jon Morosi of Fox Sports even has gone as far as to questioning why this deal hasn't been completed already. With the Angels actively looking for bullpen help (something the Indians have plenty of) and Trumbo effectively blocked by Albert Pujols, it would seem this deal is a slam dunk to happen.
Yet this trade would ultimately hurt the Indians.
The thing is, Trumbo is not the kind of hitter who will help the Indians' offense overall. Yes, his raw power is a thing of beauty, but when it comes attached to the rest of these stats, that massive power is marginalized:
.254/291/.477 slash line, .768 OPS (113 OPS+), .327 wOBA, 105 wRC+, 20.9 K%, 4.4 BB%
Trumbo made an out over 70 percent of the time last year. Over 70 percent! The list of players who made outs more frequently reads like a who's who of players you don't want on your team:
Vernon Wells, Miguel Olivo, Alex Rios, Alex Gonzalez, Yuniesky Betancourt, Casey McGehee, Mark Ellis, Raul Ibanez, Carl Crawford, Alfonso Soriano and Alcides Escobar.
I don't see anyone clamoring for their team to trade for these players because they all make outs far too frequently. Trumbo is the same way except he has some shiny power to cover up some of his flaws.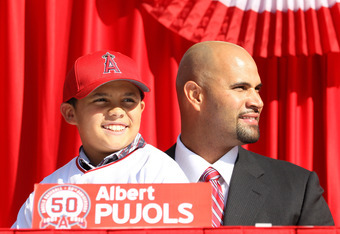 Stephen Dunn/Getty Images
What happens if that power slips even a little bit? Then Trumbo goes from a slightly above-average hitter to below-average. Period. Considering that his minor league walk rate was only slightly higher than his 2011 walk rate (7.4 BB%), it is very unlikely that he will ever see his OBP get to an acceptable number.
Baseball-Reference's Similarity Scores show that Trumbo's career through age 25 is most similar to Cecil Fielder. While Fielder took the league by storm in 1990, he saw his performance fall off quickly to replacement level in a few short years.
The Similarity Scores also list Fred Whitfield and Brian Hunter as comparable to Trumbo. Here's a look at their age-26 seasons:
Fielder: .277/.377/.592 slash line, .969 OPS (167 OPS+), .417 wOBA, 167 wRC+, 51 HR, 132 RBI, 6.7 bWAR in 159 G
Whitfield: .270/.301/.423 slash line, .724 OPS (100 OPS+), .309 wOBA, 93 wRC+, 10 HR, 29 RBI, 0.1 bWAR in 101 G
Hunter: .234/.277/.480 slash line, .752 OPS (92 OPS+), .317 wOBA, 85 wRC+, 15 HR, 57 RBI, -0.2 bWAR in 85 G
So Trumbo is likely going to remain average or, if he does go off, he'll likely come right back down to Earth. 
It may seem like Trumbo could be the answer to many Indians fans' prayers, but there are plenty of reasons to doubt him. One more reason; check out these stats:
Player A: .239/.313/.441 slash line, .754 OPS (105 OPS+), .327 wOBA (103 wRC+), 25.4 K%, 9.0 BB%, 21 HR, 76 RBI (per 162 G)
Player B: .249/.287/.466 slash line, .753 OPS (109 OPS+), .321 wOBA (101 wRC+), 21.7 K%, 4.4 BB%, 30 HR, 92 RBI (per 162 G)
Pretty similar, right? Player B is Trumbo. Player A is Shelley Duncan.
There's no need for the Indians to trade for Trumbo because they can get his production from Duncan. Considering Duncan is likely not the answer at first base for the Tribe, hopefully they'll look elsewhere to fill that spot in 2012.