Chicago Bulls: 3 Keys for Success This Week
January 9, 2012
Ezra Shaw/Getty Images
The Chicago Bulls are heading into one of their toughest stretches of the abbreviated season. At 7-2, the season thus far has been successful, but several questions still linger.
What is the team's identity? The Bulls are one of the best defensive teams in the NBA. By giving up only 88.7 points a game, statistically the Bulls are there. The further you go beyond the game, the more you see a different story. 
Turnovers generate offense for Tom Thibodeau's ballclub. The Bulls are solely lacking in this area.  Actually ranking in the middle of the pack at 17th in the league, forcing 14.4 per game.  The best team in this category is Miami who forces close to 20 per game (19.8).  
For a team predicated on creating easy baskets, the Bulls must get better here. 
The other issue has a lot to do with sharing the ball. In their previous game, Derrick Rose and Luol Deng tried to win it all by themselves. Basketball has been and always will be a team-oriented sport.  Even if you are the MVP, you still need your teammates to pick you up when you're having a bad game. That's just what the game in Atlanta was for Rose, a bad game.
It causes a trickle-down effect where everyone seeks out to be the hero, when in truth, all that they have to do is play ball.
With the dreadful schedule for the Bulls this week they play: Detroit, Minnesota, Washington, Boston, and Toronto. Only Minnesota and Boston appear to be a threat, but this is the NBA—you can't take any team lightly.
There are three keys for the Bulls to have a successful week:
Create turnovers
The Bulls create stops when they need to, but they must generate turnovers. Three games are against teams (Boston, Detroit, and Minnesota) ranking in the bottom third in turnovers.
By facing two of these in back-to-back games, the key is to get off to a good start defensively by playing tough man-to-man defense. Then use that to get baskets in transition. Put Derrick Rose into his comfort zone and force opposing defenses to have to run, thus tiring teams out.
Find Joakim Noah
Noah has played in every game but is missing in action. Foul trouble has been part of the problem, but he also has been extremely ineffective. It's not about how many points or rebounds that Noah has, it's about his activity. Perhaps getting into foul trouble early does slow him down, but honestly, he's playing as if he's either hurt or out of shape. 
Get Noah going early or get him out of there. The Bulls are clearly a better team with backup center Omer Asik on the floor, but Noah is a better player. 
He can't keep forcing shots, so the solution should be to run some screen-and-roll plays. Some true screen-and-roll, not the half-screen that gives Rose a look at the top of the key and lets him decide where to go with the ball.  
The Bulls have to fully commit to the screen and slide Noah to the basket for easier looks.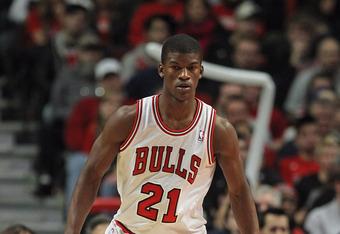 Jonathan Daniel/Getty Images
Trust Jimmy Butler
Butler is not the typical NBA rookie. 
He has played four years in the Big East conference for Marquette. He knows how to handle himself on the big stage, and Bulls coach Tom Thibodeau should play him more. At this point, he is an upgrade over Korver defensively, and it appears that he can create scoring opportunities for himself and others. 
For much of the 11 points he scored against Atlanta, Butler was going up against the Hawks starters.  He can rebound well and nothing seems to phase him. Here's an interesting thought: Jimmy Butler has a lot of upside and Derrick Rose trusts him. It is now time for Thibodeau to do the same and play him.
If the Bulls follow these keys, they can be victorious in at least four out of the five games. They'll need the momentum going forward, because it doesn't get any easier from here.