Cyborg Santos on Steroids Could Spell the End of Women's MMA 145-Pound Division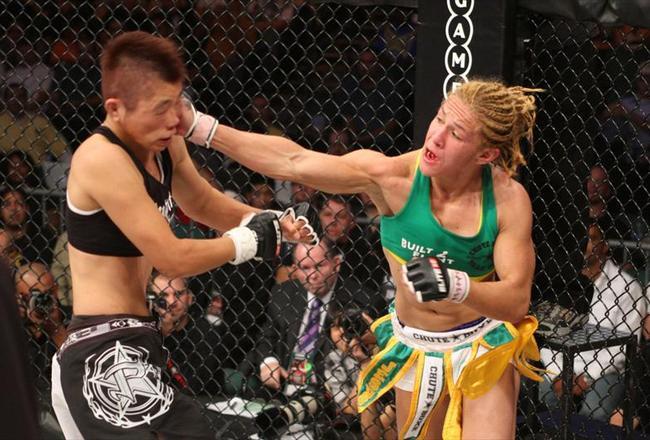 There is very little debate among the MMA world when it comes to who is the No. 1 fighter in the world of women's mixed martial arts. Since her victory over Gina Carano in April 2009, Cristiane "Cyborg" Santos has only extended the gap between her and the other female fighters, particularly in the 145-pound weight class.
Santos most recently crushed Hiroko Yamanaka this past December when she ended the fight in just 16 seconds with a flurry of punches, sending the No. 2 featherweight fighter in the world back to Japan in quick fashion.
The victory had many people discussing not only Cyborg's dominance as a women, but whether she might actually be able to do the unthinkable and compete with a man in the cage. We have never seen this kind of dominance from any fighter, male or female, in the history of the sport; and it is why I had personally opted to break the mold by including her in my own pound-for-pound rankings.
But all of that may have been too much as we found out earlier this week that the Strikeforce women's featherweight champion had failed a drug test for her fight against Yamanaka. She has since been handed a one-year suspension from the California State Athletic Commission.
Though Cyborg later claimed that the positive test was not due to a steroid and was instead due to a dietary supplement to help her cut weight to get down to 145, the damage was done. Much like Chael Sonnen's positive test for Testosterone Replacement Therapy, the average fan is not going to give Santos the benefit of the doubt on this one.
Zuffa representatives have publicly admitted that Cyborg's suspension is going to cause major problems within the division. UFC President Dana White even took it a step further.
"We were going to hold that division and just do fights with Cyborg whenever there was a new contender," White told ESPN Radio in Las Vegas. "She's getting stripped of the title. This pretty much kills the division."
While the Strikeforce women's 135-pound weight class has been growing by leaps and bounds in recent months with the likes of Miesha Tate, Ronda Rousey, Alexis Davis and Sarah Kaufman, the 145-pound division has essentially become a wasteland since Gina Carano left.
No real challengers for Cyborg are available at 145 now that Rousey dropped to 135 and it was going to be tough for Strikeforce to really continue to promote Mike Tyson-like beatdowns from Cyborg on these poor women who stand no chance against her.
As White essentially stated, this suspension may be the excuse Zuffa needs to finally put an end to this weight class entirely.
Sure, women's 145-pound MMA will still survive outside of Strikeforce, but on the big stage of a Zuffa promotion, we may have seen the last of it with Cyborg vs. Yamanaka.
But that's not necessarily all bad news. Perhaps the removal of the 145-pound division could lead to some of the featherweights dropping down to 135 to help bolster that growing division. Or maybe Strikeforce could begin promoting a 140-pound catch weight division that would better encompass the women from both weight classes.
Either way, 2012 is going to be an interesting time for women's MMA. Can it survive without Cyborg and (most likely) without Carano making her return? Strikeforce is doing their part by promoting a fight card headlined by Miesha Tate vs. Ronda Rousey in March, in addition to adding Alexis Davis vs. Sarah Kaufman on the same card.
Women's MMA still has a long way to go before it is accepted by the mainstream, but with Cyborg gone, these four women are going to have so step up to save their own weight class from becoming extinct like the 145-pound division.

For more MMA news, fighter interviews and opinions, follow Nick Caron: @NicholasCaron
This article is
What is the duplicate article?
Why is this article offensive?
Where is this article plagiarized from?
Why is this article poorly edited?