Charlotte Bobcats: Key Matchups vs. New York Knicks and Houston Rockets
January 8, 2012
Streeter Lecka/Getty Images
Bobcats Look to Rebound Against New York and Houston
Key Matchup: Boris Diaw vs. Amar'e Stoudemire
Boris Diaw is Charlotte's versatile big man and his play can often times dictate how well the Bobcats play. Diaw rebounded from a scoreless game the night before to score a season-high 27 points in the Bobcats last visit to New York. Look for a similar performance out of him for this game, as he is coming off a two-point performance against the Pacers in which he fouled out.
Stoudemire was coming off an injury the last time these two teams met and still managed 25 points and 12 rebounds. The Knicks All-Star forward will look to continue that strong play against Charlotte on Monday night, and it will be up to Diaw to rebound and have another big outing at Madison Square Garden…
Key Matchup: D.J. Augustin vs. Kyle Lowry
Augustin has had a great start to the season so far for the Bobcats, averaging 17.3 points, 7.5 assists and 3.9 rebounds per game. He has gotten off to a hot start in many of Charlotte's games this season, and the team will look for him to do the same this week.
Lowry has surprised many around the NBA this season, as he has become a strong floor leader for the Rockets—he currently sits second in the league with 10 assists per contest. He also scores 15.3 points and grabs a team high 6.2 rebounds and two steals a game, and has been consistent for the Rockets this season as their starting point guard.
Both players are having great all-around seasons for their teams, despite identical 2-6 records this year, making this an important matchup to keep an eye on, as the play of either of these players could largely affect the outcome…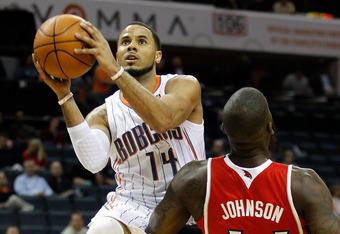 Streeter Lecka/Getty Images
Scouting the Bobcats (2-6):  The Bobcats' energy has been up and down this season, but they have two winnable games coming up this week. The team will come in to these contests on a two-game skid and will look for another strong performance against the Knicks on Monday.
Charlotte last visited New York on January 4 and came away with an impressive victory. Gerald Henderson has played well this season for the Bobcats (14.1 ppg, 5.5 rpg) as has reserve center Byron Mullens (11.4 ppg, 4.3 rpg).
Tyrus Thomas (8.5 ppg, 6.0 rpg) has returned from an ankle sprain and has contributed at small forward with starter Corey Maggette out with an injured hamstring. Rookie Kemba Walker has chipped in 10 points and three assists per game coming off the bench. The Bobcats will travel to Atlanta to take on the Hawks on Thursday night.
Scouting the Knicks (4-4):  The last time the Knicks faced Charlotte, the Bobcats played what may have been their most complete game of the season. The Knicks will be looking to avenge that loss, as they are now on a two-game winning streak coming into this meeting at Madison Square Garden.
Carmelo Anthony leads the Knicks in scoring and had 22 of his game-high 32 points in the fourth quarter as he tried in vain to bring his team back in these two teams' last meeting. Rookie guard Iman Shumpert has been an offensive spark off the pine for New York, and is the team's third leading scorer (12.5 ppg, 3.5 rpg, 3.5 apg). The Knicks will stay in New York after this one to face the 76ers on Wednesday.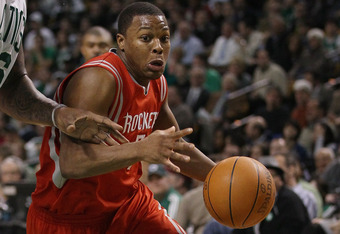 Elsa/Getty Images
Scouting the Rockets (2-6):  Houston, we have a problem. The Rockets have gotten off to a slow start this season, and will look to turn things around when they visit Charlotte on Tuesday night.
The Rockets haven't faced the Bobcats yet this season, but rebounding and blocked shots could be key in this matchup, as the Bobcats rank in the top 10 in both categories while the Rockets linger near the bottom of the league in both.
Don't look for great defense in this one either, as Charlotte and Houston are first and second, respectively, in opponents' points per game. The Rockets are led in scoring by both Luis Scola and Kevin Martin, who both average 16.5 points per game.
Houston travels to San Antonio to face the Spurs on Wednesday night.
TUNE IN
The Bobcats tip off at 7:00 p.m. against the Knicks in New York on Monday, and they face Houston at 6:00 p.m. at Time Warner Cable Arena® on Tuesday. 
David currently a writer for bobcats.com and his writing at Bleacher Report has been featured on other news outlets such as the sports pages of the LA Times.  If you would like to contact him to talk sports, offer an article suggestion, or anything else, don't hesitate to email him at dwalters@bobcats.com or follow him on Twitter @original_DWade.