NFL Playoff Picks: 49ers, Texans and Teams That'll Lose in Divisional Round
January 8, 2012
Dilip Vishwanat/Getty Images
The 2012 NFL playoffs are in full swing and teams that made it past the Wildcard round are already preparing for the Divisional round.
While certain teams are a sure thing to make it to the conference finals, that leaves plenty of teams that will be on the outside looking in.
All of the following will be the teams that lose next weekend and miss out on a chance to fight for the Super Bowl.
San Francisco 49ers
The San Francisco 49ers used their cakewalk schedule and terrible division to showcase the vast array of talents they do have, but the weaknesses underneath will be exposed when they face the New Orleans Saints.
With the 49ers designed to stop the run and the Saints built to air it out, it's the exact matchup the 49ers were trying to avoid. Now their mediocre secondary will be put on full display just like the Detroit Lions secondary was in the first round.
All of the hype around this team will come down once again to the arm of quarterback Alex Smith and his track record proves he can't handle the hype.
Houston Texans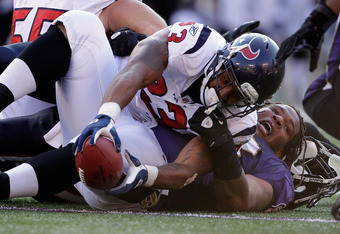 Rob Carr/Getty Images
The Houston Texans may have snuck by a tough Cincinnati Bengals team in the first round, but they won't be good enough to beat the Baltimore Ravens.
A good as Arian Foster and the zone run game they have in Houston is, the Ravens will eat it alive in the playoffs. Add in the fact that they will give rookie T.J. Yates the special treatment he hasn't seen yet, and this game could get ugly.
The only way Houston will win this game is if they can manage to stifle Ray Rice and the Ravens run game. If they don't, Baltimore will control the clock and win the game.
Atlanta Falcons/ New York Giants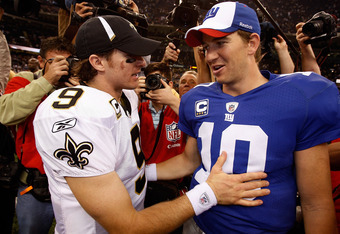 Chris Graythen/Getty Images
It doesn't matter who wins this game because they will be heading to Green Bay for the beating of a lifetime. That's just what the Packers do.
While both the Giants and Falcons have offenses that can carve up the Packers defense, neither of the teams has the ability shut down the Green Bay offense. They have too many weapons for any team to stop.
We can't forget that this game will be played in the friendly confines of Lambeau Field, so whichever team sneaks out a Sunday victory will be seeing stars in seven days.
Check back for more on the National Football League as it comes, and check out Bleacher Report's NFL Page to get your fill of all things football.