Juventus Struggles to 1-0 Victory over Last-Place Lecce in Serie a Bookend Match
January 8, 2012
Paolo Bruno/Getty Images
While her fans were enjoying their holidays, the Old Lady was busy in the Middle East. Led by manager Antonio Conte, the Juventus squad embarked to Dubai for the winter break. They spent time training, and even played Saudi club Al-Hilal, thrashing them 7-1. Oddly enough, that Al-Hilal match was a tribute for the Saudi side's keeper. I guess it's never good when you let up seven goals in a match that's being put on for you.
Something else must have happened on the trip too, because a different Juventus side came into today's fixture against Lecce. This Juventus was sluggish on defense, and sloppy on the attack. They had a tough time tackling, and they put up very little fight to their opponent's ventures into their own half.
Perhaps it was just the annual case of the January blues, popping up again to rattle Juventus. Two years ago, the blues led to a very ugly run of form, and the termination of Ciro Ferrera's tenure. Last year, the blues claimed Fabio Quagliarella's knees as its victim, and with them, the Juventus season.
Indeed, today's Juventus was reminiscent of the squad under DelNeri—what with the lack of effort and focus on defense. The team was very, very lucky to have not conceded a goal today. Lecce had a number of chances, the most dangerous coming late in the game when Christian Pasquato fired a shot across goal. Luckily for Juventus, it sailed past the far post.
Still, for a moment it looked like Lecce was going to break through the Juve defense.
That goal would have leveled the game, as Alessandro Matri put Juventus up 1-0 back in the 27th minute. Doing what he does best, Matri headed in a real poacher's effort. Mirko Vucinic had received a throw-in and quickly dribbled into the Lecce box, where he fired off a strong shot to Lecce goalkeeper Massimiliano Benassi, who managed to save it. The rebound fell to Matri, who headed it in.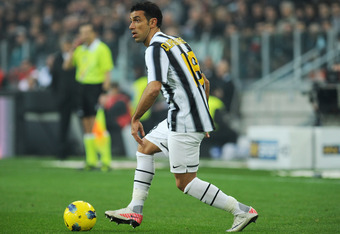 Valerio Pennicino/Getty Images
All of this from a man who did not start the game. Matri had come on as a substitute for Fabio Quagliarella, who went down with an injured cheekbone early in the game.
Quags took an elbow to the face, and he almost immediately knew that something was wrong. He asked to be subbed off and the trainers took a look and agreed that he needed to come off. It was really tough to see Quags taken out by injury once again. As frustrating as it is, the January blues have claimed Fabio Quagliarella once again.
Hopefully, he will not be out of action for too long, though he may end up wearing a protective mask when he does return.
With Matri on, the famed Matri-Vucinic partnership was reunited for the first time in over a month. Mirko did a pretty good job of setting up Matri, although they largely languished with the rest of the squad. Still, some of the best moments for Juve today came from Mirko and Ale.
Their counterpart in the attack, Simone Pepe, did not find as much success as Ale and Matri. Pepe had an uncharacteristically bad game. He was invisible for most of it, and when he wasn't invisible, he was turning over the ball.
Today, Pepe holds the unfortunate distinction of having the lowest passing rate, at only 68 percent. Pepe's caddy was left without much to do today.
The midfield was another area of hits and misses. Andrea Pirlo, Arturo Vidal and Claudio Marchisio all had moments where they played strongly, but they also had moments where they slipped up. Later in the game, the midfield engine grew weak, and Pirlo was subbed off for Luca Marrone. Marrone provided a needed burst of energy, but he came in too late to have a strong influence on the game.
The defense was definitely the worst area today.
While they did not let up a goal, they did allow way too many Lecce advances, and there were many close calls. Ironically enough, Leonardo Bonucci and Andrea Barzagli, the two centre-backs, were some of the best passers today. They both completed 84 percent of their passes, and the quantity of passes for both was in the 50s. This is probably contrary to how many fans felt Bonucci played, as he did flub several long passes. The mistakes were very noticeable. but also very small in number.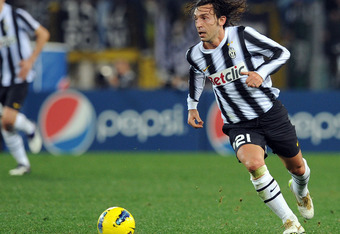 Giuseppe Bellini/Getty Images
This 1-0 result is a disappointment for Juventus. In a round where Inter and A.C. Milan both recorded comfortable victories over provincial sides, Juventus struggled to defeat bottom of the table Lecce. The team is lucky to have come out with the three points, and surely manager Antonio Conte will be working the team hard over the next week to iron out the kinks that were ever-so-present today.
There is one thing that should be taken from this game. Last year, if Juventus had the surprisingly slow start it had today, they would have never recovered. Indeed, an early red card for Buffon last year led to a 2-0 defeat from Lecce. This year, Juventus were able to pull out an ugly 1-0 victory.
They at least got the much needed three points to stay joint leaders with A.C. Milan. That is a hallmark of this Conte side—they do not let the entire structure collapse because of a few issues. The infamous match at Napoli, where they came back for a 3-3 draw, is the most perfect example of that.
Juventus and her players need to move on from this game, and never repeat its performance. Still, they can be thankful that they got a victory.
Next Sunday, Juventus will face Cagliari at home. Cagliari are fresh off of a 3-0 drubbing of Genoa, but Juventus will have the proverbial 12th man in Juventus Stadium. Plus, the Old Lady needs to avenge today's performance.
You can follow David on Twitter: @DTenenbaum