San Francisco Giants: Will Every Player Be Better or Worse in 2012?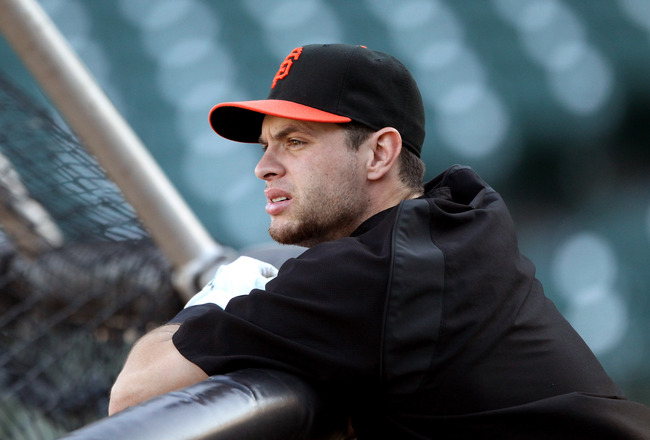 Ezra Shaw/Getty Images
At this point in the offseason, the hope and optimism of the free agent season give way to the dog days of January, where the only roster moves concern the Double A backup catcher and who's going to keep the pitch count out in the bullpen.
Fans turn their attention from the bright shiny free agents and trade targets and are forced to focus the roster as it will likely look on Opening Day. "We still have THAT guy?" "Justin Christian? Did he come over in the Melky trade?"
Fantasy gives way to reality. It's time to make do.
The San Francisco Giants roster presents an interesting dichotomy. If the pitchers get any better, we may be looking at one of the best staffs of all time. On the other hand, if the hitters go any further backwards, they may just fall off the cliff.
None of the guys in the lineup can afford not to improve.
In this preview of previews, we'll look at 20 players who are coming back to San Francisco from last year's edition and whether they are likely to regress or progress in 2012.
The Rotation: Tim Lincecum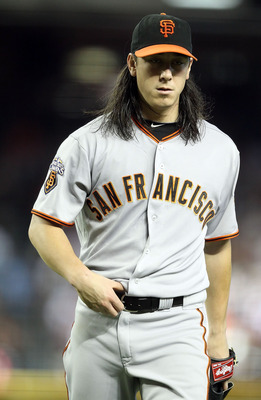 Christian Petersen/Getty Images
What Improvement Would Look Like
Better Control. Lincecum's K/BB ratio has steadily decreased since his best season in 2009. It's an ever-so-slight problem, and may not rear it's head given Lincecum's ability to strike guys out when he needs to.
However, Timmy is only at his Cy Young best when he is hitting his spots.
Better or Worse
Better. Lincecum will always have something to pitch for so long as skeptics question his long-term durability. As questions (via CBS Sports), swirl about the advisability of the Giants signing Lincecum long term, expect the two-time Cy Young winner to turn in his best campaign yet.
Matt Cain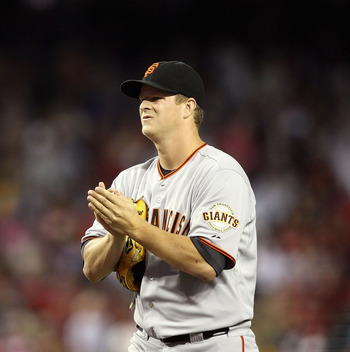 Christian Petersen/Getty Images
What Improvement Would Look Like
Cain could definitely improve his offense as well. How can he expect the Giants to get him some runs when he himself only contributes a .136 avg and six RBI?
Get it together Cainer!
More innings would help as well. Juan Marichal averaged 295 IP during his prime.
Get it together Cainer!
Better or Worse
Same, hopefully. It's hard to see Cain getting much better. He should definitely have some motivation in a contract year to:
1. Prove to the Giants that he's worth as much or more as Tim Lincecum.
2. To audition for teams with real hitters should he decide to put San Francisco and its offensively challenged ways in his rear-view mirror.
Madison Bumgarner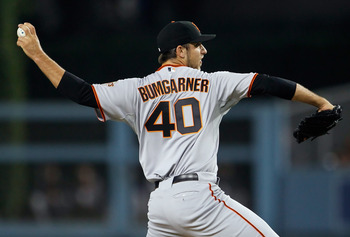 Jeff Gross/Getty Images
What Improvement Would Look Like
21-5, 2.26 ERA, 233 IP 240 K. OK, these are specific goals, and eerily (completely), similar to Clayton Kershaw's numbers last season. But this is what I believe Bumgarner can reach.
Better or Worse
Better. The advanced metrics suggest that Bumgarner, despite a fine 2011 season, may have been unlucky.
Not just that, but very unlucky.
His BABIP was a ridiculous .335 last season. Even a drop to the league average might make Bumgarner the team's ace. If it goes down further, expect Bumgarner to be in the top tier of big league pitchers.
Ryan Vogelsong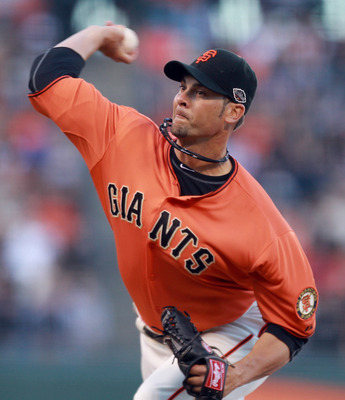 Ezra Shaw/Getty Images
What Improvement Would Look Like
Someone somewhere said something about gift horses and not looking them in the mouth. Vogelsong was a beautiful gift horse in 2011, and expecting more is just greedy. However, just repeating 2011 may be an improvement for Vogelsong—given that nobody expects him too. Baseball mad scientist Bill James projects Vogelsong's ERA will back up by almost a full run and a half.
Better or Worse
Worse, but that's OK. If Vogelsong gives the Giants 200 solid innings this year while continuing to keep this punchless offense in games, he will again more than outperform the normal expectations for guys with five-year holes in their Baseball Reference pages.
Barry Zito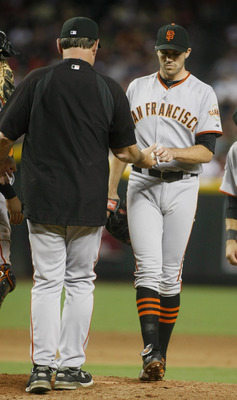 Ralph Freso/Getty Images
What Improvement Would Look Like
The whole Zito situation is somewhat played out. Yes, he's a sunk cost at this point. Yes, he is eating Prince Fielder's slot on the payroll on an annual basis. However, Zito remains on the team. We have two more years of salvage time. Even a return to the Zito of 2011 (minus September), would be fine with me.
Better or Worse?
Better: He has to be. If Zito is not better by June, he may find himself on the fiery Rowand/Tejada scrap heap. Teams expect to lose more than they win when the fifth starter is on the mound.
If Zito can regain his steroid-era self five or six times in the upcoming year while making it through five innings most of the other starts, then at least the Giants won't have to pursue Rodrigo Lopez.
The Bullpen: Jeremy Affeldt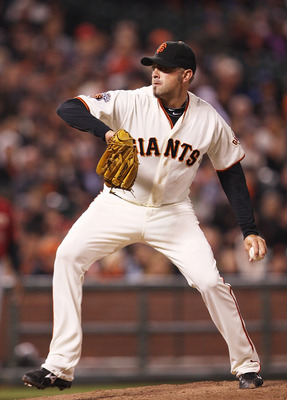 Tony Medina/Getty Images
What Improvement Would Look Like
Something deserving of the $5 million the Giants are paying him to pitch two innings per week. I am not actually sure what that looks like. Perhaps he will be able to DH in the interleague games, or take up bullpen duties a couple times a week.
Better or Worse
Worse. It will be difficult for Affeldt to match his exceptional 2011 campaign. Expect him to split the difference between last season and his much shakier 2010 performance.
Guillermo Mota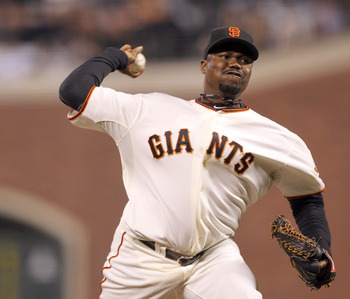 Ezra Shaw/Getty Images
What Improvement Would Look Like
Just don't blow it Manny. Mota has been downright scary at times in his Giants career. There are days when he comes out slinging pitches two feet out of the strike zone, and suddenly Matt Cain is left with a no decision.
Expectations are not high for Mota, but he quietly increased control and decreased late inning explosions in 2010. More of the same would be nice.
Better or Worse
Who knows? Mota occupies a strange place in the Giants bullpen. Officially, he's the long reliever—the guy who isn't consistent enough to start, and not nasty enough to relieve, so tells funny stories to pass the time out in the 'pen.
However, given that the non-Zito portion of the Giants staff rarely gets ousted before the seventh inning, the mop-up portion of Mota's job description is rarely utilized. The less of him we see, the better.
Javier Lopez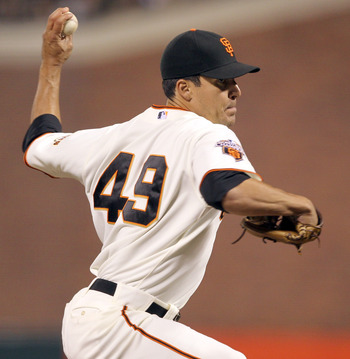 Ezra Shaw/Getty Images
What Improvement Would Look Like
Perhaps Lopez could start throwing right-handed as well. Other than that, Lopez was near perfection at times least year when performing the role he's paid to perform: get out lefties. Lefties hit .160 last season against Lopez. More of the same would be great.
Better or Worse
Same. Lopez has been dominant since coming over to the Bay Area and nothing suggests that he might stop. He will always be average against righties, but as a left-handed specialist, there are few better. This guy might pitch until he's 50.
Santiago Casilla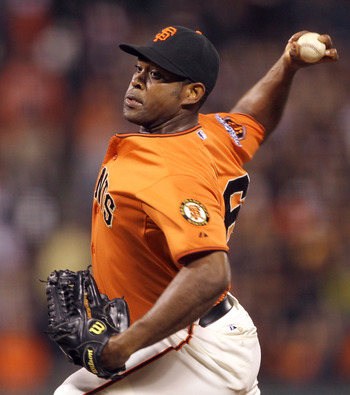 Ezra Shaw/Getty Images
What Improvement Will Look Like
In order to even maintain even a semblance of last year's 1.76 ERA, Casilla will have to up the strikeouts and decrease the walks. His ratio of 7.84 K/9 and 4.35 BB/9 suggest a little bit of luck last year. If he doesn't fix those, the Giants will be wishing they kept Ramon Ramirez.
Better or Worse
Worse. There is a reason why elite bullpens rarely stay at the top for more than a few seasons: It's because single season bullpen stats are a small sample size and elite bullpens always have a few over achievers who regress to the mean at some point. Casilla's 2011 BABIP and HR percentage were .232 and 2.6 percent, respectively.
Those numbers are ridiculous and well below his career average. Expect some falling back to Earth here.
Sergio Romo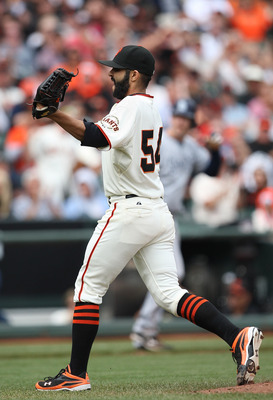 Tony Medina/Getty Images
What Improvement Would Look Like
Really? Can a guy improve on a 1.50 ERA and a K/9 over 13? The only way to improve Romo is to see more Romo. Bochy seems hesitant to use Romo at times when it seems obvious. Romo seems to disappear from the bullpen rotations at times inexplicably. An increase from his 48 innings up to closer to 70 would be nice.
Better or Worse
Same: The sky is the limit here. The advanced metrics suggest that Romo wasn't even lucky last season. A .276 average on balls in play (BABIP) tell us that, with a little luck, Romo might be even better. If so, Romo will be in for a huge payday soon.
Brian Wilson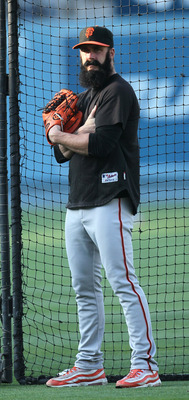 Stephen Dunn/Getty Images
What Improvement Would Look Like
More Brian Wilson on the mound and less Brian Wilson in our commercials. A return of the 2009-2010 Wilson is crucial to Giants success.
During those two seasons, Wilson owned a 2.27 ERA while averaging 46 saves and a very respectable 3.32 K/BB. From a three-time All-Star and the anchor of the league's best bullpen, those numbers should be expected.
Better or Worse
Better. Wilson's 2011 struggles were due mostly to injury, but control problems in the early season provided more "torture" than we bargained for.
While Wilson admittedly remains a marketing gold mine for the organization, we can only tolerate abominations like this (via Sfist), if the bearded one gets healthy and starts locking down the late innings.
The Lineup: Freddy Sanchez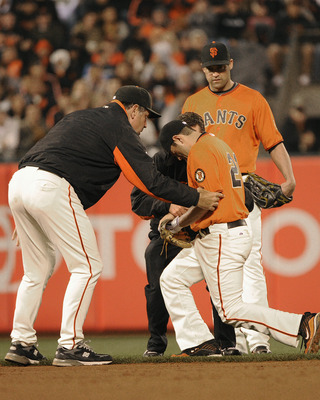 Thearon W. Henderson/Getty Images
What Improvement Would Look Like
Sanchez needs to remain in the lineup. Offensive and defensive production from the second base position was so putrid that Giants fans are welcoming back Sanchez as if they signed Robbie Cano.
Is 130 games too much to ask?
Better or Worse
Better. His presence makes the Giants better. Sanchez gives the Giants a solid hitter in the No. 2 spot every day. Unlike the rest of the lineup, Sanchez is not prone to slumps. Since 2008, Sanchez only had one month where he has batted under .270 while playing at least 15 games.
Buster Posey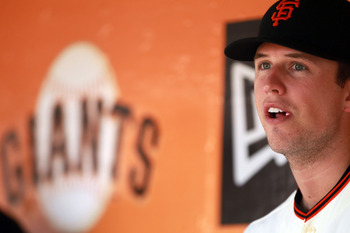 Ezra Shaw/Getty Images
What Improvement Would Look Like
Buster Posey. That's what it would look like. Instead of throwing away money on the free-agent market, the Giants used the money to hire reporters to continually assure us that Posey's recovery is "right on schedule" (via MLB.com).
After 745 articles promising such, I have no choice to believe it. A Buster Posey whose ankle is not splintered like a doghouse in a tornado is an improved Posey.
Better or Worse
Better. The situation is familiar. Giants begin season with stud staff and dud lineup. Enter homegrown superstar catcher who will capture the city's hearts and lead team to the World Series. The Giants are clearly trying to recycle the narrative here. Posey will have to save the Giants again.
Aubrey Huff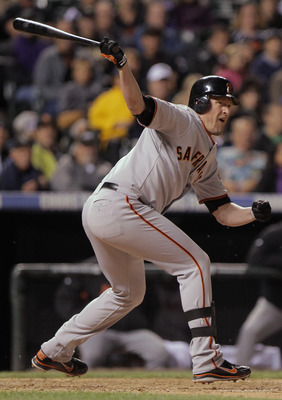 Doug Pensinger/Getty Images
What Improvement Would Look Like
Prince Fielder. Will Clark. Lou Gehrig. The 2011 Aubrey Huff has Giants fans crying out for an alternative. Huff, however, is still reaping his two-year, $22 million reward for playing a key role in the 2010 World Series run.
We have to give him one more year. Huff admitted that he was "mentally in the toilet" last season (via The San Francisco Chronicle). Hopefully he can get out of the toilet and into the shower.
Better or Worse
Better, I hope. The difference between a repeat of the 2011 Giants offense and a better version is Huff. Like with Posey, the Giants hope to hijack the 2010 narrative where a seemingly washed up first baseman arises for one last hurrah (contract), to prove the doubters wrong.
Pablo Sandoval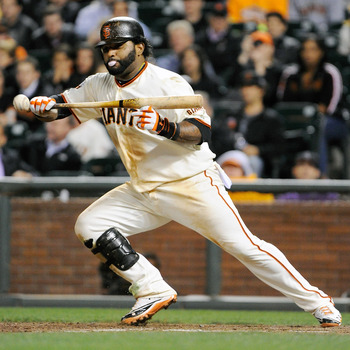 Thearon W. Henderson/Getty Images
What Improvement Would Look Like
Sandoval's a tough one to gauge. Giants fans have been driven by a neurotic obsession with Sandoval's physical condition.
When he's hot: "That Pablo is looking slim and trim."
When he's cold: "If you turn sideways, it looks like he might have possibly gained back a few pounds. Shame."
In reality, a continued Sandoval rise after an All-Star campaign would carry him into the upper echelon of National League hitters.
Better or Worse
Better. This very well could be the year that Sandoval makes the big leap. After David Wright, he could position himself as the premier third baseman in the NL. Pablo is still developing at the young age of 25. And .300/30/100 is not out of the question.
Brandon Crawford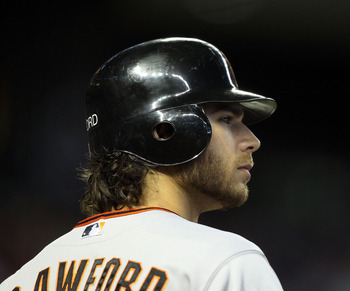 Christian Petersen/Getty Images
What Improvement Would Look Like
Staying in the majors. The bar is so so low for Brandon Crawford right now. We're all willing to overlook the glaring weaknesses because he's young and fresh. On the heels of geriatrics Miguel Tejada, Edgar Renteria and Omar Vizquel, Crawford is the greener grass on the other side.
Better or Worse
Better, though I wouldn't be surprised if I'm wrong. It's only right, if irrational, to suppose Crawford will be a success in the major leagues. His bat didn't turn heads in the minors, and he didn't exactly kill the ball this winter. But the attitude is, "Why Not?"
Let's see what happens.
Brandon Belt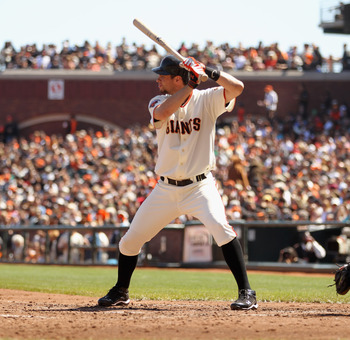 Ezra Shaw/Getty Images
What Improvement Would Look Like
Belt needs to become a big league starter this season. If not, expectations will go unmet.
On the prospect spectrum, Belt was supposed to be more Will Clark and less Damon Minor: consistent power, good at bats and runs batted in. We need to see them all this season.
Better or Worse
Better. So long as the Giants can find Belt consistent playing time, he should be more consistent. Last season, Brandon Belt was the worst player in the major leagues that inspired an animal hat. This season, the Baby Giraffe should be a consistent offensive contributor.
Nate Schierholtz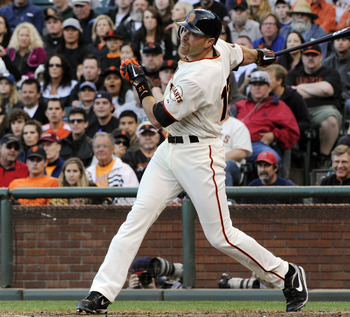 Thearon W. Henderson/Getty Images
What Improvement Would Look Like
Eventually, the only step left for Schierholtz is to become a consistent starter.
He plays good defense and puts together some solid at-bats, but he seems to always be on the brink of a 1-23 slump. With Brandon Belt unproven, the starting right field spot is there for the taking. Schierholtz must find consistency while maintaining the bursts of power we saw last season.
Better or Worse
Worse. I think this is the year that Schierholtz finally cements his position as fifth outfielder extraordinaire—alongside such Giant greats as John Bowker and Todd Linden.
That might be a blessing. We would finally be able to stop wondering whether Schierholtz is a legitimate part of the Giants future.
Mike Fontenot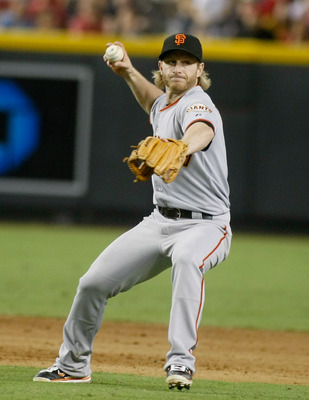 Ralph Freso/Getty Images
What Improvement Would Look Like
Do I really have to analyze Mike Fontenot? Bottom Line: He's not going to be Jose Reyes any time soon.
Better or Worse
Better. I hope the guy that the Giants chose over Jeff Keppinger improves on his .227 avg. Fontenot may have some surprise value as a switch-hitting pinch-hitter who can come in and play multiple positions: As long as I don't have to see him in the starting lineup.
That would be a sign that something didn't pan out.
Manny Burriss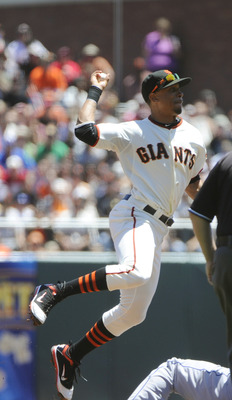 Thearon W. Henderson/Getty Images
What Improvement Would Look Like
If Manny Burris stays on the big league team all season, the improvement will be enough for me and I promise to write more about him next offseason.
Better or Worse
Better? Luckily, nobody ever said "Depth wins championships." With Freddy Sanchez likely to go down with an injury at some point, Burriss will have to hold down the fort. Let's hope the fort doesn't weigh too much.
Keep Reading

San Francisco Giants: Like this team?