BCS Championship 2012: College Football is Biggest Loser In Boring Rematch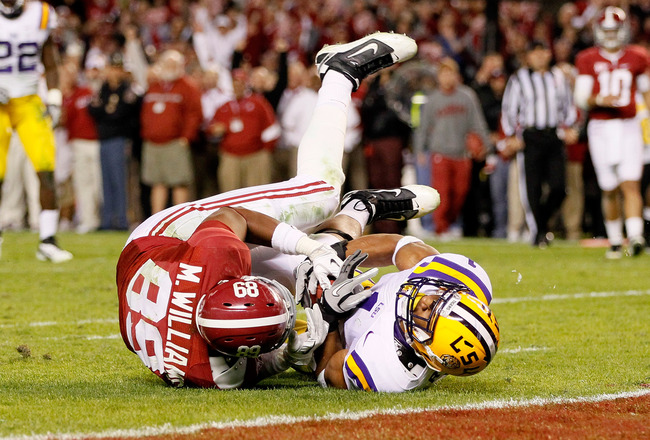 Both offenses will struggle to stay out of their own way on Monday night.
Kevin C. Cox/Getty Images
Regardless of the winner in New Orleans on Monday night, college football is destined to be the biggest loser when No. 1 LSU and No. 2 Alabama meet to settle their score in the BCS National Championship Game.
Ever since the matchup became set in stone on Dec. 4, 2011, fans outside of the Southeastern Conference have expressed their disgust for the timing of the sure-to-be defensive rematch—in the national title game, really?
There simply is too much on the line in this game to allow rematch potential reign supreme. Bottom line: We've seen this matchup before. It bored us to death and set offense back nearly a century. The final score was 9-6.

I'm not by any means encouraging 70-33, which was the final score in Wednesday night's Discover Orange Bowl between West Virginia and Clemson. But when fans are subjected to the No. 1 and No. 2 defense in the nation duking it out on the main stage, they lose interest.
Not only are the fans at a loss in this matchup, but the sport of college football is being misrepresented to the world. The NFL is even making the shift towards offense. Look at the last two Super Bowl champs. The Packers and Saints both boast exciting offenses and dynamic passing attacks.

Although LSU and Alabama scored a mountain of points this year, they both averaged more than 36 points per game, neither has household-name talent at quarterback or wide receiver. Crimson Tide running back Trent Richardson is the only notable star on offense Monday night.
The Tide and Tigers rank 79th and 108th respectively in passing offense this season. But get excited, casual observers, because neither team averaged more than 7.1 yards per pass attempt in the first meeting back in November.
It's almost laughable that Alabama would be considered for this game. Oklahoma State would have at least given fans a show. Justin Blackmon and Brandon Weeden alone would guarantee some offense and some excitement.
Putting Alabama in the title game ensures another stinker for college football. It's predictable and the superstar talent on defense hardly makes up for the lack of offense.
Sure, the old school fans will cry out that the game has gone soft and defenses win championships. But last time I checked, people don't tune in for defense.
College football is a money game, and a business. This championship matchup is a stone-cold dud, and you can bet that we won't see it again anytime soon.
It's already been met with incredible criticism, and that won't change after a winner is decided, because college football has already lost.
This article is
What is the duplicate article?
Why is this article offensive?
Where is this article plagiarized from?
Why is this article poorly edited?