TNA Genesis Live on PPV 8pm Tonight Orlando, FL 'A Fan's Prediction'
January 8, 2012
TNA Impact Wrestling & Direct Auto Insurance present Genesis Live on Pay Per View at 8pm
from Universal Studios in Orlando, FL. Celebrating 10 years of TNA, the first
pay per view of 2012 looks to be a exciting one with several good matches on the card.
Let's take a look at the card for tonight. I will share my thoughts and opinion's and i
hope you do the same.
"The Pope" D'Angelo Dinero vs. Devon
Time has come for Devon to put Pope in his place. This has been a friendship
gone nasty and a feud that has lasted way too long. Pope has attacked Devon numerous times
and has brainwashed Devon's sons. Pope will find someway to win this one even if it involves getting
Devon's sons involved in the match may cost Devon.
My Pick: Pope D'Angelo Dinero
Gunner vs. Rob Van Dam
Gunner, with help from the Nature Boy Ric Flair, has been on a path of destruction as of late.
He will face Rob Van Dam at Genesis. Gunner has and advantage especially with Flair
at ringside, but you can never count out the high flying ability of Rob Van Dam. The
match these two had on Impact last Thursday was brutal and ended in a double count out.
I think Gunner will get the victory Sunday with a little outside interference what about you? Or maybe RVD wont be at TNA much longer?
My Pick: Gunner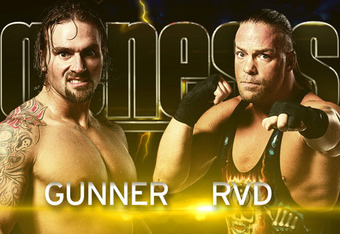 MONSTER'S BALL MATCH
Bully Ray vs. Abyss
Abyss and Bully Ray, two powerhouse wrestlers who are both mean and tough in the ring, then
go and make it a Monster's Ball Match. This one is going to be out of control and brutal. Bully Ray loves to take every illegal action he can take to get and advantage and Abyss can take
a enormous amount of pain so i think Abyss with make Bully Ray pay for all he has done.
My Pick: Abyss
KNOCKOUTS TITLE MATCH
Gail Kim Knockouts Champion vs Mickie James
The Knockouts division has been great. This should be a great match with two gorgeous knockouts going for the Knockouts Championship. Gail Kim and Madison Rayne have been able to use different tactics and cheat the past few weeks in there matches, but will Gail Kim be able to do the same to Mickie James Sunday like they did last week on Impact? Gail and Madison won match last Thursday but will Mickie James win the war? Mickie James has earned her spot to challenge for the championship i expect Mickie to win the title.
My Pick: Mickie James
X DIVISION TITLE MATCH
Austin Aries X Division Champion vs Kid Kash vs Jesse Sorensen vs Zema Ion
This should be one of the most exciting matches of the night. The X division always
proves to deliver and gets better and better. Austin Aries has been atop the X Division for
awhile but newcomers Jesse Sorensen and Zema Ion want to be at the top. But you
can never count out the crafty veteran Kid Kash. Jesse Sorenson has come along way
and I believe his win on Impact will give him the momentum to take the title Sunday.
My Pick: Jesse Sorensen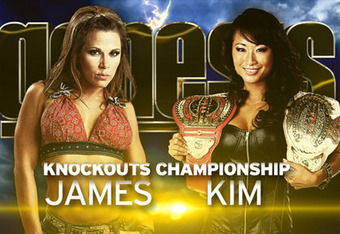 WORLD TAG TEAM CHAMPIONSHIP
Samoa Joe & Magnus vs. Matt Morgan and Crimson Tag Team Champions
Another good match here as well with two powerful tag teams. Samoa Joe and Magnus look to be a great team together and Morgan and Crimson have really bonded. Samoa Joe and Magnus picked up a big victory Thursday on Impact against AJ Styles and Kazarian. I believe Samoa Joe and Magnus will walk out of Genesis with the TNA Tag Team Titles Sunday.
My Pick: Samoa Joe & Magnus
Kurt Angle vs. "Cowboy" James Storm
Kurt Angle and James Storm are two totally opposite guys but both have a huge desire to be the best. James Storm has voiced his anger with Angle, especially after Angle went to Storm's hometown in Tennessee and attacked some of his friends. Storm said on impact that Angle could laugh at him all he wants but everyone has been doing that since day one, Storm says that Angle feels intimidated and he knows he can beat Angle, but Storm seems to have had a edge over Angle the last few months but nevertheless my pick to win James Storm.
My Pick: James Storm
MAIN EVENT: WORLD HEAVYWEIGHT CHAMPIONSHIP
The Charismatic Enigma Jeff Hardy vs World Heavyweight Champion Bobby Roode. Jeff Hardy has battled his way back to the top after overcoming so many obstacles, Bobby Roode is the only guy who stands in his way of taking the World Championship. Jeff Hardy, Abyss and James Storm were dominating there tag team match against Roode, Bully Ray and Angle Thursday until it ended in a disqualification. After the match was over Hardy hit the twist of fate. If he does that Sunday it's over for Roode. Hardy will put on a great show but Bobby Roode is just starting his
title run and I don't see it ended this quick.
My Pick: Bobby Roode