St. Joseph's Basketball: Hawks Fall Short at Home Against Charlotte
January 8, 2012
Chris Chambers/Getty Images
For the first time all season, St. Joe's lost on their home court of Hagan Arena. The Hawks played host to Atlantic 10 foe, the Charlotte 49ers. In one of the most physical games all year, SJU couldn't mount a come back, losing 57-52.
The 11-5 Hawks seemed flat from the start as Charlotte controlled the pace of the game, something the Hawks yearned to do. 
"We wanted to pace the game. We don't want to have 50 point games. People have tape and we didn't go at them," said Hawks coach Phil Martelli.
However, the Hawks did not go down without a fight.
Some bright moments from the game included the powerful play by Halil Kanacevic. He had an apparent size advantage all game, and the Hawks feasted on that early. Kanacevic finished the day as the SJU second leading scorer with 12 points. He also lead the team in blocks with four.
Another bright moment was the 14 points Carl Jones accounted for, including a huge fade-away three-pointer from the corner. This gave the Hawks a 38-36 lead as the fans almost tore the roof off Hagan Area with jubilation.
As the Hawks started to gain momentum, they also continued to turn the ball over, which ultimately led to 49er points.
St. Joe's was down three points as time was waning. Jones took an off-balance, fade-away three that was no good, but hit a Charlotte player and bounced out of bounds. What a break this was for SJU.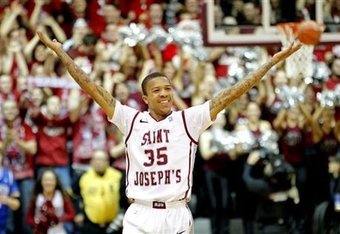 This gave the Hawks one more shot, down three, with 13 seconds left. They inbounded the ball to Kanacevic, who then attempted to hand the ball off to Jones, which resulted in an SJU turnover.
SJU desperately fouled and Charlotte made two shots, sealing the 57-52 victory for the 49ers.  
The Hawks are coming off a bad three-game skid, after blowing a lead to Harvard, desperately coming back against Duquesne and now loosing at home to Charlotte. 
Head coach Phil Martelli knows his team is better than what they have been showing recently, and said it was his job to have his team mentally prepared.
"I should've done more with them mentally," said Martelli.
Also, Martelli stated that his team needs to regain their energy that they seem to have lost.
"For whatever reason, our energy has dissipated. We've had energy deficiencies," proclaimed Martelli.
Where do the Hawks go from here and what does this Atlantic 10 loss mean for St. Joe's? Well this is a very talented division and the craziness has already begun around the league. Temple beat Duke, then lost to Dayton at home. La Salle beat heavy favorite Xavier by ten. So the league is still wide open.
The Hawks need to get back on track and need to push the basketball and spread the floor. That's when they are most successful. If Carl Jones can get back to playing fearless basketball, and C.J. Aiken can get his "swagger" back, this SJU team will be just fine.
They take on a tough Fordham team Wednesday, January 11 at Hagan Arena. Fordham just beat nationally ranked Harvard, who the Hawks just lost to.
This will be a statement game for SJU and you can be sure they will come out running on Wednesday. 
Eddie Ravert is a Featured Columnist for Bleacher Report. Unless otherwise noted, all quotes were obtained first-hand.