Houston Texans vs. Baltimore Ravens: How Ravens Knock off Texans
January 8, 2012
Rob Carr/Getty Images
The Houston Texans' dismantling of the Cincinnati Bengals earned them a return trip to M&T Bank Stadium to test their mettle against the battle-hardened Baltimore Ravens.  
Make no mistake, this is the matchup the Ravens wanted.  
The Steelers will beat the Denver Broncos and Ravens/Texans is much more desirable than Ravens/Steelers to everyone connected to the purple and black.  
It won't be easy but it can be done.  
When the Ravens played the Texans earlier in the season, with Matt Schaub at quarterback, Joe Flacco threw for 305 yards in a 29-14 Baltimore win, and with a much-needed first-round bye, the Ravens got time to get healthy. 
Ray Lewis should be humming like a top when play resumes on Sunday, as should Lardarius Webb.  
When Webb was sidelined briefly earlier in the season, both Jimmy Smith and Cary Williams were exposed.  
Smith is only a rookie and you can tell he's going to be a good one, but he and Williams were both hurt by the absence of Webb.  
Not only a fine return man, Webb has proven himself a trusted cover corner who's essential to that unit's success.
On offense, the valuable Anquan Boldin may be ready, which would greatly benefit Flacco.
Wide receiver Lee Evans has been a non-factor all year, but luckily, rookie Torrey Smith has stepped up.  
Tight ends Ed Dickson and Dennis Pitta have been a two-headed monster...imagine what Joe Flacco could do with a full arsenal at the wide receiver position.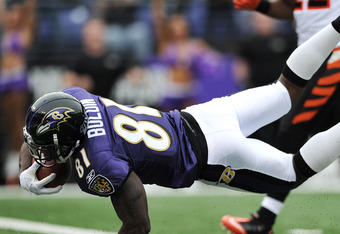 Patrick Smith/Getty Images
True, the Ravens have the weapons, but sticking with the game plan is what will get the team to Indianapolis.
The golden recipe for the Ravens in 2011 involved a dash of Flacco and a lot of Ray Rice.  
The losses at Jacksonville and Seattle happened because this blueprint for success was not followed, and offensive coordinator Cam Cameron deserves much of the blame.  
It can be easy to stray from handing Rice the ball, especially when playing from behind, but the offense is not dynamic enough to be one-dimensial with the passing game.  
If the Ravens fall behind the Texans this week, Cameron must stay the course.  
The Ravens should be well-rested, healthy and hungry when Houston comes to town.  
By following a run-oriented game plan, Baltimore will enjoy a huge playoff victory.