Virginia Cavaliers Nip Miami Hurricanes in ACC Opener, 52-51
January 8, 2012
Jeff Zelevansky/Getty Images
"The good news is we didn't play our best basketball,"  Tony Bennett told the Virginia Sports Radio Network after his Virginia Cavaliers eked out a 52-51 win over visiting Miami in the ACC season opener for both schools.
The Cavs (AP, 21, USA TODAY/ESPN, 23) won their 12th straight.  The streak and their 14-1 start both are the best in 30 years.  The 1981 team, coached by Terry Holland and led by Ralph Sampson, sprinted out to an 18-1 start. 
Thirty years ago head basketball coaches had one or two assistants, not like today's coaches who have a full entourage.
The University of Miami's Jim Larranaga was coaching his first ACC game as a head coach.  But, for seven years (1979-1986), Larranaga sat on the other side of the scorer's table in a building on the other side of the street from John Paul Jones Arena as one of Holland's assistants.
Holland's other assistant coach for the '81 squad was also in attendance last night.  In fact, he's present for all UVA basketball home games.  He's current Virginia Athletic Director Craig Littlepage.
Virginia was led by Mike Scott, who had a game-high 23 points and a team-high eight rebounds. 
One of Virginia's problems on the offensive end is that occasionally they become what Bennett calls "stagnant."  It's during those periods that the Cavaliers depend even more heavily on Scott to keep them going.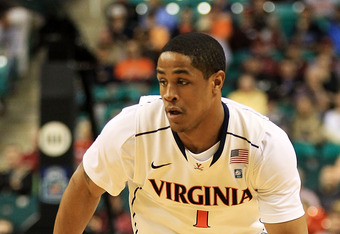 Streeter Lecka/Getty Images
Last night, for just over eight minutes in the first half, Scott was the only Cav to score.  It happened again for another five minutes spanning the two halves.
Despite the fact that no other Cavalier scored more than six points in the game, crucial contributions came from almost everyone in Coach Bennett's rotation.
Jontel Evans in particular played an important part at the end of each half. 
In the first half, with the 'Hoos leading by six with just over a minute to go, Evans drove the lane and threw up a floater that bounced off the rim.  Evans grabbed his own rebound and as he was falling out of bounds whipped a pass to Scott who hit a short jumper in the paint.  Fouled on the shot, Scott completed the traditional three-point play to give Virginia a 26-17 half time lead.
After Miami rebounded a Joe Harris missed front end of a one and one, Evans guarded Durand Scott straight up in the final 13 seconds.  Scott passed on a ball screen that might have given him a long jump shot opportunity and instead drove toward the basket where, well defended by Evans, he could only manage a double pump shot that hit the bottom side of the rim with just over a second left.  The rebound came right back to Scott but by then Sammy Zeglinski had slipped in to disrupt any putback attempt and forced a held ball as time expired.
Zeglinski, who is making a habit of hitting big three-point baskets for this Virginia team did so again against Miami.  Some 14 seconds after the 'Canes had taken their only lead of the second half, 46-45, Zeglinski canned a three pointer that gave the 'Hoos a lead they would not relinquish.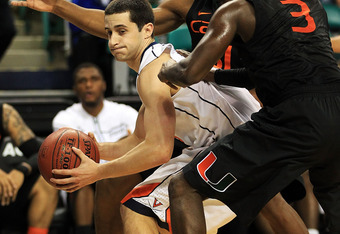 Streeter Lecka/Getty Images
Finally, on a night when Virginia's second and third leading scorers combined for only nine points, two freshman stepped forward during a key interval to help Virginia maintain control.
With Miami having chopped a ten point deficit to just one midway through the second half, Darion Atkins hit a short jumper.  Less than a minute later Malcolm Brogdon drilled a three-pointer to help the Cavs maintain a lead.
So the good news for Virginia and their fans is indeed that on a night when a couple of the components they have counted on had off-games, they still managed to defeat a Miami team that figures to be very tough in league play.
The bad news is Miami got a lot of points in transition.  If Virginia can make it a half-court game they can play with anyone. 
Unfortunately, next up is Duke (on Thursday night), a team that wants to play at a pace that sees all ten players on the same end of the court as seldom as possible. 
Virginia has lost 14 straight at Cameron Indoor Stadium.  Last year, without Mike Scott, they put a real scare into the Blue Devils. 
This year instead of giving Duke a scare they'd like to give them an "L".