Clemson Men's Basketball: Tigers Take Advantage of Cold FSU in ACC Opener
January 7, 2012
Christian Petersen/Getty Images
A view of Clemson's potential or a flash in the pan?
That's the question the ailing Tiger fanbase is asking about Clemson's dismantling of Florida State on Saturday night 79-59.
Clemson had a rough go of it during the non-conference slate, losing to the likes of College of Charleston and Coastal Carolina and was looking like the prime candidate for the ACC cellar this year.
Then Florida State came to town.
Granted, Florida State is not UNC or Duke, but this should still be viewed as a solid win for Clemson.
I write this fully understanding that FSU has been rolled by every good team they've played, except maybe Auburn.
But now, we're into ACC play, and the stakes are higher.
From now on, Clemson will need all the wins it can get to even sniff the NCAA tournament and a win over FSU will go a long way.
Clemson's defense is fantastic.  Now, Brad Brownell needs to teach his boys how to score.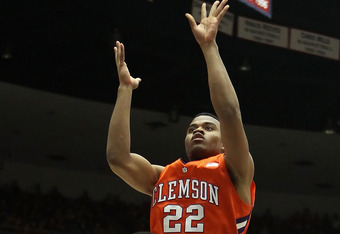 Christian Petersen/Getty Images
Seventy-nine points against FSU is the highest scoring output (in regulation) of the year for Brownell's squad—a look in the right direction.
Andre Young and Tanner Smith were fantastic as usual, and Milton Jennings continues to break out of his tentative shell.
Devin Booker, however, is a hard nut to crack.  At times, he can own a whole court, as evidenced by his 22 points against Eastern Tennessee State last week, and other times, loafs around and disappears from the stat sheet altogether.  Brownell needs to figure out how to light a fire under Booker because the Tigers will need him down the stretch.
If he does continue to laze about, Catalin Baciu made a case for more playing time against FSU with nine points and five rebounds.  He looked good in his only 14 minutes of play and could see the court more often if he continues to play hard.
Rod Hall also continues to emerge as a playmaker.  Although not blessed with aesthetic athleticism, he hustles—an attribute Clemson sorely needs.  He finished with 11 points and four assists.
Clemson continues to find an identity and contemporaneously frustrates its fanbase with inconsistency, but if this team can put the pieces of this incredibly complex (yet talented) puzzle together, they will make some surprise noise in the ACC this year.