Manchester City vs. Liverpool: Preview and Live Stream for Carling Cup Semifinal
January 8, 2012
Clive Brunskill/Getty Images
The Carling Cup may have fallen by the wayside somewhat now that the second half of the English Premier League season is underway and the FA Cup is in full gear, but don't tell that to Manchester City and Liverpool. These two northwestern rivals will take to the pitch at the Etihad Stadium on Wednesday for the first leg of their League Cup semifinal matchup.
City ousted Arsenal in the quarterfinals in late November, 1-0, while the Reds reached this round by way of a 2-0 decision against Chelsea. Man City and Liverpool last met on January 3rd, with the Citizens coming away with a dominant 3-0 victory over the visitors.
Where: Etihad Stadium, Manchester, England
When: Wednesday, January 11th at 2:45 p.m. EST
Watch: Fox Soccer Plus, Sky Calcio 1, ESPN HD Brasil, ESPN +, SuperSport 3 Africa, ESPN + Andina, Orange Sport, Canal+ Fotball 
Live Stream: FoxSoccer.tv
Player to Watch for Manchester City: Sergio Aguero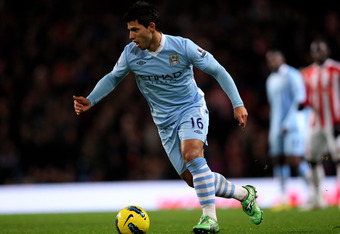 Alex Livesey/Getty Images
City have done more than their fair share of scoring this season, with new boy Sergio Aguero leading the way in that department. The 23-year-old Argentine leads the way for Roberto Mancini's side with 16 goals and five assists in 26 appearances this season, including the 83rd-minute winner against the Gunners to put the Citizens through to the semifinal round. 
Kun won't be the only threat for the Liverpuddlians to keep tabs on, though he'll certainly be the most dangerous. He scored the first goal of the match in Man City's most recent win over Liverpool.
Player to Watch for Liverpool: Andy Carroll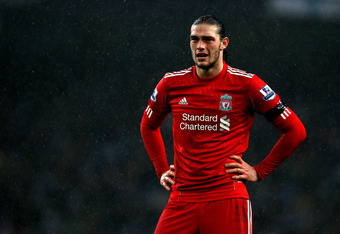 Clive Brunskill/Getty Images
Andy Carroll has drawn the ire of the Kop this season, and for good reason. The 23-year-old target man has hardly made good on the £35 million Reds boss Kenny Dalglish spent to snag him from Newcastle, putting through just four goals in 25 appearances in meaningful matches. 
With Luis Suarez still out serving an FA-imposed ban, the onus will fall to Carroll to spark Liverpool's impotent attack.
Key Matchup: Pepe Reina vs. City's Attack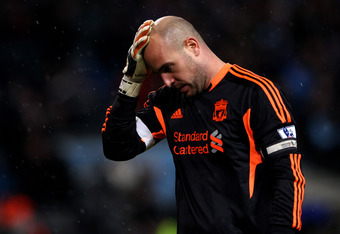 Clive Brunskill/Getty Images
All in all, Liverpool goalkeeper Pepe Reina had a torrid evening the last time these two sides met. The big Spaniard badly misjudged Kun's 25-footer in the 10th minute and was nearly exposed on two plays—a shot by Edin Dzeko that was deflected wide off Glen Johnson and a brilliant header by Vincent Kompany—before Yaya Toure made Reina pay for his sins.
Reina won't be expected to stop City all by his lonesome, but if Liverpool are to have any shot to keep this one close, they'll need their netminder to be at his very best against Mancini's onslaught of goalscorers.
What They're Saying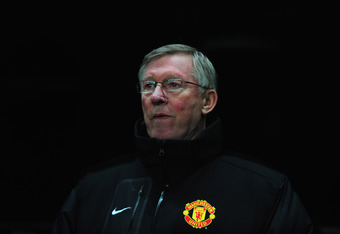 Stu Forster/Getty Images
Leave it to Sir Alex Ferguson to stir the pot with multiple clubs at once.
The Manchester United boss has poked at Manchester City all year, now poking at the "noisy neighbours" over their recent run of poor form. Fergie claimed that City, the EPL leaders, aren't playing the best football of anyone in England, to which Mancini replied:
"It is difficult to say your neighbour is playing better football. Tottenham can win the title. They have done a fantastic season until now and in the next four months, I don't know. But, for now, we are playing the best football in the Premier League."
Meanwhile, Fergie has done little to settle the disquiet that remains between his club and Liverpool following the spat between Luis Suarez and Patrice Evra that landed Luisito an eight-match ban from the FA. Fergie has thus far paid little mind to the notion that the Red Devils and the Reds should sit down for peace talks to make sure the players don't attempt to take matters into their own hands:
"It is nice of them to do it through the press. You would have thought they would come to Manchester United first. I do not see why there is any need for it. But I have nothing to say about it."
The two sides are scheduled to meet again on February 11th at Old Trafford in what's likely to be Suarez's first away match back.
Prediction: Manchester City 2, Liverpool 0
The Citizens won't demolish the Reds quite as embarrassingly this time around, seeing as how they'll be missing the Toure brothers and aren't likely to see Pepe Reina perform so poorly again. Still, Liverpool will struggle to get clean looks at the goal so long as Luisito can't play, especially against a City defence that's arguably the best England has to offer.