Women's College Basketball: Notre Dame Beats Connecticut in Overtime Showdown
January 8, 2012
The Big East showdown between No. 2 Connecticut (12-2; 2-1) and No. 3 Notre Dame (15-2; 3-0) lived up to all the anticipation of being a hard-fought battle that would come down the wire.
After Notre Dame pushed the game into overtime, the Fighting Irish held the Huskies to four points in the extra period and won 74-67. 
This game was a telling one for both teams, who will undoubtedly be playing for a national championship in March. 
Despite shooting 35.8 percent from the field and 27.3 from beyond the arc, Notre Dame was able to win the game with defense. 
"I thought our defense late in the game was fantastic," Notre Dame coach Muffet McGraw said after the game. "We really did exactly what we needed to do...I thought we did a really good job down the stretch using the clock and getting to the foul line. But overall the defense was fantastic."
The Fighting Irish forced a season-high 27 turnovers from Connecticut including six from leading scorer Kaleena Mosqueda-Lewis, who committed a turnover in the final seconds of regulation to give Notre Dame a chance to win. 
"That's not something we do very often," Connecticut coach Geno Auriemma said after the game of his team's turnovers. "A lot of it was (Notre Dame's) ball pressure...I think there were times early in the game where some of it was (Notre Dame's) ability to get their hands on the ball, and some of it was that we were a little bit careless at times."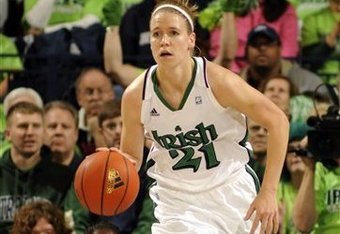 Notre Dame held Mosqueda-Lewis, who averages 15 points and one turnover per game on the season, to a mere seven points.
Bria Hartley's 25 points and nine rebounds fell short against a combined 42 points from Notre Dame's dynamic duo, Skylar Diggins and Natalie Novosel. 
Novosel was a mere 5-for-20 from the field (25 percent; 49.4 percent on the season), but was key for Notre Dame with her clutch 10-for-11 free-throw shooting. 
With 1:10 remaining in regulation, Novosel made two crucial free throws to even the score to 61. Then, with the game tied at 65 in overtime, she hit two more critical free throws to boost the Fighting Irish to a two-point lead.
Novosel would go on to make all six of her free-throw attempts in overtime.
Although Notre Dame's leading scorer Skylar Diggins shot an uncharacteristic 36.8 percent from the field (53.8 percent on the season), her defense was key to Notre Dame's victory. 
With the Fighting Irish down 63-61 and 0:25 remaining in the game, Diggins stole the ball from Connecticut's Bria Hartley, which led to a game-tying layup from Kayla McBride to send the game into overtime. 
"They pressure the ball really well," said Hartley of Notre Dame's defensive pressure. "It is extremely difficult at times, but you have to be able to take care of the ball. Those turnovers cause you to lose opportunities to score."
Diggins had four steals on the night, and came up big in the final play of regulation by pressuring Mosqueda-Lewis to turn over the ball on Connecticut's final possession with 0:04 left. 
The Fighting Irish now improve to 3-0 in Big East play and grant Connecticut its first Big East loss of the season and its second loss overall after the Huskies lost to No. 1 Baylor in non-conference play. 
Notre Dame handed Connecticut its first Big East conference loss in 57 games, as the Huskies have not lost a conference game since 2008 against Rutgers. 
The Fighting Irish will undoubtedly replace Connecticut in the No. 2 spot. Connecticut may fall as low at No. 5 after losing to two Top 5 schools on the year. 
The Huskies will have a chance for redemption against Notre Dame when the host the Fighting Irish at home to cap-off the Big East regular season. 
You won't want to miss that one either.