BYU Football
BYU Football: BCS Bustin' from the Future; a Wrinkle in Time
Let's hear it for the future! Gimme an F...!
Ronald Martinez/Getty Images
January 7, 2012
(Disclaimer: The following story was born in the writer's imagination and was performed by a trained professional. Do not try this stunt at home. If you experience dizziness, become suddenly lethargic or have a sudden desire to say "live long and prosper" while attempting to time travel, consult a doctor immediately.)
This just in: Due to a rift in the time-space continuum, Bleacher Report contributor Lou Martin has traveled forward in time to January 2013. Because his teleportation has left a wrinkle in the fabric of time, Martin has been able to make contact with us here in January 2012 to report on the state of college football—BYU football specifically—in early 2013.
Without further delay, let's go to Martin.
(Radio squelch.)
Lou Martin here, reporting from the Orange Bowl in Miami, Fla, where the BYU Cougars (12-0) are poised and ready for their matchup with the USC Trojans (12-0) in the BCS National Championship Game on Jan. 7, 2013.
Yes, I said BCS National Championship Game.
I'm sure it sounds wacky to you in 2012, but here in 2013, BYU has brought the term "BCS buster" to new levels. This game is huge and has already turned the college football world on its ear.
Why, even outgoing president Barack Obama and president-elect Donald Trump have publicly stated they'll attend the game because of the history-making ramifications. I doubt they'll share the same luxury box, given the ugly nature of the 2012 presidential campaign.
In spite of their perfect record and No. 2 BCS ranking, the Cougars were nearly denied a spot in the title game in favor of a pair of two-loss teams—LSU and Alabama—who slugged it out in the 2011-12 title game.
I don't want to spoil the outcome of that game, but let's just say one team "Rolled" to a 17-14 win.
The path to the 2012-13 BCS title game has been a storied one for BYU, one that resembles their historic march to the 1984 national championship.
After the Cougars steamrolled Washington State and Weber State to open the 2012 season, the team entered the annual Holy War against Utah with a No. 25 ranking.
Ranked No. 14 after a pair of season-opening wins of its own, the Utes gave BYU all it could handle, but when the dust settled, the Cougars eked out a 27-25 win at Rice Eccles Stadium.
Things didn't get any easier for BYU the next week when they traveled to Idaho to take on No. 4 Boise State. Result? Cougars 24, Broncos 23.
To most peoples' surprise, Oregon State (No. 10) and Notre Dame (No. 7) were also top 10 teams at the time they faced the Cougars. Convincing wins over both teams propelled BYU to No. 4 in the BCS rankings by the end of October.
Two other teams on the Cougars 2012 schedule were also surprisingly highly-ranked at the time they locked horns with the Cougars: Utah State at No. 25 and Georgia Tech at No. 21.
The rest of the schedule unfolded as expected, with blowout wins over Hawaii, New Mexico State, San Jose State and Idaho to keep the Cougars undefeated.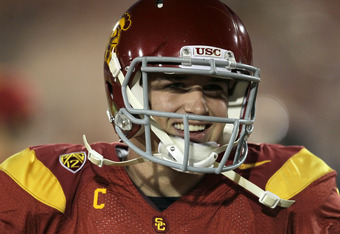 Watch out, Matt Barkley! The Cougars are comin' for ya!
Stephen Dunn/Getty Images
Had it not been for season-ending losses for No. 2 Alabama (9-3) and No. 3 LSU (9-3), BYU was likely headed for the Orange Bowl game against No. 17 West Virginia (9-3).
In the end, the Cougars beat six top 25 teams and went undefeated, so it was hard to argue against their right to play in the title game against top-ranked USC, which also ran the table.
If only I had jumped forward another week or two, I could tell you how things turned out against the high-octane Trojans and Heisman Trophy winner, Matt Barkley.
Oh! I can also tell you that in early July 2012, the Cougars were finally extended an invitation to join the Big 12 Conference, a move that becomes official about six months from now on July 1, 2013. The move includes all sports, except table tennis.
Well, that's all I've got for you from the future. BYU head coach Andy Reid is about to address the media here at the Orange Bowl, and I want to grab an apple fritter before that guy from the Los Angeles Times gets there.
Like the new article format? Send us feedback!