Boston Bruins' Loss Reiterates Discipline Is Their Greatest X-Factor
January 7, 2012
Elsa/Getty Images
For only the third time in their first 38 games, the Boston Bruins allowed four goals without any of those being empty-netters in Saturday's 4-3 shortcoming against the Vancouver Canucks.
What did this game, plus a 4-1 falter to Carolina on Oct. 18 and a 4-2 drawback in Dallas one week ago, have that the majority of their other 35 outings did not?
If it is not the only common thread, then the multitude of opposing power-play goals is certainly the most outstanding. In total, Boston has now authorized two or more power-play strikes on five occasions, rebounding only once for a 4-3 shootout triumph in Buffalo the night before Thanksgiving.
Other than that, the Bruins have let a lack of discipline spell the difference in the aforementioned Carolina and Dallas matches as well as a 4-2 loss in Montreal at the end of October.
That motif was reopened in Boston's vain rally effort against the Canucks, whose offense subsisted on an exclusive diet of special teams.
Saturday afternoon's decision featured two lead changes, a 5-on-3 conversion, a five-minute major conversion and the expulsion of two leaned-on Bruins' forwards in Milan Lucic and Brad Marchand.
In short, the Bruins' self-imposed dismantling was really a hodgepodge containing reminders of the three previous losses in question. Like they did for both the Stars and Canadiens, the Bruins blinked early, yielding to Ryan Kesler for the icebreaker on an early two-man advantage.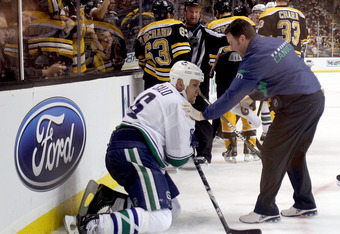 Elsa/Getty Images
Not even six minutes were off the clock at that point, but the burly Lucic was already finished for the day, having left his bench to join a comprehensive scuffle, thus earning a game misconduct.
Lucic's ejection instantaneously evoked memories of the Carolina game. Recall that that one was still winnable until the Bruins accrued 33 minutes worth of penalties in the middle of the third period, then watched the visiting Hurricanes insert two 5-on-3 tallies to turn a 2-1 edge into a 4-1 crater.
Similarly, Saturday's contest was still winnable until the final siren, but even a solitary regulation point would have been more realistic and more deserved if not for Marchand's subsequent infraction.
Marchand, who drew a 1-1 knot before the first intermission, was tossed at the dusk of the middle frame, at which point the Canucks had briefly trailed and then nailed their own equalizer.
Upon perilously upending Vancouver defenseman Sami Salo in pursuit of the puck along the wall, Marchand was flagged with a rare, five-minute clipping citation. The nature of his infraction was deemed severe enough for him to join his fellow top-six winger Lucic in the Boston dressing room for the balance of the game.
Lo and behold, Vancouver pivot Henrik Sedin capitalized on the all-you-can-score buffet before the rest of Marchand's team could follow him down the runway for intermission. With that, Boston had authorized a season-high three opposing power-play goals in a single contest and fallen behind a second time.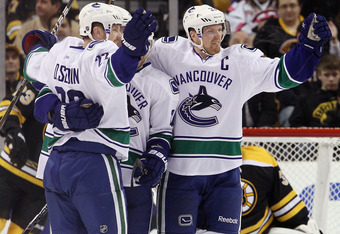 Elsa/Getty Images
Granted, the Canucks do bear the NHL's most prolific man-up brigade. In fact, their 4-for-11 field day swelled their overall success rate from 23.6 to 24.4 percent in a matter of three hours.
But that should have been all the more reason for the Bruins, Lucic and Marchand in particular, to have demonstrated a little more prudence.
It was an explicitly and understandably emotional bout with a mass of penalty minutes going both ways. But hopping over the boards to join in on an altercation or leaning over to send one's opponent on an utter jackknife of a tumble are both preventable offenses. Usually, the only thing permitting such actions is a brief, but fatal loss of self-control and common sense.
In this case, both moves were collectively fatal to a team's 60-minute cause.
Soon trailing, 4-2, on the strength of Cody Hodgson's tally with Marchand's sentence still not half-over, the Bruins demonstrated the value of their uncanny depth in the third period. Lucic's center, David Krejci, whittled the deficit in half during a four-on-four segment a mere 42 seconds after Hodgson's eventual game-clincher.
Between Hodgson's goal and the clock's expiration, the Bruins went on a 19-8 run in the shooting gallery, including four stabs apiece from Krejci and fellow top-six center Patrice Bergeron.
In the same span, six different Boston skaters were credited with a takeaway and nine different Bruins combined to throw 11 body-checks. Conversely, in the 41-plus minutes prior to Hodgson's goal, Boston had logged only four steals and six hits. (Imagine how many more hits they could have had if Lucic were not in the showers before the four-minute mark of the opening frame?)
Still, the 4-4 knot that never arrived was the only critical element at hand. And if they had Lucic at their service, the Bruins may have had that draw or even forced the Canucks to go furiously forking for the last-minute equalizer.
Considering his deed and its consequences, it is a safe assumption that if Marchand were available for the last 21:13 of action, Boston would have had that tie or that lead at the conclusion of regulation.
With Marchand still in the equation, it would have meant one less invitation for Vancouver to utilize its decisive power-play brigade.
And with either Lucic or Marchand, it would have meant one less forward line to tweak and one more reliable, multifaceted body on the strike force. That, in turn, could have added a little quality to Boston's wild quantity of late scoring chances.
From a moral standpoint, a merely half-finished comeback from a two-goal deficit is the most fitting outcome if Lucic and Marchand are to relearn that a balanced set of humors is crucial to the Bruins' success.