Jared Williams Injury: SMU RB Suffers Gruesome Leg Injury
January 7, 2012
Thomas B. Shea/Getty Images
Southern Methodist running back Jared Williams sustained an injury in the BBVA Compass Bowl against the Pittsburgh Panthers that would make the toughest human reach for a garbage can.  Many are calling it the most brutal football injury they've ever witnessed.
CBS Sports' Tom Fornelli reported on Twitter this news regarding Williams.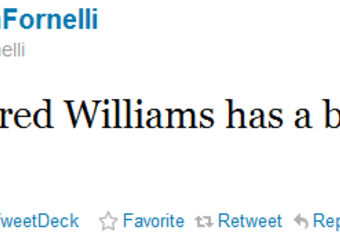 If you really want to see it, here's a GIF of the injury from mocksession.com.
Trainers were predictably forced to carry the halfback off on a stretcher.
Williams is only a freshman, but he received plenty of playing time near the end of the season for the Mustangs.  He rushed for 80 yards and a touchdown on just 10 carries against Rice in the season finale to help his team get to the Compass Bowl.  Before his gruesome injury against Pitt, he had rushed for 40 yards on the day.
SMU went on to win the game 28-6, but right now, all ears are on Williams' status. 
Andrew Taglianetti is the Panthers player who tackled the Mustang causing the injury.  As soon as he realized what was happen, the junior safety was distraught as he and teammates around the pile urged trainers to run to Williams' aid.  After the game, Pittsburgh's DB was in tears talking not about his teams loss, but Williams' injury.
Also thanks to mocksession.com, here is a GIF of Taglianetti after the play; this one isn't nearly as gruesome.
While Twitter blew up with prayers for Williams, it also exploded with praise for Taglianetti who showed flawless sportsmanship under the given circumstances.
Many are comparing the injury to Joe Theismann's infamous break which ended the quarterback's career.  He broke it, though, back in 1985.  Hopefully with today's advanced modern-day medical technology and procedures Williams will not only fully recover like Theismann, but his bright young career won't be cut short.
David Daniels is a Featured Columnist at Bleacher Report and a syndicated writer.