Gilbert Arenas: Chicago Bulls Need to Sign Star Point Guard for Insurance
January 7, 2012
Kevin C. Cox/Getty Images
Injury scares to Chicago Bulls point guards Derrick Rose and C.J. Watson should prompt the Bulls' front office to sign free agent Gilbert Arenas to provide much needed backcourt insurance.
This last week wasn't too kind to either Rose or Watson.
Against the Memphis Grizzlies, Watson was playing in the 40-point blowout win and dislocated his left elbow while diving for a loose ball.
Watson said his elbow was popped back into place, but he has experienced some pain. Since the injury, Watson has been sidelined and missed the last three games.
Meanwhile, the Bulls organization and its fans received the terrifying moment against the Detroit Pistons. In the fourth quarter, Rose was driving hard to the basket and was hit by Pistons swingman Damien Wilkins. Rose used his left arm to brace his fall, but it landed hard on the floor.
For a few seconds, Rose grimaced from the injury, but he played for a few extra minutes before being taken out. After the game, Bulls beat writer K.C. Johnson noticed Rose was in visible pain and his elbow was heavily iced.
X-rays were negative and D-Rose was able to play well against the Orlando Magic (21 points, 10 assists and eight rebounds).
However, the injury to Watson and the increased minutes Rose is playing demonstrates the need to sign another point guard, preferably someone of Arenas' caliber.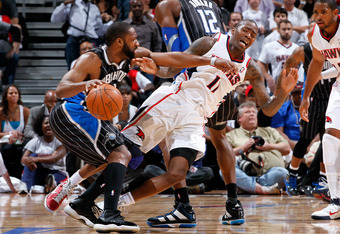 Kevin C. Cox/Getty Images
John Lucas III is currently Rose's backup, and he doesn't make the cut. Sure, Lucas scored a few points in three games, but he shouldn't be counted on if Watson is out for an extended period of time.
Lucas has been a career journeyman who has mostly played on D-League and overseas teams. The Bulls waived him a couple times last year and brought him back on non-guaranteed deals.
Also, if Rose gets hurt, do the Bulls want Lucas to possibly be the starting point guard? I don't think so.
This is where Arenas enters.
Having Arenas would be a savvy move for the Bulls. A lack of a third point guard and Richard Hamilton re-injuring his left groin means Arenas would provide solid backcourt insurance in a shortened, intense season.
Other teams have added to their backcourt depth. The Golden State Warriors snatched Nate Robinson due to Stephen Curry's ankle woes. The Phoenix Suns inked Michael Redd, who they hope will provide a good scoring option off the bench.
Despite coming off two serious knee surgeries, the 30-year-old Arenas still has some gas left in the tank. Agent Zero, who lost 20 pounds in the offseason, played well the past two seasons as a starter for the Washington Wizards.
In 2009-10, Arenas started all 32 games he played and scored 22.6 points and collected 7.2 assists a night.
The first 21 games last year saw Arenas being extremely effective for the Wizards. Agent Zero had 17.3 points and 5.6 assists on 39.4 percent shooting.
Arenas scored 19 or more points in 14 games last year, including a couple 30-point performances.
The Magic then traded for Arenas and he didn't do as well in head coach Stan Van Gundy's reduced role he had for him. Van Gundy said in an interview that Arenas shouldn't be judged on his Orlando tenure:
I don't think it's fair to judge Gilbert's time here. If anything, if people are unhappy with the way Gilbert performed here, you got to lay that on me and the role I gave him. I don't think you can lay that on Gilbert. I don't think Gilbert really had much of a chance to play well consistently, with what happened.
In case Hamilton has a severe injury, Arenas could switch to the starting 2-guard and provides more scoring than backup Ronnie Brewer. Agent Zero is also adept with superior ball-handling, as he has a good assist-turnover ratio and would help Rose play off the ball.
Arenas will also not cost much. He is getting $62 million from the Magic over three years and would probably sign for the league's minimum.
While both Rose and Watson don't have serious injuries, their injury scares should motivate the Bulls front office to go after Arenas. Agent Zero isn't the same guy who dropped 30 points a night five to seven years ago, but he is a more dynamic backup point guard than Lucas.
Bob Bajek is a Featured Columnist for the Chicago Bulls. He is also a freelance reporter, and can be followed on Patch.com and Twitter.