2012 NFL Free Agency: Why Matt Flynn to the Miami Dolphins Just Makes Sense
January 7, 2012
Matthew Stockman/Getty Images
Come free agency 2012, current Packers backup QB Matt Flynn will be one of, if not the, most sought after player available to teams. Flynn will attract a very lucrative contract somewhere outside the land of green and gold.
While it has been all but confirmed that he will not return to Titletown, there are a number of landing spots for Flynn. There are at least eight teams in need of a new quarterback, and he could be their man.
However, if Flynn wants to win and wants a big contract, one team skyrockets to the top of the list of his suitors: the Miami Dolphins.
Being from Miami, I know all about the Phins' woes at the quarterback position since the days of Dan Marino. No matter how hard they try, they can never find their franchise quarterback. Chad Henne probably came closest to that title, but still fell well short of expectations.
Flynn could be the Dolphins' franchise player, the one who brings hope back to a continuously disappointing franchise. He brings the talent that Miami is missing.
With a corps of solid, B-rate receivers and a running back that had a renaissance season in South Beach, the Dolphins have the talent lined up for Flynn to properly use his talents.
Flynn regularly throws short-to-medium passes, though he showed off his deep ball against the Detroit Lions. This would benefit Reggie Bush, as Bush can catch and run. Brandon Marshall could also become a top-five wide receiver, with the possibility of Flynn to Marshall becoming eerily similar to Stafford to Johnson.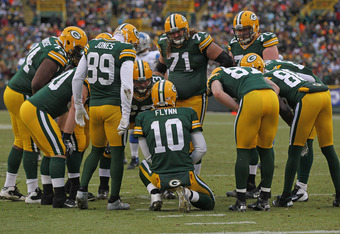 Jonathan Daniel/Getty Images
Protection would be no problem for Flynn, as the Dolphins have Pro Bowl lineman Jake Long anchoring a pretty solid offensive line. This would give Flynn time to read the defense and make the pass, something he has picked up from his time with Aaron Rodgers in Green Bay.
With a new regime coming to Miami in the form of a new head coach, Flynn could help control the major decisions made on offense. While I will not declare this team a "Dream Team," this Miami Dolphins team, with the proper leadership, could potentially be a playoff team—barring major injuries, of course.
With his record-setting performance in Week 17 against the Lions, Flynn has cemented a big contract in free agency. The Dolphins are expected to give up on Henne and pursue a new quarterback. With Matt Barkley out of the picture, Flynn seems like the right choice for Miami.
It just makes sense.