Paul Scholes: Manchester United Legend Should Do a Thierry Henry
January 7, 2012
Chris Brunskill/Getty Images
Paul Scholes could, and should, do a Thierry Henry and return from the wilderness to ease Manchester United's midfield woes.
The Sun reports that Scholes is ready to answer an "SOS call" from boss Sir Alex Ferguson, with his former United teammates trying since December to coax him out of retirement.
The United legend still trains with the club's reserve team and apparently questioned his own decision to retire as soon as the 2011-12 season started.
Now, hopefully he will regret that decision and return from the footballing abyss, as it's clear he could be vital for the Red Devils in their Premier League title run-in.
Of course a big name signing such as Wesley Sneijder, Luka Modric or even Frank Lampard would be better in the long-term, but for this season at least, Scholes could be ideal.
He would no doubt have a big impact on the team, both on and off the pitch, if he did return—just look at Henry going back to Arsenal.
Off the pitch his status at the club would most definitely boost dressing room morale, while just training with him would be a great lesson for the likes of Tom Cleverley, Phil Jones, Chris Smalling, etc.
And on the pitch Scholes would clearly make a big impact, especially seeing as it's his role in the team United have tried and failed to replace so far.
He may be 37, but the former England international would probably still have the legs. He leads a similar sporting lifestyle to Ryan Giggs, who's 38 and has been great this season, having made five assists and continuing his record of scoring in every single Premier League campaign in history.
And of course he'd also have those innate midfield qualities a player never loses.
Even last season Scholes proved himself as one of the finest in England's top-flight.
On average, last term he sprayed around the sixth highest amount of accurate passes per game (63) and did so with the best passing accuracy rate in the league, 90.2 percent.
He also hit more accurate long balls per match (8.4) than any outfield player and did so with the best accuracy rate, 80 percent.
Playing as a deep-lying playmaker last term, Scholes was often the heartbeat of the side as United stormed to an historic 19th top-flight title.
He managed to score and make three assists from the very centre of midfield and also created at least one direct goalscoring chance for a teammate every time he played.
This season, that midfield quality hasn't been replaced.
Whilst the Red Devils need goals and assists from central midfield and Scholes probably wouldn't provide that, he would spread the play better than any current player in United's midfield can do, thus helping out overall in the scoring of more goals.
The thing United miss the most from Scholes, and need in the team, is that Xavi Hernandez ability to hit a plethora of long-range, Hollywood passes.
Darren Fletcher could well have been the answer, given that this season he's hit on average 7.1 accurate long balls per game, but the Scotland international is unfortunately on an extended break from football due to ulcerative colitis.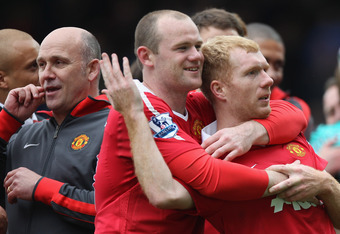 Michael Steele/Getty Images
Sir Alex has tried Wayne Rooney in that Scholes position, but it soon became apparent that Rooney's quality in the final third was needed more.
No United player has hit the same amount of accurate long balls per game as Paul Scholes, nor the same amount of accurate passes overall each game.
A lot of the team's play has been focused on the wings due to the lack of a playmaker, and whilst this has seen improved performances from Nani, Antonio Valencia and Ashley Young at the start of the season, it has also given United less options going forward and is probably a reason why they crashed out of the UEFA Champions League.
Therefore, it's clear to see that if no midfielder is arriving at Old Trafford in the January transfer window, Manchester United need Paul Scholes back again.
And if he feels up to it, it's a move that the man himself should make.