Steelers vs. Broncos: Why Pittsburgh Will Hardly Miss Rashard Mendenhall
January 7, 2012
Jared Wickerham/Getty Images
On a sunny, carefree autumn afternoon in Pittsburgh, Rashard Mendenhall looked restless.
The Steelers running back sat out for a game with a hamstring injury and stood on the sideline with the look of a guy who knew he'd better get back on the field as soon as possible, or his starting job could be in question.
The Steelers ran the ball fine that day without Mendenhall, gaining 174 yards on 28 carries in a 38-17 win over the Tennessee Titans in Week 5.
The scene in Cleveland on Sunday was quite different from that picturesque October day. When Mendenhall tore his anterior cruciate ligament, the chances of the Steelers getting back to the Super Bowl might have seemed as bleak as the cold and windy evening.
But if the Steelers fall short of the Super Bowl, it won't be because of Mendenhall's injury. The Steelers will barely miss him in the playoffs.
Isaac Redman can do the job as the Steelers' starting running back.
Mendenhall is replaceable. He's an average NFL running back. Those who point to his 1,273 rushing yards in 2010 fail to mention his mediocre 3.9 yards per carry. This season, he needed 154 yards on his last 26 carries just to get over four yards per carry for the season.
But Mendenhall was a first-round draft pick out of the University of Illinois while Redman played at Division II Bowie State and went undrafted.
That must mean Mendenhall is a better running back than Redman, right?
Well, not necessarily.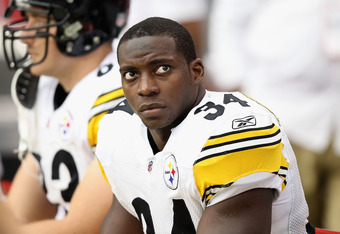 Christian Petersen/Getty Images
According to a Yahoo! Sports article, Redman drew the interest of Division I colleges until he ran into legal problems and had to take a more roundabout route to the NFL.
It's apparent Redman had Division I talent, just like Mendenhall.
Redman certainly provided more bang for the buck this season, rushing for 479 yards at a 4.4-yard-per-carry pace. He seemed ready to handle the starting job against the Browns, running for 92 yards on 19 carries, but his two fourth-quarter fumbles are a concern.
When Mendenhall had the dropsies during training camp as a rookie, he had to carry a football wherever he went, and teammates would get $100 if they could take it away from him.
I haven't heard about Redman getting that treatment in preparation for Sunday's AFC Wild Card game in Denver, but it wouldn't have been a bad idea.
The Steelers really don't need their running backs to do much more than hold on to the football. They were 14th in the NFL in rushing this season.
The Steelers' playoff fate doesn't ride on their ability to run the ball. It rides on Ben Roethlisberger's arm. The notion that the Steelers are still a ground-and-pound team is as outdated as MySpace.
Still, Redman has an opportunity here, and he knows a thing or two about seizing opportunities.
When the Steelers took a flier on him in 2009, he showed why he's called "Red Zone" Redman by excelling in goal-line drills during his first training camp.
He spent a year on the practice squad and earned a roster spot in 2010.
It's not a stretch to say the Steelers wouldn't have reached the Super Bowl last season without Redman. He broke two tackles on a nine-yard touchdown catch for the winning points in the Steelers' 13-10 win in Baltimore last December.
That win ultimately earned the Steelers a first-round bye in the playoffs, which helped them get to the Super Bowl, and Redman's touchdown typified how hard it is for defenders to bring him down.
I've always said Redman is harder to tackle than Mendenhall. If a few other things fall into place, it's plausible Redman could win the starting job at running back going forward.
If Mendenhall is watching Sunday, he won't be comfortable.