Steelers Should Be Worried Heading into Sunday's Bronco Game
January 7, 2012
Matt Sullivan/Getty Images
You've read all the reasons that the Pittsburgh Steelers are going to roll into Denver, roll over the Broncos, and roll out of Colorado winners after Sunday's wild card matchup. 
You've heard about the Steelers and their 12-4 record heading towards total domination over an 8-8 Broncos team, who haven't hosted a post-season soiree since 2005, and are falling backwards into the playoffs on a three game slide.
Here are some more reasons for the Black and Gold nation to be cocky waking up Sunday morning.
THE STEELERS RUN DEFENSE
The Steelers are, as usual, strong against the run, ranking 8th in the NFL allowing 99.8 yards per game. That this AFC North squad understand's ex-Ravens runner Willis McGahee's potential threat suggests that he'll be limited in his effectiveness on this weekend.
McGahee, rushed for 1199 during the season, and is averaging 4.8 yards per carry. McGahee, along with his quarterback/running back partner in Tim Tebow, are the rods and pistons in a number-one rushing engine that averages 164.5 yards per game.
"Their offense is built around the run, they've had a lot of success running the ball so that's one of our main keys this week." Steeler defensive end Bret Keisel intimated.  "Definitely a very big emphasis on shutting down the run and Tim Tebow", the hirsute and gargantuan run stopper continued. "They've got weapons running the ball. It'll be tough". Tebow, the run-first-ask-coverages-later signal caller, has rushed for 600 yards and averages 5.4 yards per carry on the year.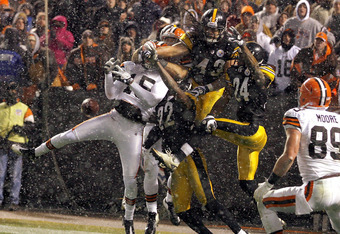 Matt Sullivan/Getty Images
The Steelers who usually rely on their run stopping efforts to lift their overall defensive rankings into the top two or three annually, have inverted the formula this season. They've suffered key injuries and suspensions off-and-on this year, that have contributed to their above average, but not stellar ball control.  The Steelers higher yards-allowed averages this season can be attributed to the tandem efforts by a Ravens team that leans on Ray Rice to win it's games. Rice's outings, in combination with the 155 yard rushing clinic the Houston Texans' Arian Foster provided, compromised the Steel Curtain totals.
PASS DEFENSE
Tim Tebow will be taking his 46.5 completion percentage to the cold turf and must find a way to protect the ball from fumbles and interceptions: a trait he's shown a low aptitude for in recent outings. The Broncos 31st ranked pass offense leads the league in three-and-outs and the Steelers should assist in that trend continuing, with a passing defense that ranks first in the league, averaging 171.9 yards allowed per game. This will all be without Steelers' safety Ryan Clark. Clark lost a spleen, gall bladder and nearly his life due to complications from a sickle cell trait, after a game in Denver's unique air density, in 2007.  "Ryan Mundy will start for Clark, and Will Allen will get some more playing time as a result." said Coach Mike Tomlin. 
RUSH OFFENSE
The Steelers are going to take their 118.9 yards per game rushing up against a Broncos defense that's been overrun for 126.3 yards per game and ranks 26th in the league. Pittsburgh will try to be the fourth team in a row to rush for over 100 yards and subsequently control the clock on a Broncos team that has shown that it's not adept at overcoming big point deficits.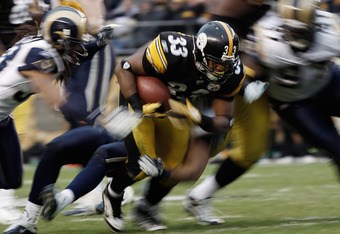 Jared Wickerham/Getty Images
PASSING OFFENSE
 Ben Roethlisberger boasts a 63.2% completion percentage and has passed for 4077 on the season. His weapons are numerous. Speedster Mike Wallace should find that life over the top is agreeable in Denver, after having been kept in check for much of the season.
Catch/Return maestro Antonio Brown, who broke the all-purpose yards record for a season this year, should uncover a lot of open pockets in a Denver pass protection that has only 9 interceptions.
Add crafty Heath Miller, future Canton man Hines Ward, catching clinician Emmanuel Sanders, and stalwart vet Jerricho Cotchery and number 7 should have more than enough options in what should be a West-Coast style short game in Denver. 
But for all those Steelers fans and Tebow haters who are considering the Steelers win a fait accompli, not so fast. Though the Bronco offense ranks 25th in NFL, averaging 19.3 points per game, there's an old axiom the Steelers basically etched in stone, that they would do well to consider.
DEFENSE WINS CHAMPIONSHIPS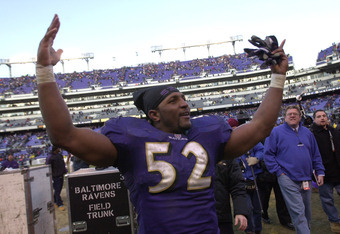 Doug Pensinger/Getty Images
Pittsburgh proves the axiom and so they should know that on a day when both offenses aren't playing at a Pro Bowl level  the defenses will make the difference.  Just ask the 2000 Baltimore Ravens. A team, who had one of the top five defenses of all time to spot a below average offense. The Trent Dilfer led team was so tepid that smack dab in the middle of their dream season, they had a five game win streak without seeing the end zone.
Though the Broncos don't have a veteran defense with the likes of Ray Lewis and Rod Woodson the concept still applies. With Wesley Woodyard and D.J. Williams have given offenses more than they can handle registering  97 and 90 tackles respectively, and the Broncos should have an easier time with an American quilt of an offensive line that Pittsburgh is bringing to town. The Steelers have shown a surprising lack of big plays against teams with losing records like that of the 4-12 Cleveland Browns, who held them to 13 hard-earned points in the final game of the season.
INJURIES
Pro Bowl center Maurkice Pouncey tweaked his injured left ankle against the Cleveland Browns last Sunday, and is out for the game. Running the ball would have been hard enough without his calming presence and beastly moves, but when Pittsburgh lost running back Rashard Mendenhall to a torn right ACL injury last week, the sledding got a whole lot tougher.
The Steelers are going to rely heavily on Isaac Redman and rookie John Clay to carry the load, but that situation is less than idea. Redman twice coughed up the ball on critical drives in the final week of the season. That Cleveland's road environment is similar to what the folks at Sports Authority Field at Mile High will furnish should not be underestimated.
Christian Petersen/Getty Images
Steeler's runner John Clay has made the most of his shot in his rookie season, but this is a man who was on the practice squad three weeks ago and is mostly unproven at the pro level. Whether he can stay healthy and bang with the big men of the NFL remains to be seen. Either way, the running game isn't a foregone conclusion with this current version of the squad.
Though Big Ben has a cornucopia of receiving options he is is playing on a banged up wheel that would have most tough guys in sweat pants on the sidelines. The key to his success in his football career has been his mobility; that is, his ability to extend the play. That planned improvisation can divert a north-south river of rushers into perpendicular or oblique angles that enhance Roehtlisberger's size and core strength, all that starts and ends with his feet. That literal and figurative foundation is now unstable and could force Big Ben into a lot of errors that could prove costly.
REAL LIFE DISTRACTIONS
Beyond all the logistics and stratagem are the hidden variables that rarely make it into a telecast. "It's a big game for us, but it is a game and we'll keep it in that perspective".  Those words were spoken by coach Tomlin when explaining his benching of Ryan Clark in light of his health concerns, but they have more resonance today than before.
Early Friday morning it was learned that Steelers running backs coach Kirby Wilson was badly burned in a house fire. This is a man, among other things, preparing a pair of backup runners for the bright lights of a national playoff game, where one false move can change the fate of the organization.These real life issues can't be underestimated and only time will tell if they prove to be too much for a Steelers organization to metabolize.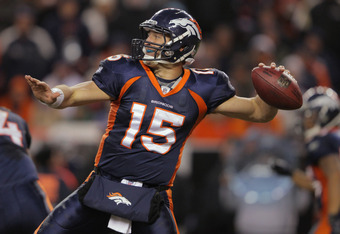 Doug Pensinger/Getty Images
KNOWN UNKNOWNS
Even at 8-8, the Broncos beat a Cincinnati team that gave the Steelers a lot of issues and split the season with a Kansas City unit that put a scare in the black and gold in late November.
Denver doesn't need to score a lot of points. They just need one more than the Steelers when the clock strikes zero. This is a John Fox led defense that has shown it's aptitude in slowing the game down and frustrating offenses.  The Broncos have a knack for keeping games close and given all of the extenuating circumstances, the game this weekend could be just that.
With general manager and former Denver deity John Elway encouraging Tebow to "pull the trigger", look for near reckless abandon in the love-him-or-hate-him quarterback out of Florida. Tebow knows a win could be another chapter in his growing legend, and one more bullet point in the "Keep Tebow As Our Starting Quarterback" PowerPoint.
He's, of course, shown a propensity for late game heroics, and might find his pocket confidence amidst a rabid Denver audience, who will personify home-field advantage. That home field advantage is fundamentally associated with the thin air of the Mile High city, and has left many a well-conditioned man grasping for an O2 mask and gasping for air.
Behind all the adoring Tebow fans, adorned in number 15 jerseys, is Denver's real secret weapon standing quietly in the shadows. He's an offensive threat James Harrison and Troy Polamalu can't blast to the turf. He's the leading scorer on the Broncos and hasn't rushed for a single touchdown nor thrown one pass completion all season. He's kicker Matt Prater, who has 87 points on the season and he's the silent partner in the Broncos daring AFC West takeover. If the game is close late in the fourth quarter, and the ball is anywhere around the 50 yard line, there will be more Steelers fans than the ones in Mile High short of oxygen.