Lions vs. Saints: Detroit's Defense Must Step Up in New Orleans
January 7, 2012
Ezra Shaw/Getty Images
The Detroit Lions go 12 years between playoff appearances and this is what they get? A shootout with the New Orleans Saints at the Superdome on NFL Wild Card Weekend?
Let me be the latest to welcome you back to the NFL postseason, Detroit. Oh, and good luck keeping up with the Saints, if that's at all your strategy.
Don't say I didn't warn 'em.
The last time these two teams met, the Saints came away with a 31-17 victory on Sunday night, one that was actually much closer than the final score would indicate. New Orleans sprinted out to a 24-7 halftime lead before the Motor City Kitties came back with 10 points of their own in the third quarter to close the gap.
And that's not counting a blocked field goal right before the half and several squandered scoring opportunities in the fourth quarter.
Remember, too, that Detroit was without its two best defensive players (Ndamukong Suh and Louis Delmas) and two of its corners (Chris Houston and Brandon McDonald).
So, it's not exactly unreasonable to imagine that Detroit's defense might actually be in better shape this time around and could slow down New Orleans' record-setting offense enough to open up the door for a sizable upset.
The question is, will Matthew Stafford and the Lions' offense allow that to happen? That is, will the Lions be able to run the ball effectively enough to keep Drew Brees and company off the field or will Stafford spend an inordinate amount of time looking for Calvin Johnson?
Not that Megatron is an unworthy target or that Stafford shouldn't throw the ball, but rather that the Lions would be better served to control the clock with Kevin Smith and Maurice Morris whenever possible to give their defense a rest and keep the Saints from blowing up the scoreboard.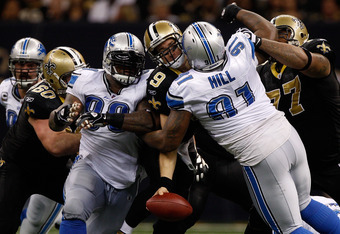 Chris Graythen/Getty Images
The Lions, young and inexperienced as they are, will need any and every advantage they can muster against a Saints team that's been there and done that, Super Bowl rings and all. That all begins with Detroit's defense, which has shown itself capable of doing great things between mental lapses.
Whichever one shows up could very well mean the difference between the Lions living to play another day and tying the NFL record for most consecutive postseason losses.