Miami Marlins Meet with Boras Regarding Prince Fielder, Seek Yoennis Cespedes
January 12, 2012

Jonathan Daniel/Getty Images
If you thought the Marlins' offseason makeover was over, guess again. The franchise is looking to add one more piece and it's promising to be quite the cap to a winter spending spree. The Marlins have their eyes on free agent Prince Fielder and free agent to-be Yoennis Cespedes. 
According to Adam Kilgore of the Washington Post, Marlins owner Jeffery Loria, met with Scott Boras, the well-known agent of players seeking big paydays, Wednesday night in Arizona.  
The Marlins have downplayed interest publicly and Loria has adopted a "we'll see" attitude with the media—which has only kept hope alive. MLB.com's Joe Frisaro, however, has written on his blog that it's only natural Loria and Boras would chat, as they are both in Arizona. 
MLB Insider Jim Bowden of ESPN tweeted that it's coming down to either Washington or Miami as Fielder's likely destination.
According to the Washington Post, the Nationals are said to be "patiently and aggressively" pursuing Fielder and are considered to be the front-runners for his services. Then again, a previous report stated the Nationals were 99 percent out of the running. 
The Marlins have a geographical advantage, being a four-hour drive from Prince Fielder's Orlando home—in a state that lacks an income tax. I wouldn't be surprised if they swooped in at the last minute into negotiations, like the Angels did with Pujols, if they were to fall out of the Yoennis Cespedes sweepstakes. 
Speaking of Cespedes, Marlins owner David Samson, responding to a fan's question, said he "will be aggressive right to the point of stupidity" on the Dan LeBatard Show. Moreover, he thinks that Cespedes is a "perfect fit" and that they have the "perfect position for him to play" (center field).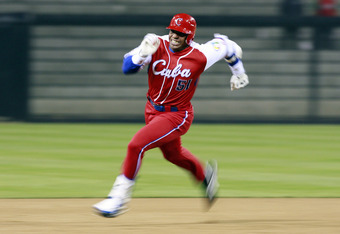 Jeff Bottari/Getty Images
Asked by LeBatard on the chances Yoennis Cespedes roams the outfield for the Miami Marlins, Samson responded in an optimistic tone, saying he feels "pretty good" about it—but less so about it being on Opening Day. 
This already sounds like the Marlins have him in the bag. As recently as last Friday, sources told MLB.com's Joe Frisaro that Cespedes' asking price could come back down to earth (in the $35 million range) from the reported 8-year, $60 million dollar range he had originally been seeking.
Cespedes is expected to establish residency on January 15th and it will then take a few days to a week to become a free agent. 
The Marlins ultimately view Yoennis Cespedes, 26, as an alternative after missing out on Albert Pujols—LeBatard mentioned he could be "Plan B." Cespedes would fit right into the Cuban community with the ballpark located in Little Havana, just a mile away from Downtown Miami. 
If that should fail, the Marlins could do a 180 and pursue Prince Fielder, who provides just as great a buzz as Yoennis Cespedes.
The Marlins could always give Fielder a dramatically reduced contract, say two to three years but with an annual value north of $25 million a season, and then hit the market again in the hopes a team like the Dodgers could fork up the money for a long-term commitment.