Pro Football: Why the NFL Needs Jim Tressel
January 6, 2012
Jamie Sabau/Getty Images
Reports have recently surfaced that some NFL teams are interested in Jim Tressel as a head coach.  This came as a surprise to some. 
When ESPN's Mike & Mike in the Morning first heard the news, they both seemed startled.
Some will argue that Tressel is a college coach and would not make it in the NFL.  Others will point to the fact that most college coaches do not successfully make the jump. 
Tressel should get a head coaching job; however, and I will argue the NFL needs him.  Here is why:
It is no secret that the life of an NFL player is not as glamorous as one thinks. Gregg Doyel of CBS Sports writes:
 Of all the football statistics you'll read in your time on Earth, none will be as shocking as this one: According to a 2006 report in the St. Petersburg Times, for every season a player spends on an NFL roster, his life expectancy decreases by almost three years.
Read that again.
The average American male lives to be almost 75. According to the Times report, an NFL player, whose career lasts roughly four years on average, lives to be 55. The more years a player spends in the NFL, the more games and practices he survives, the quicker he dies.
According to a 2009 Sports Illustrated article by Pablo S. Torre, "[b]y the time they have been retired for two years, 78% of former NFL players have gone bankrupt or are under financial stress because of joblessness or divorce."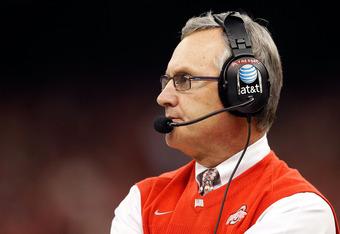 Matthew Stockman/Getty Images
Furthermore, "[p]olls, studies and anecdotal evidence suggest that the divorce rate for N.F.L. players is between 60 and 80 percent, which is higher than that of the general population, where nearly half of marriages end in divorce," says Greg Bishop in the New York Times .
It is clear that NFL players do not have as easy of a life as the public thinks and they need help or else they have a better than average chance of being divorced, bankrupt and physically ill. 
NFL players need people around them who care and can teach them how to be real men.  There is no one that epitomizes care for his players like Jim Tressel.  Some people argue that it was Tressel's care for his players that got him into trouble with the NCAA.
But Tressel's name has not been clean.  Forced to retire after lying to the NCAA, national writers have called him a cheat, liar and fraud.  The famous line from an anonymous former colleague to Sports Illustrated reads: "In the morning he would read the Bible with another coach. Then in the afternoon, he would go out and cheat kids who had probably saved up money from mowing lawns to buy those raffle tickets. That's Jim Tressel."
But is Jim Tressel really a fake?  Is his integrity called into question? Or was he just a really good human being who made a mistake?
In a post titled "The Real Jim Tressel," Eleven Warriors, a OSU fan blog, gives us a different glimpse into the former head coach.
On Aug 17th my son was run over by a lawnmower. It just so happened that on that day Bryson was wearing his brand new #33 jersey. Bryson was probably the biggest 4 year old OSU football fan ever and was so excited about his new jersey. In fact, his dad had on a matching jersey. Turns out his daddy used his jersey to tie around Bryson's leg to stop the bleeding and Bryson's jersey was cut off. While I was in the emergency room with Bryson before he was life-flighted to Columbus Children's hospital he let me know that he was upset about his new jersey. I assured him we would get him a new one, but never did I dream how things would turn out for him.
Bryson had his leg amputated and then spent quite a bit of time in the hospital as he healed. During that time, through a series of events that I'm not even sure of, Coach Tressel was made aware of Bryson's accident and his love for the Buckeye's. It wasn't a couple of days later and Coach Tressel came to meet Bryson in person. He came alone: no cameras, no media, no support crew. He came. He encouraged. He let us tell him Bryson's story. He let us take his picture with Bryson. He gave Bryson some signed hats and a covered note pad. He promised to get Bryson to a OSU football practice and to an Ohio vs Michigan game (since that always falls on the weekend of Bryson's birthday). All of that was great, but what left the biggest impression on me was when he handed us his business card and wrote his personal cell phone number on the back. He told us to call if we needed anything - are you kidding me! Who does that! I will tell you - not somebody who is only interested in lining his pockets or winning football games. We were of no value to him, my husband is a youth pastor, we don't live in Columbus , & we aren't alumni of the university. We were just a hurting family who he took time for, in the middle of football season, to encourage.
He fulfilled his promises to Bryson. Bryson was able to go to two OSU football practices and went to the Ohio State/Michigan game the next year and sat in the most amazing seats. On the notebook he gave Bryson he wrote, "The Buckeyes are cheering for you."
This is the type of person the NFL needs.