Chael Sonnen: The Most Interesting Man in the World, a Title Well Earned
January 6, 2012
Now you may begin to think why make an article about the Dos-equis man?  But no, the person we are talking about is none other than the one and only Chael P. Sonnen. A man who is the self-proclaimed "The True Middleweight Champ". Sonnen is truly one of the greatest personalities the MMA sport has ever seen.
Before the Nate Marquardt fight not many fans knew who Chael Sonnen was. Most people know him either as the man who lost to Paulo Filho with controversy or whether he tapped or not, or maybe when he screamed in pain during his light-heavyweight fight with Babalu Sobral when he was caught in a heel-hook.
A bunch of pro-wrestling level trash talk, an incredible beat down of Anderson Silva, and a loss in the same fight via triangle armbar is what he is best known for. The majority of the MMA world knows who Sonnen is, as a fighter and MMA personality.
After that fight with Anderson Silva at UFC 117, Sonnen had some lows as he was caught with elevated levels of testosterone and was found guilty of money laundering in a real estate contract. Those were some dark times for the UFC middleweight.
Many believed he would no longer return to MMA as his contract was on freeze and he had no possible date to renew his license. That cost him a spot as a coach on The Ultimate Fighter against Michael Bisping. Sadly,  we were all deprived of some great TV right there.
After appealing his case it came to light that Sonnen was on TRT or Testosterone Replacement Therapy, which is common among older athletes and it is used by many MMA fighters such as Dan Henderson,Nate Marquardt, and some speculations of use surrounded Randy Couture.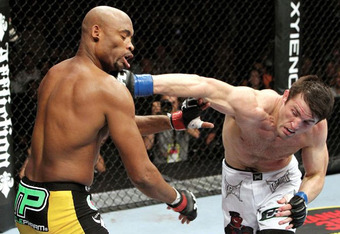 To this day many refer to Chael as a doper yet the fact is he has a medical condition and it is treated by such medication that elevates his level of testosterone.  The CSAC held up the suspension and Sonnen was left to serve a six month suspension instead of 12.
 The smart and witty man that Sonnen is he took on a persona that would make Ric Flair proud as he returned to the spot light when the UFC announced his return to the Octagon against Brain Stann. Sonnen went back to his hilarious routine of taking shots at Anderson Silva and the Nogueira brothers with some funny but harsh words. We all know the quote about the Nogueira brothers and the bus.
He did take a different approach leading to the Stann fights as he didn't talk bad at all about him like he had about Silva as Sonnen said he respected the American hero.
He went on to defeat Brain Stann in the second round via submission and went on to set a challenge to Anderson Silva in a loser leaves town fight. Unfortunately, Silva has felt so disrespected that he doesn't believe Sonnen deserves a rematch. He has been rehabbing a shoulder injury he sustained during the Yushin Okami fight training camp. Instead of Silva Sonnen will lock horns on Fox against Mark Munoz for the right to fight Anderson in the summer.
This entire chain of events and Sonnen's popularity have come from one thing and that is his trash talk. Chael Sonnen took a persona that many would say is better suited for the WWE as Sonnen makes extravagant remarks that offend some people.
This is really a genius plan on behalf of Mr. Sonnen as he gets people interested by his actions and remarks taking the position of the bad guy. That is not a bad approach as Sonnen is in the entertainment business he knows whether people hate him or love him they will watch, and the more people watch the more he gets paid.
It takes real talent to do what Chael does, he could probably make a living as a comedian and you have to admit he gives some of the best interviews in MMA at the moment. UFC commentator Joe Rogan has been quoted as calling Sonnen "The heavyweight trash talking champion of the world"
Chael has taken trash talking to another level, people have taken notice on both ends of the spectrum as many believe is bad for the sport and others enjoy it. Other fighters are taking notice, such as female fighter Ronda Rousey who took a similar approach and now is facing Miesha Tate in a title fight.
Chael Sonnen in reality is a good person who made some mistakes in life but is truly a nice guy. Something that is not talked about was after his UFC 136 win he took a lucky 12 year old fan and not only did he give him an autograph but took him to the post fight photo shoot, the locker rooms where fighters prepare, and made sure he got autographs from the fighters in the VIP section.
Sonnen is also a wrestling coach in Oregon and helps out kids in the wrestling program as he prepares future champions.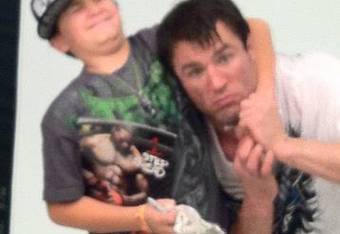 At the end of the day, Chael realized that his time table to compete at the highest level was short.  Somehow being a nice guy you get over looked especially if you win most of your fights by decision just ask Jon Fitch.
Sonnen took a creative approach to getting ahead and staying relevant in a sport where you can hit rock bottom really fast such as Roger Huerta has lately. At the end, Sonnen may talk plenty of trash but he can back it up and that is why he is where he is at.
He is positioned himself in a high profile Number 1 contender fight on Fox, has his own segment on UFC on Fuel TV, and has earned the name as the Most Interesting Man in the World. He may not be like by many when he fights, but when he does fight people watch. That is a recipe for success on many levels.
Chael Sonnen: He doesn't always talk trash, but when he does, he owns you.
This article originally featured at Hurtsbad MMA. Follow us on Twitter @HurtsBad