Manchester City V Manchester United: Pros and Cons of 'Buying' a Title
Laurence Griffiths/Getty Images
Manchester's two big rivals clash this weekend at the Etihad Stadium in what is easily the most mouth-watering tie in the third round of this season's FA Cup.
In the context of the Premier League era, it is a clash between 'new money' and 'old money'. City—firstly through Thaksin Shinawatra's one year in charge of the club and now through the bank-rolling of Sheikh Mansour—are for the first time in their history enjoying having a huge budget to spend, and they are doing so with relish.
United, by contrast, were an internationally popular and rich club even in the dark days of the 1970s and '80s when they were not the consistently successful outfit they have become in the past two decades under Sir Alex Ferguson's management.
It is not yet a foregone conclusion that City will win the Premier League title this season, but they are significant favourites. Even if they are pipped to the trophy this year, it seems inevitable given their current squad and spending power that they will eventually bring home the biggest domestic trophy. They have spent more than £500 million on transfer fees since Mansour took over in August 2008 and show no signs of stopping, provided they can circumnavigate the new financial fair play regulations.
However, while a major part of United's success under Ferguson has been due to youth products such as Ryan Giggs, Paul Scholes, David Beckham and Gary Neville, they have also consistently spent big too. The £2.3 million United spent on defender Gary Pallister in 1989 was a huge amount of money at the time, and it set the tone for United using their financial clout ever since. Nine of their current squad cost more than £15 million.
But is it acceptable for any team—to one degree or another—to 'buy' a title? Should football hang on to the idealistic notion that money can't buy success, or is the harsh truth that the rich usually have it best as true in sport as it is in life?
Is major outlay for short-term gain to the detriment of long-term development, or is it a short cut to the top table?
Here are a few pros and cons a super-rich team 'buying' their trophies.
PRO: Rapid Leap in Status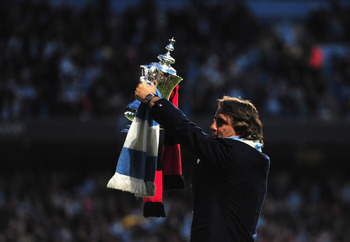 Jamie McDonald/Getty Images
Before they recently came into money, City had really been through the mill. They were relegated all the way down to the third tier of English football, and upon their return to the Premier League were very unstable, on several occasions battling against relegation.
The leaps and bounds they have made over the last few seasons would have taken decades of steady, well-planned development, and even then factors beyond their control would have made it very difficult to have become a top team challenging for the title.
Similarly, Ferguson's ability to invest in the transfer market in the early 1990s took United from sleeping giants to champions in the space of just a few years, even before the arrival of the talented generation of Scholes and co helped perpetuate the club's dominance.
PRO: Attract Better Players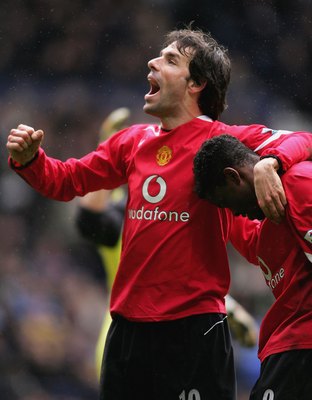 Michael Steele/Getty Images
A club able to deliver or at least challenge for top honours, as well as offer big wages, is always going to be an attractive proposition for established star players.
Some players are mainly motivated by money, others by silverware, and if you can offer the promise of both you will be able to steal a march in the transfer market and secure some top signings that will help take your club to the next level.
Similarly, young and upcoming talents can be poached from other clubs, simultaneously strengthening your own side and potentially weakening that of your rivals.
PRO: Money Comes to Money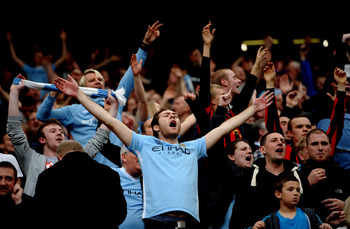 Laurence Griffiths/Getty Images
As in any business, the operation with more capital to invest is likely to see increasing returns. One of the facts of life is that the rich get richer.
With any self-respecting club these days having a support that goes well beyond simply those who hail from the area surrounding your stadium, fan bases can be extended to all corners of the globe and exploits to drive revenues even higher.
Just look at Chelsea: 10 years their fan base outside of west London would have been negligible. Now they are a global brand with plenty of supporters in Africa and USA.
Not only that, but in this day and age means playing in the Champions League, where the prize money on offer (around £650,00 for winning a group stage match) helps sustain the top clubs' success with financial rewards of the like which other clubs can only dream.
PRO: Cold, Hard Silverware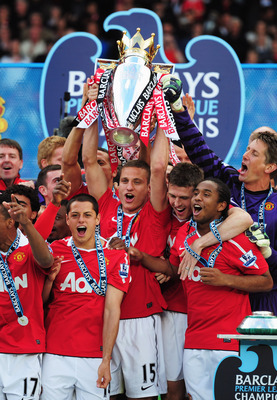 Shaun Botterill/Getty Images
This may seem an obvious point, but when all is said and done it is the trophy cabinet which is the greatest indicator of the historical status of a club.
At board room level football may be about projections, turnover and brand value, but for the fans and the viewing public it is about winning competitions and being the best.
Contemporaries may quibble about the validity of a team's achievements if they come courtesy of massive expenditure, but their name will be on the honour roll for the rest of history the same as everyone else.
CON: Less Credibility in Victory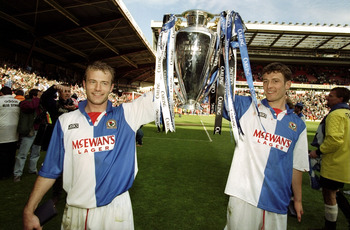 Clive Brunskill/Getty Images
It may have been almost two decades ago, but even now any discussion of Blackburn's title win in 1995 will not carry on for too long before—fairly or not—the phrase 'bought the title' comes up.
Rovers spent big on players like Alan Shearer, Chris Sutton, Graeme Le Saux and David Batty, and it was their rapid rise and subsequent fall which has led to their third championship (the first two came in 1912 and 1914) to be seen as less of an achievement.
Similarly, it is easy for those looking in at Stamford Bridge from the outside to respect Chelsea's achievements over the past decade, but their three league titles could hardly be described as heart-warming triumphs.
As mentioned previously, the records will show one title victory as valid as another, but for many there will be a mental asterisk affixed to those teams for whom money was the main propellant to success.
CON: You Assemble a Group of Players, Not a Team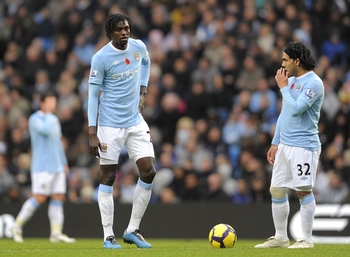 Michael Regan/Getty Images
It has been heard on countless occasions when a big-name player signs for a nouveau riche club: "I am joining because I am excited about the 'project'.
Translation?: "I am joining because I am excited about the huge amount of money I am going to be paid."
There is no way that international players of the calibre of Sergio Aguero, Yaya Toure and David Silva would have considered joining City a few years ago, but now hear they all are.
The potential pitfall is that Roberto Mancini now has a dressing room full of egos who are not used to being on the bench, and who are not shy about complaining if they are. Look at the fallouts with Carlos Tevez and Emmanuel Adebayor.
Over at Chelsea, when the trophies are rolling in all is sweetness and light but almost as soon as things turn for the worse then divisions within the camp and insurrections against the manager will inevitably follow.
Hefty spending on star players may bring success, but there is still a lot of hard work that must go into making conditions the most conducive for maintaining that success and preventing things falling apart from within.
CON: Boom and Bust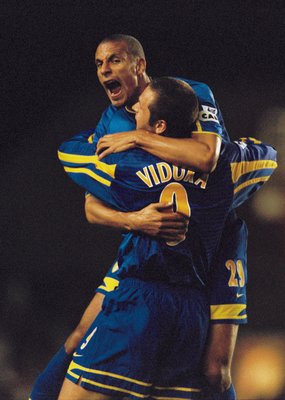 Phil Cole/Getty Images
As mentioned before, Blackburn won the title in 1995. Four years later they were relegated.
Leeds United spent a remarkable amount of money in the late 1990s—most notably the £18 million they forked out for Rio Ferdinand—as they came agonisingly close to glory in both the Premier League and the Champions League. But their lack of tangible triumphs saw them unable to repay loans taken out against future successes, and their financial implosion led to them sliding all the way down to League One.
Even the FA Cup has been a poisoned chalice, as any supporter of Portsmouth will tell you. Pompey won the trophy in 2008 with a team assembled on big contracts that the small south coast club simply couldn't honour. Less than two years later they were put into administration and were relegated from the Premier League.
Spending big on winning trophies is all well and good, but safeguarding against any financial disaster is paramount in such a situation. The higher you climb, the further there is to fall.
CON: Alienating Fans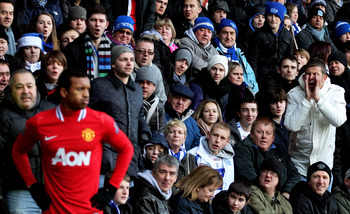 Scott Heavey/Getty Images
While the likes of Chelsea and City have had success in the past, in their current incarnation they are virtually beyond recognition for those who have clocked up decades of faithful support for their club.
Not long ago, City fans looked on as manager Stuart Pearce threw goalkeeper David James up front in the final game of the season as City desperately chased a UEFA Cup spot. Now their team is a veritable juggernaut, for whom not making it out of the Champions League group stage at the first attempt was deemed a failure.
While the younger generation may feel there is nothing wrong with demanding two more big-money signings in the summer, and how relinquishing their lead int he title race would be a nightmare, some of the more seasoned fans among them must be baffled by it all.
Across town at United, even their sustained and relatively organic success has left some fans jaded. The takeover of the Glazers, rising ticket prices and the slow sapping of fun from the game at the top level prompted a group of Red Devils fans to relinquish their season tickets and start their own club from scratch, just so they could feel engaged with their again as a supporter rather than be drained as a revenue source.
Just as financial pressures on clubs are getting heavier every season, so do those on the supporters who faithfully follow them. As the gap between those in the stands and those on the pitch has become irredeemably large, an expensively-funded march to the title, some fans will find it more difficult to lend the millionaires whose wages they help pay their support.
Debate: Would You Support Your Club If They Tried to "buy" a Title?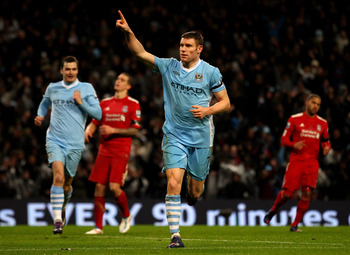 Clive Mason/Getty Images
Now you can decide.
Weigh in on this topic on Bleacher Report's new reader Debates, and see if your opinion will win.
To weigh in or just see what everyone else is saying just click here.
Keep Reading

Manchester City: Like this team?