Manchester City vs. Manchester United: A Preview of a Historic Manchester Derby
January 7, 2012
Jamie McDonald/Getty Images
It's not often in the FA Cup that you get a matchup like this, in any round of the competition. Yet the two best clubs in England, Manchester City and Manchester United, will meet at Ethiad Stadium in a historic Manchester Derby.
Both clubs have had very similar seasons to date. Both have been eliminated from the Champions League group stage, both are the top two clubs in the Premier League this season, and both have found themselves suffering from a dip of form in league play over the past several weeks.
For the first time in English footballing history, however, the top two sides in the table will meet in the third round of the FA Cup.
City and United have previously met in the third round of the FA Cup back on Jan 10, 1987. United were able to win the match 1-0 thanks to a 66th minute goal from Norman Whiteside.
Fast-forward 25 years, and here are the last five results between these two sides:
Manchester United 1, Manchester City 6 (Oct 23, 2011—Premier League)
Manchester United 3, Manchester City 2 (Aug 8, 2011—Community Shield)
Manchester City 1, Manchester United 1 (April 16, 2011—FA Cup Semifinal)
Manchester United 2, Manchester City 1 (Feb 12, 2011—Premier League)
Manchester City 0, Manchester United 0 (Nov 10, 2010—Premier League)
Alex Livesey/Getty Images
In 2011, the two sides split the season series with two wins apiece. City won the only FA Cup match between the two, while United won the Community Shield.
However, that FA Cup win last year for City is their only FA Cup win over their archrivals in the last 57 years.
United previously had won their last four FA Cup matchups, though all four of those matches were at Old Trafford.
The only time Manchester City have played at home in the FA Cup against Manchester United, it was back in Jan of 1955, and City won 2-0 at Maine Road thanks to goals from Joe Hayes and Don Revie.
Both teams have found success against their rivals in the past, but there are some important stories that will play a huge role in this matchup. Here are some of the news that will directly impact this match.
Team News
Manchester City
The Citizens will be without either Kolo or Yaya Toure due to both players joining their Cote d'Ivoire teammates for the upcoming African Cup of Nations.
Both have been massive for City this season. Kolo has once again become a full-time starter after his six-month suspension for a positive drug test, and Yaya has been a key part of City's attack. Yaya has completed 1,552 passes this season, the most of any player in the Premier League.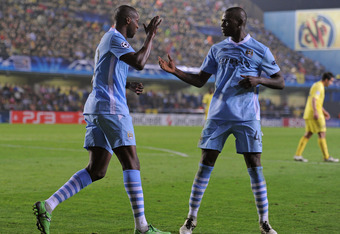 Michael Regan/Getty Images
Gareth Berry is suspended for this match after getting sent off against Liverpool earlier in the week, and Mario Balotelli will be out with an ankle injury.
Manchester United
There isn't really any new news on the United front. No one can be certain who will be the starting keeper for this match with both Anders Lindegaard and David de Gea losing their last matches.
Jonny Evans, Chris Smalling, Nemanja Vidic, Thomas Cleverley and Darren Fletcher are all out for United.
However, Rio Ferdinand, Ryan Giggs and Wayne Rooney all returned for United in their match against Newcastle, and all three will look to start this match.
Key Player
Manchester City
Man City's key player has to be David Silva. The Spanish international has brought a sense of vision that is rare in England, allowing him to pile up some incredible stats.
Silva has the most assists in the Premier League with 10, the most key passes with 56, and is 10th in the league in total passes with 1,117.
Silva has been one of the Premier League's best throughout the season and a key reason Man City atop the league table.
Manchester United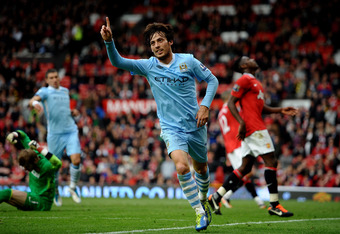 Laurence Griffiths/Getty Images
Man United's key player is Wayne Rooney. When he is on top of his game, Rooney is one of the toughest players in the world to stop and arguably the EPL's best. And Rooney has been strong this season, registering 13 goals in 18 matches.
Rooney is probably due to score, considering he hasn't tallied since before Christmas. When Rooney is on his game, he is one of the toughest players in the world to stop.
Interesting Stats
Manchester City
Man City have not conceded a goal in their last five FA Cup matches.
Edin Dzeko has already scored three against Manchester United this season. Dzeko has also not scored in his last 10 matches.
Manchester United
Since 1984, United have only been eliminated at this FA Cup stage once in 26 attempts, which was in 2010 versus Leeds United.
United have won their last five FA Cup away matches (their loss against City in last year's FA Cup was at a neutral venue).
Match Prediction
It is always difficult to predict which side will win a match such as this, as both sides are completely capable of advancing to the fourth round.
Considering the immense talent on each side, and the incredible things each side have already accomplished, I see a draw being the final result of this derby clash.
Manchester City 2, Manchester United 2