Seattle Mariners: 10 Bold Predictions for 2012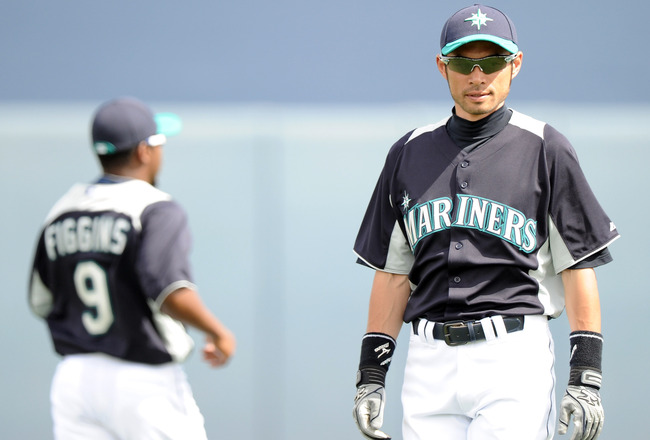 Harry How/Getty Images
What will 2012 look like under the best circumstances? Increased run production, increased consistency in the starting rotation, continued dominance from the bullpen and more wins than 2011.
It could also turn out disappointingly similar to 2011, without a clear-cut lineup ever taking shape due to prospect cycling, injuries, etc.
There are plenty of pessimists who could tell you all about the worst-case scenario, but technically speaking, a best-case scenario is just as likely.
With that in mind, here are 10 bold predictions for the Mariners in 2012.
Justin Smoak Hits 25 Home Runs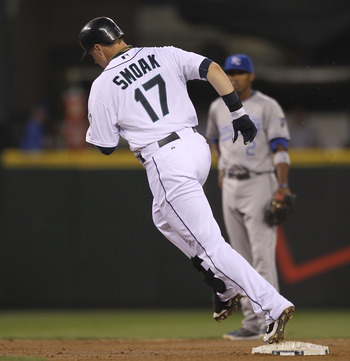 Otto Greule Jr/Getty Images
Mariners first baseman Justin Smoak hit 15 homers through 123 games in 2011, which was a career high. Luckily for M's fans, that does not paint an accurate portrait of Smoak.
He struggled with two freak injuries and the death of his father through 2011. Coming at almost regular intervals during the season, those hindrances made it quite difficult for Smoak to settle in at any point.
Going into 2012, he will have a clean slate (at least that is how it looks now). With a potentially full season ahead of him and some improved support around him at the plate, the prospects are bright for Smoak.
He is certainly capable of 25 home runs, even at SAFECO; it will just be a matter of staying healthy and finding his groove.
Ichiro Hits .300 and 20 Home Runs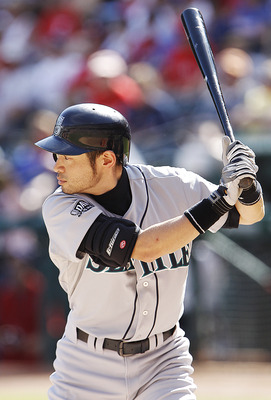 Brandon Wade/Getty Images
Not only would this be incredibly refreshing after a dismal season offensively for both Ichiro and the Mariners, but it would also inject some needed energy into the batting order for 2012.
Often, when we speak of a player regressing, it is a change for the worse. In Ichiro's case, however, if he were to regress, his average would be back up in the league leaders' category, and he would be generating close to 100 runs.
There is a chance that last season was an indication of Ichiro's decline in baseball, but there is also a chance that it was a fluke.
With either possibility, however, we have to accept that as the man ages, he will lose a step—which, for Ichiro, means fewer infield hits. Since infield hits are actually a significant part of his production, a change to his approach at the plate should be considered.
Instead of slotting Ichiro at leadoff where he will get lots of hits and not very many walks, drop him down to the three spot, where he can open up his swing and add some pop.
Chicks who dig home runs aren't the ones who appeal to me. I think there's sexiness in infield hits because they require technique. I'd rather impress the chicks with my technique than with my brute strength. Then, every now and then, just to show I can do that, too, I might flirt a little by hitting one out. -New York Times
Anyone who has watched Ichiro in batting practice knows he can launch them out of the park on a whim. That shift may require an adjustment period, but if manager Eric Wedge wants to make the move, he will likely have Ichiro there during spring training.
From the three spot, Ichiro could keep his average up with his ability to get the bat on the ball, but he could also provide a power asset in the Mariners' currently lacking lineup.
Is this bold? Very. But it is also possible.
Danny Hultzen Wins 10-Plus Games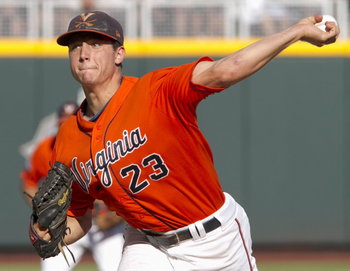 Photo courtesy of OregonLive.com
Let me preface by reminding readers that LHP Danny Hultzen was drafted, in part, for his major league readiness. Based on his performance and development in fall and winter leagues as well as the valuable time he will have during spring training, I see Hultzen starting 2012 in the five spot of the rotation.
He is a strong complement to right-handed hurlers Felix Hernandez and Michael Pineda, and he has the stuff to face big-league hitting.
If he begins the season at the major league level, he will have an innings limit, but that will not come into effect until August at the earliest. That gives him more than enough time to rack up some wins.
Ten is a lot, especially for a Mariners pitcher (seeing as Felix only got 13 in a Cy Young season), but with the improved run production on its way, Hultzen's talent will blossom.
Last year, Pineda, who had an innings limit, made it through 28 starts. If Hultzen got 28 starts, I am confident he could pull out at least ten wins.
I also expect great numbers from Felix and Pineda and decent output from Jason Vargas and the other starter (Blake Beavan, Kevin Millwood or Charlie Furbush?). That makes for a successful rotation that, when paired with an efficient bullpen, will keep the opponents' run totals down. More on the bullpen later.
Prince Fielder Fills the DH Spot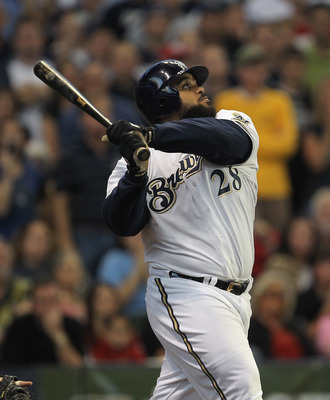 Jonathan Daniel/Getty Images
The second biggest free agent of this offseason remains unsigned. At the top of the list of possible destinations for Prince Fielder are the Washington Nationals, the Baltimore Orioles and the Seattle Mariners. The Toronto Blue Jays and Texas Rangers are also in the sweepstakes.
There are push and pull factors for each team, so we will ultimately have to just wait and see where the big man brings his bat. But, in the mean time, there is always room for speculation.
If Fielder were to come to Seattle, he would hit as designated hitter, leaving Justin Smoak at first. Fielder would likely hit from the clean-up spot. He would generate runs and interest in abundance which would lead to more wins and increased attendance.
Feel free to open up the debate on Fielder in the comments section, or read some more in-depth analysis on Fielder's destination here, here and here.
Brandon League Leads the AL in Saves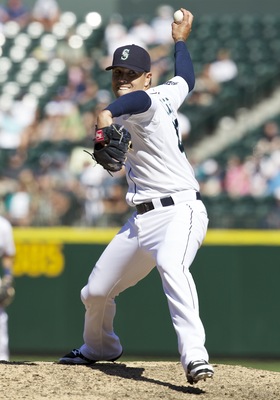 Stephen Brashear/Getty Images
Assuming Brandon League sticks around, he will resume the closer role in 2012. Last year, he finished third in the AL in saves with 37, and the Mariners only won 67 games.
The team went 26-28 in one-run games. Both that record and their overall win-loss record should improve in 2012 with a developing offense, giving League more opportunities to save games.
He only blew five saves last year, meaning he was pretty consistent for a closer. Of course, he still has to compete with studs like Mariano Rivera and Jose Valverde, but if that consistency continues into next season, both his save total and value on the team will increase significantly.
Chone Figgins Returns to Top Form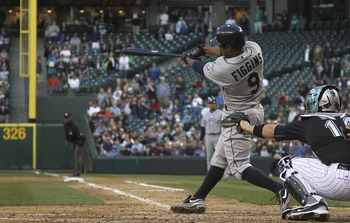 Otto Greule Jr/Getty Images
When I say top form for Chone Figgins, I mean the .300 average and 30 stolen bases that he averaged during his time with the Los Angeles Angels in the first part of his career. Obviously, some change(s) will be necessary to instigate that change.
My idea is for Figgins to assume leadoff duties from the get-go. He hit leadoff in LA, filling the role nicely. That may be the catalyst that Eric Wedge has been looking for to extract some productivity out of Figgins since 2009.
If Figgins did return to top form, all the flak he has been taking on from frustrated fans would cease, and we would feel a little bit more content with the $9 million we owe him next year.
Dustin Ackley and Mike Carp Both Hit .285 with 20 HR and 20 Doubles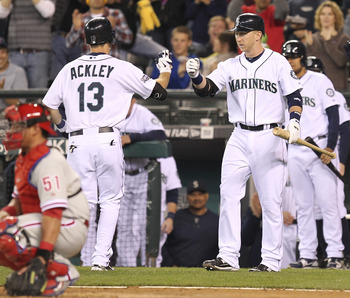 Otto Greule Jr/Getty Images
I expect big things out of these two. Dustin Ackley and Mike Carp were small bright spots in the offense last year. They both came up midseason and were able to make it happen for a few months before the Mariners closed the season out in disappointing fashion.
Ackley is the purported franchise second baseman in Seattle, and Carp fills a gaping hole in the outfield (gaping in the sense that we saw way too many players there last year).
Both players have the potential to put up these numbers; they just need to be on their respective games. If the dynamic duo can manage this level of production, the Mariners will be off to a far better start than last season.
I am also calling that Dustin Ackley hits for a cycle in 2012. A natural cycle.
Team Pitching Posts the Lowest ERA in the AL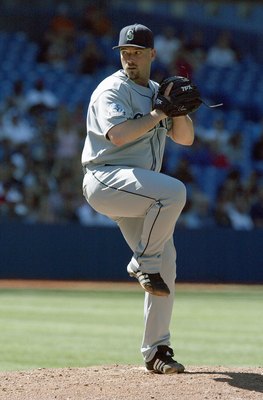 Dave Sandford/Getty Images
As I move into another bold prediction, I want to recognize that there is essentially no chance that all of these predictions come true—if they did, we would have the aforementioned best-case scenario. With that said, it is much more likely that some portion of them do come true.
The pitching staff in Seattle is undergoing a sizable makeover this offseason, rolling over from last season. Only three of last season's starters from Opening Day remain, and the bullpen has been all mixed up.
General Manager Jack Zduriencik recently added veteran reliever Geroge Sherrill who will add depth to the bullpen in the form of experience and sagacity. Brandon League is set up to be closer, and it looks like Chance Ruffin may be close to being the set-up man.
Tom Wilhelmsen and Shawn Kelley are other names that we will see lined up for the bullpen come Opening Day.
With the help of the deep outfield at SAFECO Field, starters Felix Hernandez, Michael Pineda, Jason Vargas and Danny Hultzen will be diligently working to keep runs allowed to a minimum.
The team finished sixth of 14 in team ERA last year, but that was with the near-dreadful starts we had to endure from Anthony Vasquez and Charlie Furbush in September.
With one of the better rotations in the league and a skilled bullpen, the Mariners could sit atop the rankings in team ERA by the end of the 2012 season.
The Team Sends Six Players to the Midseason Classic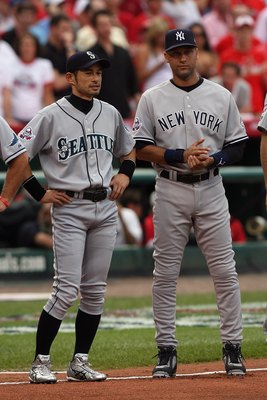 Dilip Vishwanat/Getty Images
Those six being: Felix Hernandez, Michael Pineda, Brandon League (all repeats from last year), Ichiro Suzuki, Dustin Ackley and Prince Fielder.
I have already discussed each of these players, so you can understand why it is of my opinion that they will be chosen for the AL squad come July.
Oh, and Ichiro to win the Home Run Derby?
They Win More Than 81 Games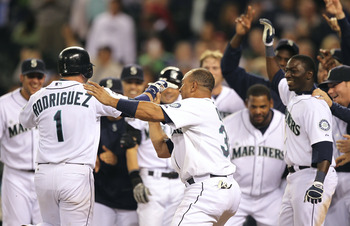 Otto Greule Jr/Getty Images
To win 81 games would be a huge improvement from the 67 wins in 2011. If three or four of these bold (I think that counts as a pun?) predictions take form next season though, a 14-game improvement is not out of the question—even with the high-powered Rangers and Angels in the division.
If the M's can squeak out a winning season this year, fans will be thoroughly satisfied, knowing that from here on out, the only direction the team will be headed is up.
Keep Reading

Seattle Mariners: Like this team?