College Bowl Games: Why the Bowl Season Needs to Be Shortened
January 6, 2012
J. Meric/Getty Images
A change needs to be made in college football. This particular one doesn't involve a playoff or disciplining schools that break rules, either.
When the only game on TV is a 70-33 drubbing and it's not an early-December bowl game, there is a problem.
The problem isn't that there are too many bowls. Actually, this author loves the craziness that is bowl season. The problem is that it has turned into a long, drawn-out event that loses the interest of the casual fan by the time the best teams are scheduled to play.
What do the organizers of these bowl games not understand? People don't watch these games purely for the football. They watch them because it is a holiday tradition and many people have time off from work or school.
Unless the bowl executives know something the rest of us don't, January 6 is no longer considered the "holiday season."
Maybe the ratings have been good. But there used to be a time when all the BCS bowls were played within two days of each other and were over within a day of New Year's Day. Everyone looked forward to that, not just hardcore fans.
Try and make the argument that a Wednesday-night game three days after New Year's Day generates the same amount of excitement.
It just can't be done.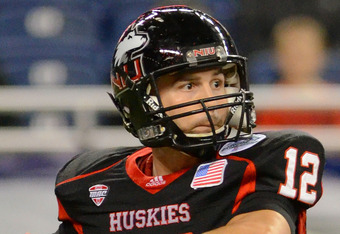 Mark A. Cunningham/Getty Images
With all due respect to the BBVA Compass and GoDaddy.com bowls, no one is going to watch those games. Minor bowls were cute in December; in January they are downright ridiculous.
It's sad really, when you think about it. Arguably the best quarterback in the MAC, Northern Illinois' Chandler Harnish, won't get one last chance to impress the nation because the bowl game he is playing in thought it would be a good idea to be a "tune-up" for the national title game.
Even the much-anticipated rematch between LSU and Alabama would have been better off being played this week.
On Monday, Wild Card Weekend in the NFL playoffs will be fresh in everyone's mind, and we all know how much attention ESPN devotes to the NFL compared with everything else.
"The national title game taking a backseat to the first round of NFL playoffs? Nonsense!"
Not so fast, ever-faithful Tuscaloosa resident.
College football may rule where you're from, but the NFL has just about every other region of the country on lockdown.
Remember, the goal of the TV networks and sponsors isn't to attract the hardcore fans. It is to attract those fans on the fringe.
Suddenly, it doesn't seem so crazy that fans who choose what to pay attention to based on the agenda of a major network wouldn't be less than enthused about college football's biggest game.
So, what's the solution?
It's quite simple, actually.
All bowl games other than the BCA National Championship should be completed by January 2. New Year's Day has been pretty full in recent years, so play bowls like the Fiesta and Orange on January 2.
Sorry, Cotton Bowl. It is clear that you are trying to separate yourself from the other non-BCS bowls, but you'll have to go back to being a New Year's Day bowl. That or sometime in December. You choose.
As for the other minor bowls, December 19 and 23 were open this year. The bowl season is still young and fresh then. Plus, fans might actually travel to see the game. Most college students aren't on winter break on January 8. They are on December 19.
January 3, assuming that it doesn't fall on a Sunday, should be the end of the bowl season. Dragging it out a week longer doesn't benefit anyone.
I'll be the first to admit, I don't like the end of the bowl season. It signals the end of my winter break and the end of the sport I love to watch until next September.
Extending it a week longer isn't fooling anyone, though. People move on.