Indiana Hoosiers Hang on Against Michigan, Defeat Yet Another Top-15 Opponent
January 6, 2012
Andy Lyons/Getty Images
The Indiana Hoosiers (14-1, 2-1 Big Ten) took another one right down to the wire, but were able to come away with a 73-71 victory against the No. 13-ranked Michigan Wolverines (12-3, 2-1 Big-Ten) at Assembly Hall on Thursday night.
Remember when Indiana fans stormed the court last season after beating Illinois for their first win against a ranked opponent under Tom Crean?
Wow, a lot can change in one year. Last night's win marked the third time the Hoosiers have beaten a Top-15 opponent in less than a month this season.
Indiana had several opportunities to put this game away, but Michigan kept clawing back and never let it get out of reach. Verdell Jones III missed the front end of free throws a couple of times late in the game, but the senior redeemed himself by knocking down a clutch shot to give Indiana the 72-68 lead late in regulation.
Christian Watford also missed a big free throw with less than three seconds to play with Indiana up two. Luckily, John Beilein's team was out of time-outs, and Zack Novak's last-second desperation heave hit high off the backboard to allow the Hoosiers to survive.
As expected, Cody Zeller and Christian Watford did the heavy lifting offensively for Indiana.
Zeller finished the game with 18 points on 8-10 shooting and four rebounds for the Hoosiers. The talented freshman really got it going early in the second half and helped spark a run that gave Indiana a seven-point lead with less than 10 minutes to play.
Christian Watford was unstoppable for most of the game, finishing with 25 points on 8-11 shooting, including 3-4 from beyond the arc. The junior forward also added seven rebounds and four assists on the night.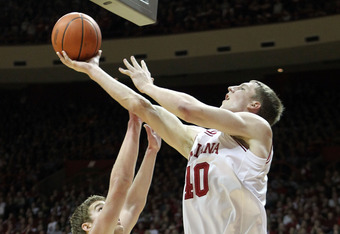 Andy Lyons/Getty Images
But Indiana failed to get the ball to Watford and Zeller when they needed to most in the final minutes of the game, and it almost cost them.
The Michigan Wolverines lived up to their reputation of shooting the ball from the outside. The Hoosiers did a good job of guarding the three-point line in the first half, but Michigan got it going in the second half with active ball-screening.
The Hoosiers didn't play well defensively throughout the second half. They were constantly collapsing into the lane unnecessarily and not fighting to get on top of ball screens, leaving a lot of open looks for Michigan. Luckily for Indiana, Trey Burke and Tim Hardaway Jr. had off shooting nights.
Hardaway Jr. led the Wolverines in scoring with 19 points on just 7-19 from the field, while Burke finished with another solid game of 10 points, eight assists and seven rebounds. The duo combined to shoot just 2-12 from beyond the arc.
On top of that, Michigan was never able to get much of anything going on the inside. And a couple of poor decisions late in the game by Stu Douglass and Hardaway Jr. to force threes early in the possession may have been what cost Michigan this game.
It didn't look as though Indiana was in any danger of losing the entire night. But they kept letting Michigan back in the game and made some mistakes down the stretch. What matters most is that this Indiana has simply learned how to win, a trait they have been lacking for a few years now.
Remember, this team won 12 games last season. Ugly or not, a win is a win, especially during Big Ten season.
This article originally appeared on Hoosier Cafe