Philadelphia Eagles: Evaluating DeSean Jackson and the 2012 Free Agents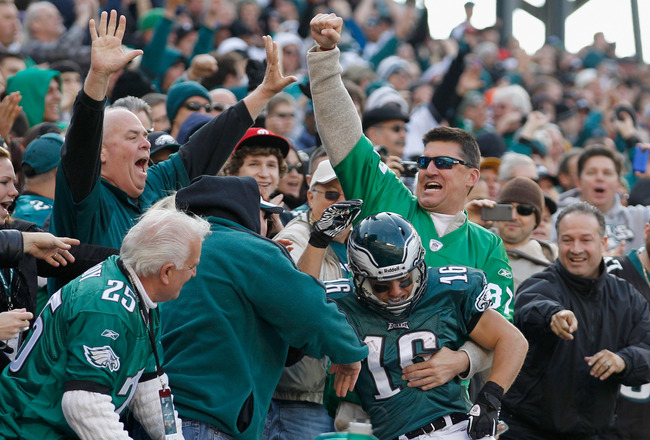 Rob Carr/Getty Images
The season is officially over for the Eagles. The Birds finished strong, going undefeated in the last quarter of the schedule and being the first team to do that and not make the postseason. Their dreadful playing in previous games didn't allow them to go to the playoffs.
It was the first time since 2007 that Philadelphia didn't make it. Still, they finished at 8-8 and Andy Reid will be back for the 2012 campaign.
The Eagles carried the "Dream Team" tag through 2011, but time has come for that to change. After failing to achieve their goal, several roster changes are expected. With the free agency closing in, 11 players run out of contract. Who shall receive a new deal?
1) Vince Young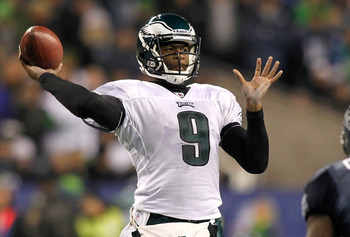 Vince Young's performance was not so promising.
Jonathan Ferrey/Getty Images
You can't really blame the Eagles' front office for signing Vince Young in the offseason. The Texas product looked like the perfect backup for Michael Vick. He is mobile, has a strong arm and he was a free agent.
Young started three games (played a total of six) in an Eagles' jersey. He commanded the team to a victory over the New York Giants and went through hurting losses against the New England Patriots and the Seattle Seahawks. His 1-2 record is not bad, especially in a season where most parts of the team were underachieving.
Nevertheless, he had some dreadful statistics. He threw nine picks, almost as many as he had in 2009 and 2010 combined. He found his teammates in the endzone only four times, while completing the 57.9% of his attempted passes.
His scrambling has not been impressive either—averaged 4.4 yards per carry and had a total of 79 yards. None of these attempts ended up in a touchdown.
The Eagles paid $4million for Young's services. This is a perfect example of an overpaid athlete. His contribution was nowhere near the money he got, put aside the "Dream Team" joke.
If Young had lost the Giants game, I'd bet my car he would be packing his stuff this exact moment. Kafka can do better than that or do the same and cost less. Somehow, though, I believe he has a slim chance to stay with the team; all he has to do is take a pay cut and stay quiet.
CHANCE TO STAY: 25%
2) Ronnie Brown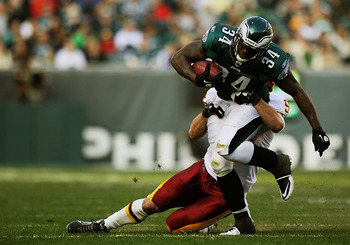 Ronnie Brown in an Eagles jersey—a picture from the past.
Patrick McDermott/Getty Images
If Ronnie Brown is on the Eagles' roster next year, I'll be filing an application to enter the 2013 NFL Draft as a future running back. The 30-year-old was abysmal in 2011, providing no real help to LeSean McCoy and his team.
Brown was supposed to be the 3rd down and short yardage option for Philadelphia. I hope they meant really short, because he only averaged 3.2 yard per carry and when on the opponent's side, a woeful 2.28 per carry. Likewise, he scored only once in 42 carries.
The worst moment for Brown came in Week 4, when he attempted a lateral pass just short of the goal line. It was against the 49ers defense, if that tells you something. The play resulted in a fumble and a wasted opportunity to score—a field goal there could have given the Eagles a win and possibly a playoff spot (a big "if" that is.)
Brown's contract is no big deal—it's about $1.25million. Taking into consideration that the Eagles tried to trade him mid-season, I think he will seek his future elsewhere. The roster includes Dion Lewis and both the free agency and the NFL Draft are ahead of us.
CHANCE TO STAY: 20%
3) Steve Smith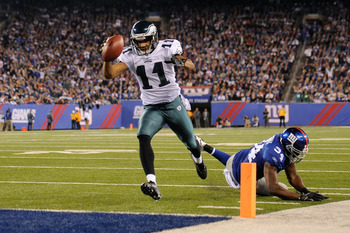 This looks like the only touchdown Smith will ever score for the Eagles.
Patrick McDermott/Getty Images
Does anyone remember that Steve Smith is on the Eagles' roster? Do you even remember him catching a ball or even stepping on the field?
Dramatization or not, the former Giant was the team's highest paid wide receiver and the one with the smallest production. Smith caught 11 passes in nine games, had a total of 124 yards and one touchdown. Riley Cooper did better than that.
It's funny to think Philadelphia acquired Smith to replace DeSean Jackson, had he extended his holdout. Moreover, it's hilarious he was supposed to replace Maclin, if the latter wasn't ready for the season's first games. Undeniably, he is the Eagles' biggest free agency bust in 2011.
The cap figure of Smith's contract was $2,281,250. That makes it 18,397 dollars for every yard Smith got. That said, I don't see him coming back.
Oh, and forget what I wrote in the previous page about next year's draft—I'll go wide receiver, it's more profitable.
CHANCE TO STAY: 5%
4) DeSean Jackson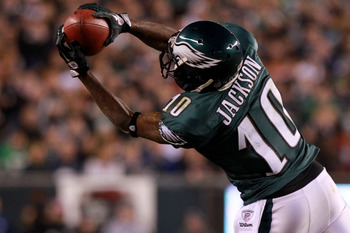 Desean Jackson will probably receive a franchise tag.
Nick Laham/Getty Images
There is a reason I put Desean Jackson's evaluation after those of Young, Brown and Smith. Those guys cost more $7.5million and Jackson about $940.000. Do you want to talk about game numbers? Let's see.
Even in 2011, his worse NFL season, D-Jax barely missed the 1,000 yards mark and scored 4 touchdowns, while not fumbling once. He had a lot of drops and at times, he couldn't get open but I think he did an acceptable job.
Anyway, I am not jumping in Jackson's defense. He is a unique playmaker and game changer, but his attitude is far from mature. Additionally, I didn't like his decision to hold out of the training camp in a lockout-marked offseason and we all suspect his agent's role in that.
If the holdout shook the bridges between DeSean and the franchise, his below average season made him look more disposable than before.
What the future holds for Jackson, that's to be seen. I won't be surprised if he signs with another team. If he drops his demands, I can see him staying in Philly. Most probable scenario: The Eagles will put a franchise tag on him and then decide to keep him or trade him.
CHANCE TO STAY: 50%
5) Owen Schmitt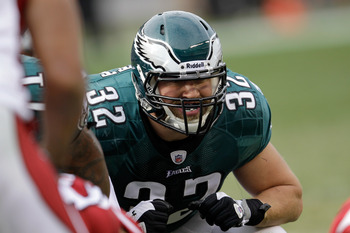 Owen Schmitt is not irreplaceable, but has been a solid player.
Rob Carr/Getty Images
Owen Schmitt is a humble footballer and a fan-favorite. He's been consistent without having eye-catching performances. He's not much of a runner and is used primarily for blocking and secondly, as an emergency receiver.
In 2010, he had some pretty good stats and caught his first touchdown for the Eagles. This year he had a more supportive role, providing protection. Nevertheless, Schmitt totaled 32 receiving yards with only 3 caught passes.
He also surprised me a couple of times by doing a good job against the blitz.
Schmitt is a workhorse for the Eagles. He is not overpaid, but he earns enough to be willing to stay. Since Leonard Weaver is not on the roster, I strongly believe he will be back for the 2012 campaign.
CHANCE TO STAY: 75%
6) Trevor Laws — Derek Landri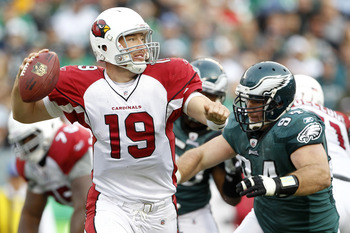 The Eagles should keep Derek Landri, a great player in 2011.
Rich Schultz/Getty Images
Trevor Laws has been a solid option for the Philadelphia Eagles' defensive line. He is a reliable defensive tackle and given the fact he is a 4-year pro, he has a good share of experience.
In 2011, he recorded a career-high total of 15 tackles (or 20, if you add the assisted ones) with one sack. Considering he's not a starter, he had some nice stats.
Laws' contract money is close to $1million. That was the deal he got as a rookie and probably he wishes a bigger wage.
CHANCE TO STAY: 50%

Derek Landri was signed in August, released in September and re-signed in October, after Antonio Dixon's season-ending injury. Despite being a player that never caught the majority's eye with his play, he has been great all year long for the Eagles.
Landri made 17 tackles (or 21, you add the assisted ones) and two sacks in 12 games for Philly. Andy Reid got a great player out of an emergency backup.
His contract is not a concern—he made a bit more than $500,000 and the cap figure was less than that.
CHANCE TO STAY: 70%


Hopefully, both these guys will return, although I won't be surprised if the Eagles decide to cut one of them.
7) Evan Mathis — King Dunlap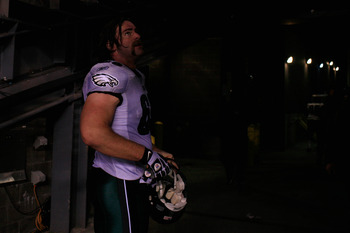 Evan Mathis was a valuable starter at left guard.
Patrick McDermott/Getty Images
Evan Mathis has been an important part of Howard Mudd's offensive line. Even though he was not too consistent in the first quarter of the season, he improved rapidly and became an adequate replacement for Todd Herremans, who moved to right tackle.
Mathis went to play in 15 games for the Eagles, matching his career-high total he had set in 2006, when he was a member of the Carolina Panthers.
If the Eagles decide to move Herremans back to left guard, then things won't be in Mathis' favor. On the other hand, they don't have many backup options. Whatever the Eagles decide, the demands of the 30-year old guard won't be an issue.
CHANCE TO STAY: 75%

King Dunlap struggled last year to cover Vick's blindside (Justice struggled too) and this year Herremans took his positions. He played in 12 games, but started only in two. His only highlight was a blocked field goal the 49ers attempted in Week 4.
Although Dunlap won't be missed, the Eagles have only him and Justice as backup tackles. Justice was a non-factor this year and overall, a draft bust. He earns almost five times the money Dunlap makes.
If it was up to me, I'd trade Justice—even for a seventh round pick. But the Eagles front office doesn't seem to share my opinion. Letting Dunlap go is the easy way and that's the most credible scenario.
CHANCE TO STAY: 25%
8) Juqua Parker — Victor Abiamiri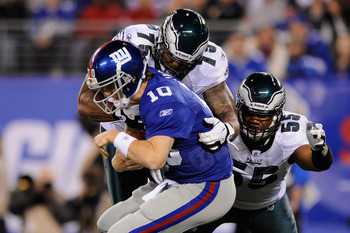 Juqua Parker's days as an Eagle appear to be over.
Patrick McDermott/Getty Images
Juqua Parker has been playing for the Eagles the last seven years. In 2011, his role was limited. Parker was used in Jim Washburn's rotation, providing a fresh lineman, while Trent Cole and Jason Babin were able to rest.
Parker played in 12 games this season (lowest in his Eagles career) and his production dropped. He made eight tackles and 1.5 sacks. Even though this was expected, because of his limited role, it looks like age has caught up to him. He is soon to be 32 years old.
Despite that, Parker scored twice on fumble recoveries.
From what I can see, Juqua Parker has played his last game as an Eagle. He is advancing in age and Philadelphia is strong at defensive end. His return is highly unlikely.
CHANCE TO STAY: 5%

Victor Abiamiri did not participated in a single snap for the Eagles in 2010 or 2011. His career is marred with injuries, the latest being an Achilles tendon rupture that sent him on the IR list.
Abiamiri is close to being labeled as a draft bust for the Eagles. He was drafted by the team in 2007 and he has played a total of 29 games, being nothing more than a backup. Expect him to be gone come free agency.
CHANCE TO STAY: 5%
Keep Reading

Philadelphia Eagles: Like this team?