Dallas Cowboys Free Agency: Fix Defensive Line with Paul Soliai
January 6, 2012
Al Messerschmidt/Getty Images
It's no secret that due to big losses by owner and general manager Jerry Jones in recent years, the Dallas Cowboys will be paying the fiddler once free agency begins in a matter of weeks.
So money is going to be rather tight as players like Roy Williams and Marion Barber still count against the 2012 salary cap even though they both wear navy and orange in Chicago.
But if there's a move to be made—and one can hope Dallas can make a couple of smart moves in order to address needs prior to the draft—it needs to be within the budget and also very strong.
Ever heard of Paul Soliai? He's the defensive lineman Miami chose to franchise prior to the lockout. Since the franchise tag means the average of the top five salaries at a given position, Soliai's 2011 take was an astounding $12 million. Dolphins management can thank Daniel Snyder for overpaying Albert Haynesworth for that bargain price.
No, Soliai will not make that kind of money again in 2012, especially not in Miami. But it's also a reasonable bet that Soliai will not be signing a long-term contract with the Dolphins either. These two sides have struggled to reach some kind of agreement for months and months, and my money is on Soliai leaving.
If I'm Jerry Jones, I'm all over this opportunity, and here's why:
In my first Dallas Cowboys mock draft for 2012, I have the Cowboys starting quickly with defensive solutions, which include the selection of Memphis nose guard Dontari Poe in the third round.
Poe, standing 6' 5" and weighing in at about 330 pounds, would be an ideal building block for the center of Dallas' three-man line. On the other hand, Poe would be looking at a learning curve that could further limit the one remaining window for Dallas' corpse players to contend again. One can only guess how long it will take for any rookie to step in and successfully plug that A gap that current nose guard Jay Ratliff just doesn't do very well.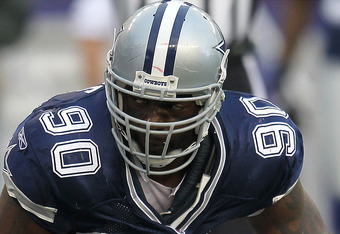 Jim Rogash/Getty Images
With Soliai, on the other hand, Dallas could immediately expect a huge boost in power, size and strength, along with plenty of experience.
This former second-team All-Mountain West Conference selection stands 6'4" and weighs no less than 345 pounds, depending on what data you choose to believe.
Now, I have been kicking this dead horse for at least five seasons and I don't expect this massive issue to be resolved anytime soon. However, one can always hope the painfully obvious is finally realized and the Dallas defense can leap forward in overall ability almost immediately.
Going on year six now, I'll say it again: Jay Ratliff is not a nose guard.
There's two glaring reasons for this.
First off, Ratliff weighs between 270 and 275 pounds, down from the 300 or so he's weighed in years past. He was too small before and he's really too small now.
In the meantime, the Dallas defense just keeps right on melting away against bigger fronts and especially late in the season.
The Cowboys had defensive tackles in their championship 4-3 alignments in the 1990s that weigh what Ratliff does now. Does that make any sense? That's essentially going with one fewer lineman.
No other 3-4 team in the NFL does this, and there's a reason for that. The average nose guard in the NFL is somewhere between 330 and 345, depending on which team you're looking at. Some teams have defensive ends in the 3-4 that are bigger and stronger than Dallas' front.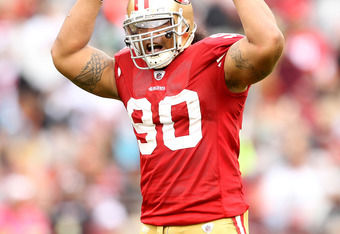 Ezra Shaw/Getty Images
Remember the Cowboys are not a team rich in history where the 3-4 is concerned. Doomsday (both versions) were 4-3 fronts. Jimmy Johnson ran 4-3 fronts. Bill Parcells ran the 4-3 his first season and a half with the Cowboys.
The switch to the 3-4 officially happened in 2005 and there has yet to be a nose guard in place that's appropriate for the position. In that time Cowboys fans have witnessed some of the biggest and/or longest runs against Dallas ever—that's right, ever.
Soliai would free Ratliff to become possibly the best pass-rushing end in the NFL. The Cowboys absolutely need a more consistent rush against the quarterback and especially on third down.
Soliai, at just past 28 years of age, would be the ideal fit, chronologically, for what Dallas hopes to accomplish over the next four to five seasons.
No, he won't come cheap, but he might be affordable given all of the expiring contracts unraveling now.
One thing is for sure: The Dallas defense will not contend like units in Pittsburgh, Baltimore or San Francisco until this is resolved.     
The clock is really ticking now.