Cotton Bowl Preview: Kansas State Wildcats vs. Arkansas Razorbacks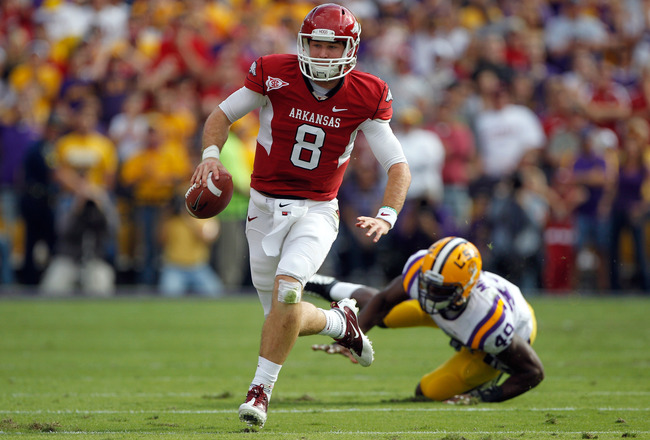 Chris Graythen/Getty Images
The Cotton Bowl often holds the unofficial title of being the "sixth BCS bowl," as it typically features one of the bowl season's best matchups. This year's game is certainly no exception, featuring two of this year's biggest snubs from the BCS, the Kansas State Wildcats and the Arkansas Razorbacks.

The game will be played on Jan. 6 at 8 p.m. ET in Arlington, Texas at Cowboys Stadium. The game will be televised on FOX.

Note: Rankings used are from my National Top 25 rankings.
Kansas State Wildcats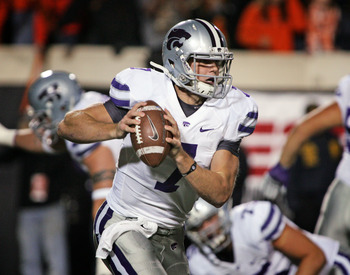 Brett Deering/Getty Images
Ranking in my National Top 25: No. 13

Record: 10-2 (7-2 Big 12)

Biggest win: vs No. 19 Baylor, 36-35, Oct. 1

Worst loss: vs No. 20 Oklahoma, 17-58, Oct. 29

Never would I have predicted prior to this season that the Kansas State Wildcats would finish the season second in the Big 12 Conference, but the Wildcats have been one of this college football season's brightest surprises.

The Wildcats do not have a tremendously talented roster, but they are a consistent and resilient team. They have won six games this season against bowl-eligible opponents, and rank seventh nationally with a positive turnover margin.

The Wildcats' offense is not explosive, but their quarterback, Collin Klein, ranks third nationally with 26 rushing touchdowns. Klein and Hubert lead a rushing offense that ranks 25th nationally in yards per game. The Wildcats rank 74th nationally in total defense.
Arkansas Razorbacks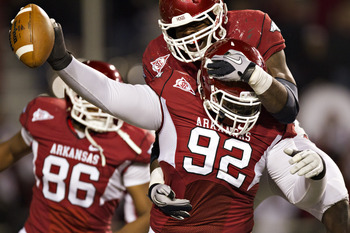 Wesley Hitt/Getty Images
Ranking in my National Top 25: No. 6

Record: 10-2 (6-2 SEC)

Biggest win: vs No. 10 South Carolina, 44-28, Nov. 5

Worst loss: at No. 2 Alabama, 14-38, Sept. 24

The Arkansas Razorbacks have lost two games this year, each of them by a 24-point margin. That said, those two losses both came on the road, and against each of the two teams playing in the BCS National Championship Game, LSU and Alabama. Not much shame in those defeats.

Due to the rule that only two teams from a conference (unless the conference has the top two teams in the nation and a separate conference champion) can play in Bowl Championship Series games, the Arkansas Razorbacks were left out of the BCS. With their two losses coming against the nation's cream of the crop, and a victory over a team currently ranked in the top 10, South Carolina, they have the best resume of any team not playing in the Bowl Championship Series.

The Razorbacks have an explosive passing offense, led by junior quarterback Tyler Wilson, that ranks 13th nationally. The Razorbacks rank 52nd nationally in total defense.
Players to Watch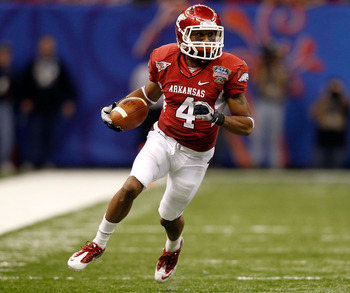 Jarius Wright
Matthew Stockman/Getty Images
Arkansas QB Tyler Wilson, Junior

NFL Draft Grade: Round 3

After losing Ryan Mallett to the National Football League after last season, Arkansas called upon Tyler Wilson as their new starting quarterback. Fortunately for the Razorbacks, they basically lost nothing in the transition.

Like Mallett, Wilson has a strong arm and good size. Although Wilson may not have quite the cannon and big-play ability that Mallett does, his accuracy is more consistent, he has less tendency to make poor decisions, and he is a better athlete.

The passing offense did not suffer a hitch with Wilson at the helm. Wilson ranks 18th nationally with 3,422 passing yards, and has a touchdown-to-interception ratio of 22-6. Wilson is a playmaker and leader for the Arkansas offense, and his play will be key to Arkansas's chances at winning the Cotton Bowl.

Wilson will most likely return to Arkansas for his senior season, but if he were to declare, he rates as a third-round pick for the 2012 NFL Draft.

Arkansas WR Jarius Wright, Senior

NFL Draft Grade: Round 4

Fellow senior wide receivers Joe Adams and Greg Childs have received more hype over the years, but this year, Jarius Wright proved himself the best receiver in his class at Arkansas.

Wright is truly an X-factor, a big-play threat with game-breaking speed. When Wright gets into the open field, he can beat defenses all the way to the end zone with his speed, and he is a very good route runner out of the slot.

When the Razorbacks are looking for a big play, Wright is their go-to guy, and with good reason. He has been held completely in check in the Razorbacks' two losses to LSU and Alabama, but those are the two best defenses in college football. Expect him to make his usual big impact against Kansas State.

Kansas State QB Collin Klein, Junior

NFL Draft Grade: Undrafted

Among starting quarterbacks in the FBS, Collin Klein is one of the least proficient passers, but one of the best runners among them.

Klein is not a dynamic passer, but he is an effective runner. He actually has more rushing attempts (293) than passing attempts (251) this season, and ranks third nationally with 26 rushing touchdowns. Klein's ability as a dual-threat makes him a dynamic player.

Klein has no spectacular speed or athletic traits, but he is a big, powerful runner for a quarterback, and his ability to find the end zone is a trait that can help any team. His proficiency, both rushing and passing, will be pivotal to Kansas State's success in the Cotton Bowl.

Arkansas FS Tramain Thomas, Senior

NFL Draft Grade: Round 5-6

Tramain Thomas is a very talented free safety, and the difference-maker of the Arkansas defense.

Thomas is second on the Razorbacks with 87 tackles, while he leads the team with five interceptions and 11 passes defended. Thomas does not have great measurables, but he is instinctive, rangy, a very sound tackler, and has a knack for making big plays.

A likely Day Three selection in the 2012 NFL draft, Thomas should make his impact upon the Cotton Bowl in his final collegiate game.

Kansas State CB Nigel Malone, Junior

2013 NFL Draft Grade: Round 4-5*

Nigel Malone transferred into Kansas State from junior college this season, and made an immediate impact. Malone quickly became the Wildcats' best cornerback, and one of the top playmaking defensive backs in the nation: he ranks third nationally with seven interceptions, and tied for 13th nationally with a total of 16 pass defenses.

With just one year at the FBS level, Malone is a tough prospect to grade, and should certainly not declare for the 2012 NFL Draft, even if he has a great performance in the Cotton Bowl. That said, if he can keep up this level of performance in the Cotton Bowl and in his senior season, he will be an intriguing mid-round prospect for 2013.
Comparing the Two Teams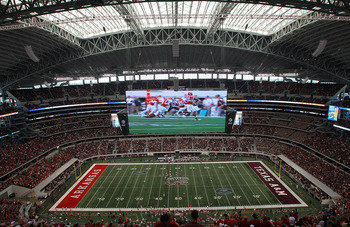 Ronald Martinez/Getty Images
Common opponent: Texas A&M

Kansas State: Home win, 53-50 (4OT), Nov. 12

Arkansas: Win (at Cowboys Stadium), 42-38, Oct. 1

Both teams finished the season with a 10-2 record.

Kansas State's rushing offense: 25th in nation, 193.7 yards per game

Arkansas's rushing defense: 80th in nation, 174.3 yards allowed per game

Arkansas's passing offense: 13th in nation, 307.8 yards per game

Kansas State's passing defense: 104th in nation, 267.3 yards allowed per game
Prediction Analysis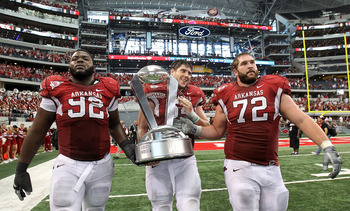 Ronald Martinez/Getty Images
Both of these teams would have been worthy participants to play in a BCS bowl, but instead, they will face off in the Cotton Bowl, making it the best non-BCS bowl matchup of the year. These two teams have four losses combined, and three of them come against the top three teams in the nation. Arkansas lost to LSU and Alabama, while Kansas State lost to Oklahoma State.

Kansas State has been as pleasant of a surprise as there has been in college football this year, a team that had no major expectations, yet finished second in the Big 12 Conference standings. That said, they are still a team that lacks firepower, and face tough odds going up against Arkansas, one of the best teams from the nation's best conferences.

Arkansas has played the two best teams in the nation, and has not lost to anyone else this year. Their preparation for the Cotton Bowl could take a significant hit considering that their offensive, defensive, and special teams coordinators have all departed in the past month, but this is a team that has been battle-tested this season, and been quite successful.

In a game that will showcase the two strongest conferences in this year's college football season, I expect the SEC to reign supreme with an Arkansas victory. Arkansas has the explosive offensive weapons and defensive difference-makers that Kansas State lacks, and should be able to use that to their advantage as the better team in this game.

Final Score Prediction: Arkansas 34, Kansas State 24
Keep Reading